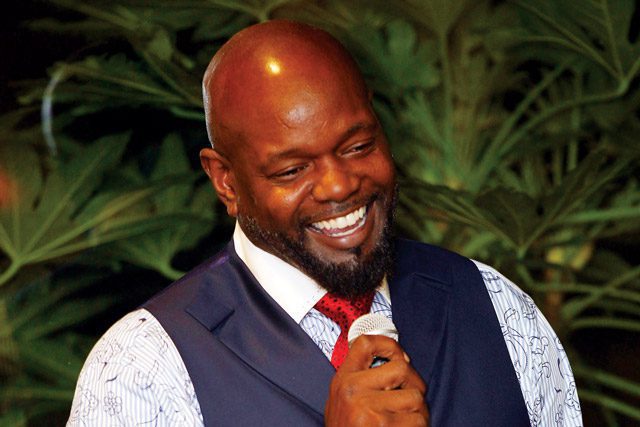 Salvation Army awards exceptional people at NAOC
Since 1999, the Evangeline Booth Award has been presented to those with her 'spirit, commitment and innovative vision.'
The Salvation Army's 2016 National Advisory Organizations Conference (NAOC), "Expect Change," brought over 2,000 advisory members, staff and volunteers from across the nation to Phoenix April 21-24.
Held about every four years—the first in 1983 and last in 2011—the conference serves to develop a stronger relationship between The Salvation Army and local communities by equipping and empowering volunteer advisory leaders to serve more effectively in every part of the country.
As part of the event, The Salvation Army recognized four individuals with the Evangeline Booth Award. First presented in 1999, the award honors exceptional individuals, corporations and organizations who "best reflect the spirit, commitment and innovative vision of Evangeline Booth."
The 2016 recipients include:
Emmitt J. Smith, III
Having finished his professional football career as the NFL's all-time leading rusher with three Super Bowl championships, an NFL MVP and a Super Bowl MVP, Smith earned his spot in the NFL Hall of Fame in 2010. Smith now serves as CEO of EJSmith Enterprises. Smith continues to give back to the community and support higher education via Pat & Emmitt Smith Charities, an organization that annually awards college scholarships and provides enrichment opportunities to underserved youth. A respected entrepreneur, sought-after speaker and bestselling author, Smith shares his personal and professional stories with organizations across the country.  
Kathie Lee Gifford
Having enjoyed a diverse and successful four-decade career as a television host, actress, singer, playwright, songwriter, and author, Gifford is best known for her 15 years on "Regis and Kathie Lee" and as the three-time Emmy-winning co-host of the fourth hour of the "TODAY" show with Hoda Kotb. In 2013, Gifford launched her podcast, "Kathie Lee & Company," with Podcast One. She is also a New York Times best-selling author, with proceeds from her ninth book, "The Three Gifts," benefiting Childhelp. She currently writes a weekly article for New York Daily News with Hoda Kotb. Gifford devotes much of her time to the Association to Benefit Children, which spawned the Cody Foundation.  
Stan Richards
Founder of The Richards Group after graduating from Pratt Institute in New York, Richards' work has received awards in virtually every major competition in the world, and broader recognition has followed. He was chosen by the Dallas Society of Visual Communications as "the single individual who, over his career, has made the most significant contribution to the advancement of creative standards in the Southwestern United States." The leading trade magazine, Advertising Age, featured Stan as a cover story; he was included in The Wall Street Journal's "Giants of Our Time" series and named an Entrepreneur of the Year by Inc. magazine. In addition, Stan serves, or has served, on many boards: The Salvation Army, Episcopal School of Dallas, YMCA, Cooper Aerobics Enterprises, Dallas Symphony Association, United Way, the Creative Committee of the 4A's, Pratt Institute Board of Trustees, and the Mayo Clinic Center for Innovation.
Charlotte Jones Anderson
As the Dallas Cowboys executive vice president and chief brand officer, Anderson oversees all strategies and applications surrounding the team's brand as it is presented to fans worldwide. Working in the executive office since 1989, Anderson's experience has enabled her to become one of the most innovative and versatile executives among women in professional sports and executives as a whole. In 2012, Anderson was named chairman of the NFL Foundation and is responsible for spearheading the NFL efforts in youth football participation, health and safety, and community outreach.
Anderson also served as chairman of The Salvation Army's National Advisory Board from 2010 to 2014 and was the first woman to serve in that role. In 1997, she introduced a groundbreaking approach to fundraising on the worldwide stage by focusing a Thanksgiving Day national television audience during the Dallas Cowboys halftime and the unique opportunity to kick off The Salvation Army's National Red Kettle Campaign. Anderson set the wheels in motion, helping the Army raise over $2 billion by combining the Dallas Cowboys and popular musical entertainers featured on network television during one of the most watched NFL games.
Asbury University
With a commitment to academic excellence and spiritual vitality for 125 years, Asbury University encourages more than 1,900 students to study, worship, and serve together. Primarily a four-year, multidenominational institution—offering undergraduate, graduate, degree-completion and high school dual-enrollment programs—the university has been at the heart of spiritual movements throughout its history.
University president since July 2007, Dr. Sandra C. Gray has been a member of the faculty as a professor of business management since 1989. Prior to her appointments at Asbury University, Gray worked in the banking industry, giving her a broad understanding of the Lexington business community. Gray is actively involved in Centenary United Methodist Church in Lexington, having served as chair of the church's finance committee and Sunday school teacher with her husband for young married couples.
Current undergraduate students represent 44 states and 14 foreign nations, and more than 80 percent of Asbury's entire student population lives on its Wilmore, Ky., campus—just 10 miles southwest of Lexington. More than 20,000 living alumni of the University surround the globe, leading and serving in all 50 states and at least 80 nations.
Find coverage of the 2016 National Advisory Organizations Conference (NAOC), "Expect Change," at newfrontierpublications.org.