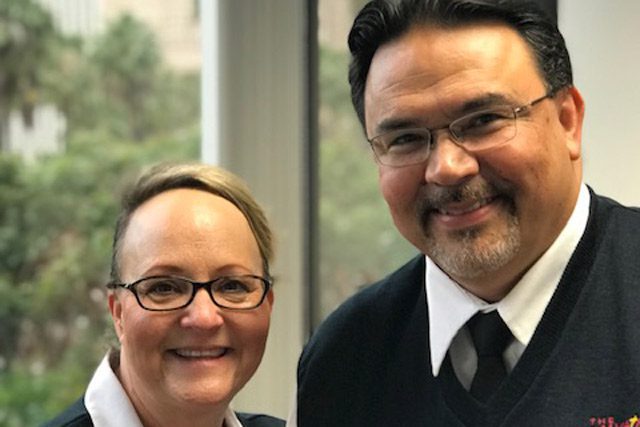 Salvation Army appoints new leaders of West's rehabilitation programs 
Majors Dina and Henry Graciani to lead as of Oct. 31
By Hillary Jackson – 
When Majors Dina and Henry Graciani were approached by then-Adult Rehabilitation Center (ARC) Commander Major Ron Strickland about becoming ARC officers, they declined. After spending 14 years as corps officers, they loved corps ministry. As children of addicts, both had deeply experienced the impact of addiction and didn't feel like the ARC was a good fit. 
Much has changed, and now Dina and Henry Graciani are set to step into the appointments of Director of Special Services and Adult Rehabilitation Commander, respectively, effective Oct. 31. While the path to the ARC was not on the Gracianis' radar, the couple says they've never looked back. In fact, they're looking forward.
Both Dina and Henry became involved with The Salvation Army as children. Dina, from Hawaii, was first invited by a friend at age 7 and quickly found the support she needed while her parents were busy building their restaurant business. Henry lived three doors down from the San Francisco Mission Corps and got involved at age 11 after the youth director came by passing out flyers.
The pair met at Future Officers Fellowship (FOF) and exchanged business cards. Dina wrote Henry, and he wrote her back. He then surprised her in Hawaii, saying he sent a package for her birthday—only it was him. The pair built their relationship during his 10-day visit. They later married and waited a few years before becoming cadets at the College for Officer Training at Crestmont. They were commissioned in 1991, first to the Modesto (California) Red Shield before serving in a number of corps.
Even though they'd declined the initial opportunity to become ARC officers, Strickland challenged the Gracianis to visit the Honolulu ARC the next time they visited Dina's family. He told them to stay in the apartment there and do three things: talk to the administrator, talk to several guys in the program and attend a chapel service. He said if they went and did those three things, he'd never ask them to be ARC officers again. 
Several months later, the Gracianis went to Hawaii, and they did exactly what Strickland asked. At the time, the Honolulu ARC program was led by Majors Jessica and Tony Markiewicz, whose daughter, Michelle, was then 9 years old. The Gracianis asked how it was for her to grow up in the house, and the Markiewiczes told them, "the guys are very protective of her…we feel totally safe with her being here." When Henry got to know a couple of guys in the program, he identified with their humanity. Then came chapel. 
"I was standing there in the second row in Honolulu, and we were worshiping, and behind me, 80 men were worshiping. I had never been in a worship service where you just have men singing. It moved me," said Dina, whose father had 12 years of sobriety before Hepatitis C took hold. He died prior to the Gracianis' trip. "I just couldn't stop crying because I kept thinking about my dad. I thought, 'Oh my gosh, if my dad was alive, he'd be here with us. He'd probably be sponsoring some of these guys.'"
The service started a change of heart and a lot of prayer. The Gracianis admit at the time, they were completely unfamiliar with how the ARC worked. They started asking questions of ARC officers, first of the Markiewiczes and then of Majors John and Kathy Reed, who they knew from their time in Modesto.  Dina was concerned that, as a woman, she wouldn't have a role in the often male-oriented programs. Both Markiewicz and Reed assured her she'd be a "mother to the house" to which she said, "I've got to be a part of this." 
The couple prayed and sent in a letter stating their excitement for the role. Six months later, they were sent to the Anaheim ARC as trainees for a year.
"We were humbled to see the lives of the men and women literally transform right before us. They came in just hopeless, angry, no smile, tough exterior—and to see the Lord get ahold of their hearts and then soften their hearts, they start to smile and then become the people that God created them to be," Henry Graciani said. "We just fell in love with it, and we have not looked back."
While in Anaheim, they met now-Captain Paul Swain, who, at the time, was the resident manager. When the Gracianis got their first appointment as trainees in charge at the Santa Monica ARC, they hired Swain.
"I saw how they ministered and they just really loved on me, even though I'm a product of the ARC and have a rough and rowdy past," said Swain, who is now the Administrator of Business at the Seattle Adult Rehabilitation Program. "He would just do that with all his employees. The beneficiaries loved both of them, too." 
During this time, Swain began to feel called to officership, something he largely credits to the Gracianis' kindness. 
"They love the men and women in recovery. They recognize the value in what most of society has rejected," Swain said. "They're just so open to change and with all the vertical leadership change that's happening, they'll just roll with the punches and make it fun. They know how to think outside the box but inside the shield. They'll put everything to prayer and put people first. It will be a lot of hard work, but I believe they have been appointed at the perfect time." 
The Gracianis' new leadership role is among several changes to the ARC system—taking the process of refresh, reorganize, relocate and repurpose. The program has begun a rollout out a new vertical structure that allows officers to focus on the ministry instead of the Family Store business.  
"I think what's exciting is that the ARC will move forward as we retool our business model. We focus on the community. We focus on our bottom line, which are men and women in the program," Henry Graciani said. "Let's task the professionals with running our stores and our warehouse and we will take care of the most important stuff, which is our people. The people are what matter."