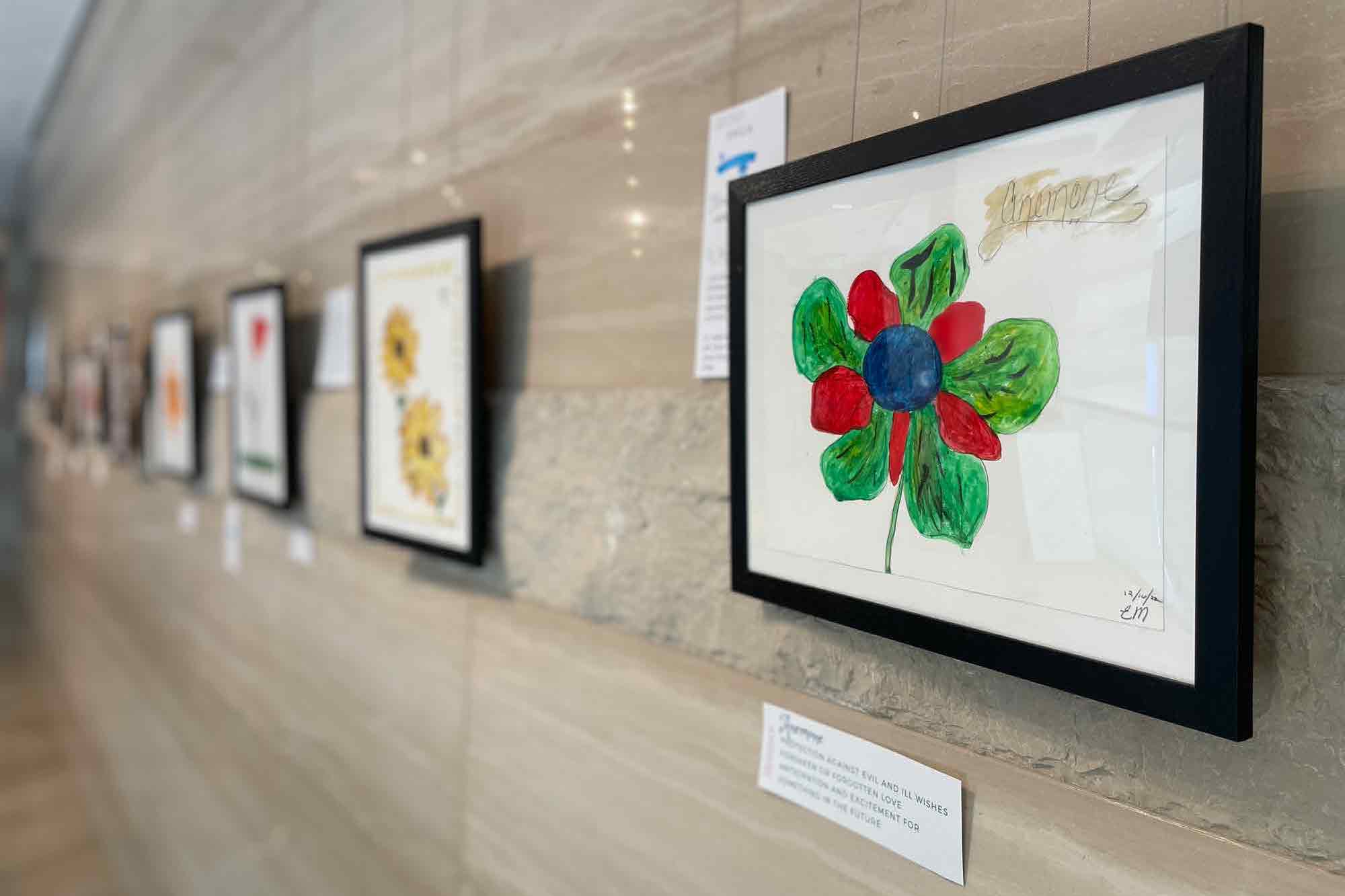 Salvation Army and The Tote Project collaborate using art therapy
Survivors of human trafficking are healing from their past and defining their future at The Southern Nevada Salvation Army Seeds of Hope Program.
Operating under the motto, "Saving, Empowering and Restoring Dreams to lives shattered by human trafficking," The Seeds of Hope Program works closely with survivors of trafficking to provide services such as; emergency shelter, mental health counseling, case management, substance abuse treatment, medical care and group art therapy.
In 2022, Seeds of Hope hosted over 50 group and art therapy sessions for women in the program.
"Myself and a few of our staff members are artists," said Captain Lisa Barnes, Clark County Coordinator for The Salvation Army of Southern Nevada. "So, we really try to incorporate art into our anti-trafficking program as often as we can."
During a recent art therapy workshop, eight women from The Seeds of Hope Program collaborated with The Tote Project to create watercolor floral paintings that follow the theme: "They tried to bury us, they didn't know we were seeds."
The Tote Project is an organization and online store that works with victims of human trafficking to sell products that directly support them. Each product on their website is made ethically using only fair trade manufacturers.
The artwork created during the partnership was featured at Las Vegas City Hall, where the public could see the paintings up close and read a brief story about the survivor behind each flower.
The Tote Project also created a limited-edition bag using the paintings in which a collage of the floral illustrations fills in the word HOPE. The bag initially sold out within its first week available, with 50 percent of proceeds going to the Seeds of Hope Program.
According to Barnes, the women involved in the workshop were initially hesitant about connecting with their inner artists, but that quickly changed once the workshop began.
"During the workshop, we talked about different flowers and things in nature that have meaning," Barnes said. "We then each chose a flower that we related to in our lives or maybe one we wanted to relate to in the future. Once everyone was just creating, it was a beautiful thing to see."
The Tote Project founders, Fay Grant and Michelle Chavez, explained that art therapy helps individuals address and understand complex emotions or feelings through creative outlets.
"The whole point of the workshop is to allow them to express themselves," said Grant. "They take the theme we chose and paint what they felt resonated with them."
Chavez and Grant have been hosting art workshops together through The Tote Project since they started their businesses in 2013. Each bag for sale on their website directly supports survivors of trafficking.
Although most workshops take place online, the founders provide supplies, instruction and support to survivors willing to share their stories through art.
"Working with the women in the Seeds of Hope Program was a joy," Grant said. "We were really just blown away by the art that the women created and we are so excited to be showcasing it."
Supporting victims of human trafficking is something important to both Chavez, Grant and The Salvation Army Seeds of Hope Program. The shared mission is what led to their partnership, according to Barnes and the founders.
"When we first got started in our business, we learned about human trafficking and were just devastated by it," Chavez said. "We realized with a crime so large scale and monstrous as human trafficking, that there actually is a lot of opportunity to get involved and work with others."
As of 2020, Nevada had the second-highest rate of human trafficking in the country, with roughly six per 100 thousand individuals being directly affected.
Barnes explained that with the severity and concern of human trafficking ever present, having organizations that can share the same mission working together can be incredibly successful as it adds to the overall preventative measures, raises awareness and directly supports victims.
"When we see other people and organizations doing similar work, partnering together results in the mission being greatly impacted and maintained so that in a sense, everybody wins," Barnes said.
Working with The Salvation Army and interacting with women in the program has been an honor for Chavez and Grant, they said.
"Our driving motivation is to help human trafficking survivors," Chavez said. "Our mission, even though we're a business, is to end trafficking and support survivors, so we jump at any opportunity to collaborate."
Chavez said that one woman they met in the program was incredibly grateful for both the Seeds of Hope Program and the opportunity to do art therapy.
"She was tearing up, telling us that it was just life-changing for her," said Chavez. "She told us, ''Thank you for partnering with The Salvation Army because this program changed my life and without it, I wouldn't be here today,' and it was just so touching to us.
"It speaks volumes to what's being done through the Seeds of Hope program."
---
Do Good:
Read more about how The Salvation Army is supporting human trafficking survivors in the Western U.S.
Start your day with goodness. Get on the list for Good Words from the Good Word and get a boost of inspiration in 1 minute a day with a daily affirmation from Scripture sent straight to your inbox. A pep-talk for the day. A boost of inspiration and comfort. A bit of encouragement when you need it. Get on the list and start receiving what you need today.
You've probably seen the red kettles and thrift stores, and while we're rightfully well known for both…The Salvation Army is so much more than red kettles and thrift stores. So who are we? What do we do? Where? Right this way for Salvation Army 101.