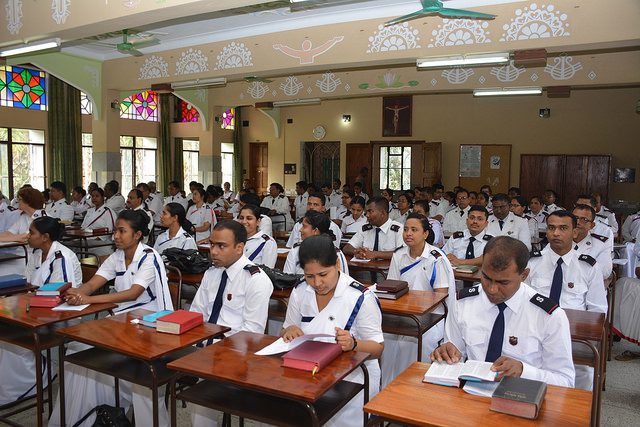 Robertses lead congress in Bangladesh
By Coby de Ligt-Oosterheerd, Major – 
Chief of the Staff Commissioner William Roberts and World Secretary for Women's Ministries Commissioner Nancy Roberts led a congress and commissioning meetings in Bangladesh.
Following a visit to the Kholadanga Training Centre, bull carts carried the Robertses to the Ghurulia Corps where village members gathered to meet the guests. The visitors spent time in the house of Dino Biswas, a soldier and the father of one of the current session of cadets.
Eight cadets of the Disciples of the Cross Session strode silently into the decorated tent that served as a meeting hall for the commissioning service, each holding an open Bible in his or her hands. William Roberts accepted the promises made by the cadets, ordained each one as a minister of the gospel and commissioned each as an officer of The Salvation Army.
The Chief challenged the new lieutenants and the congregation that following Jesus may mean making sacrifices and facing hardships and difficulties, but that those who surrender completely to the Lord find meaning, joy and fulfilment in their lives.
During the Silver Star celebration meeting, Nancy Roberts recognized the positive influence of the parents in the lives of the new lieutenants and emphasized the importance of shining like stars in the world.
Lt. Tushar Biswas shared in his testimony that God chose and appointed him to go and bear fruit, before Training Principal Major Tracey Palmer introduced the new cadets of the Messengers of Light Session. More than 40 young people responded to the call for full-time service.
At the soldiers rally, William Roberts enrolled 14 junior soldiers and 40 senior soldiers.
Back in Dhaka District, the Youth Rally held in Savar was a joyful occasion at which young people displayed their God-given talents in dance and song.
Before leaving Bangladesh, the Robertses led morning devotions at command headquarters and bought items at the Sally Ann Trade for Hope shop, before arriving by rickshaw at the leprosy and TB clinic. The visit concluded with a visit to the School for the Hearing Impaired at Mirpur.