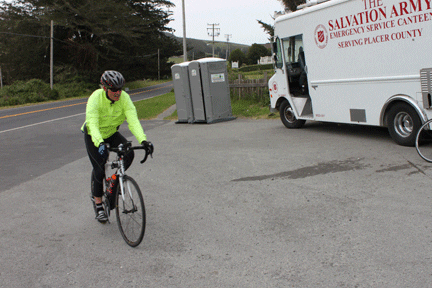 Riding bikes to change a life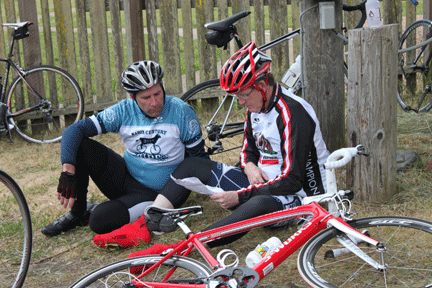 Bikers ride 100 miles to raise donations.
By Stefanie Vrapi
Over 100 bicyclists from across California braved a rain soaked, windy morning and a hilly course to participate in the 100-mile century ride fundraiser in May to benefit the Petaluma (Calif.) Corps. Putting aside the unseasonably cool temperatures, they were riding to change lives.
The event, planned mostly by the corps' Advisory Board members, was a year in the making.  Canteens were set up at various stops along the route and provided hydration and healthy snacks for riders.
Because the event was a fun ride, not a race, there were no losers—everyone was a winner. Some did, however, time themselves to record their progress; many clocked a personal best.
A celebratory barbecue took place at the end of the route where everyone received a free T-shirt.
"This is one of the prettiest routes I have ever ridden," one rider said. "I rode a century ride just last weekend and I appreciate this one because of the efficiency we received in signing in and how clear and pronounced the route is."
There did appear to be one thing missing.
"Where are the Oreo cookies?" another rider asked. "Healthy snacks are great, but do you realize how many calories we're burning riding up these hills? Having some Oreo cookies won't kill us!"
Even with the absence of Oreos, the event was a great success and the corps is already working on next year's arrangements. It has ensured everyone that Oreo cookies will be available next tune, but—and more importantly—the event will continue as a way to garner public support for The Salvation Army of Petaluma and the thousands they help year around.
"We are hoping for better weather next year," Captain Barbara Schneider, Petaluma corps officer, said. "If Mother Nature is kind to us, we think we will have a lot more participants at the event next spring."
Sponsors and registrants donated $4,600.