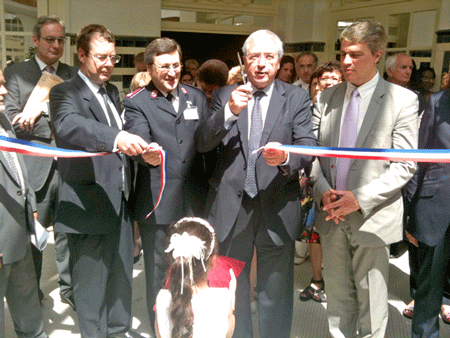 Refurbished Palais de la Femme Reopened in Paris, France
The Palais de la Femme in Paris, France – one of The Salvation Army's best-known buildings – has reopened after significant refurbishment. The centre, which provides accommodation to women in need and their children, was reopened by Colonel Massimo Paone, Territorial Commander of The Salvation Army's France and Belgium Territory, in the presence of various local and regional dignitaries. Colonel Paone also serves as President of the Foundation (Social Services) of The Salvation Army in France.
Eighty-five years ago Commissioners Albin and Blanche Peyron had the idea to use this huge building in Paris – a former convent, hotel and military hospital – as a centre for women in precarious situations. When the Palais de la Femme was inaugurated as such in June 1926 it was believed to be the largest social centre in Europe, with 750 rooms. Today it has 350 rooms, each with en-suite accommodation, and kitchen facilities on every floor. The original idea, however, remains the same – to offer the women and children welcomed within its walls a more peaceful and certain future.
The centre provides shelter to 350 women, almost half of whom will have experienced domestic violence. In order to respond to new forms of economic poverty, the Palais de la Femme is now separated into two sections – a long-term accommodation centre and a social residence.
The social residence incorporates a temporary-accommodation solution for a period lasting from a month to two years, together with social assistance. The 300 participants are given practical assistance to help them once more find a place in society. The main aims of the residence are to give access to basic accommodation and the ability to find or re-establish autonomy for the individual.
The long-term accommodation centre is home to 50 women, aged between 18 and 65 years. Twenty of the residents have children living with them. The women are vulnerable and have experienced extreme difficulty in their lives – even times when they have lived on the streets. Around half the residents arrive after ringing an emergency helpline. The majority of the remainder are referred by government social services and occasionally individuals make direct contact. The long-term programme includes building up parenting skills – with particular attention given to maintaining relationships with the child's or children's father. The link between mother and child is also a priority, and activities are put in place to encourage this relationship. A children's library has been established to allow mothers to spend time with their children through educational interaction.
Various initiatives have sprung up to allow residents to be active in changing their lives. Residents regularly choose representatives to be part of the 'Social Life Help Group', which is a voice for improvement in the day-to-day running of the centre. A 'cultural exchange' project is also being considered so that, courses such as cookery or ironing can be taught by residents who are skilled in these areas, in exchange for, perhaps, English tuition from another resident.
Report by Pierre-Baptiste Cordier
Translation by Colonel Jane Paone