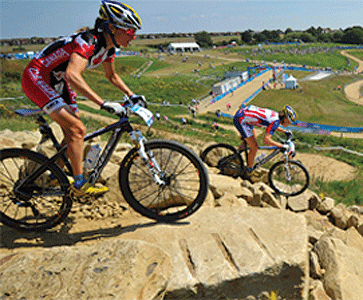 Ready for Olympic bikers…and beyond
The Salvation Army Hadleigh Farm plans for a legacy after the 2012 Olympics.
Excitement is building at The Salvation Army Hadleigh Farm in South Essex, England, site of the mountain biking course for the London 2012 Olympic Games in August. Against the backdrop of the 700-year-old ruins of Hadleigh Castle and the Thames Estuary, the course was created in harmony with the natural contours of the parkland.
Government official Caroline Spelman, secretary of state for Environment, Food and Rural Affairs, recently visited the venue to review progress in legacy plans under development with Natural England. Accompanied by Essex County Council members and representatives from Natural England, Salvation Army officer Major John Warner gave Spelman a tour of the course and The Salvation Army Rare Breeds Centre. He presented plans of how the course will be integrated into existing facilities to meet the needs of the local community, protect and enhance the environment and benefit the vulnerable people supported by The Salvation Army on the site.
At the Rare Breeds Centre, Spelman learned how The Salvation Army has been part of the local community and stewards of the land for more than 100 years. The presentation emphasized the role of the Hadleigh Training Centre, Hadleigh Farm and Rare Breeds Centre in providing public access and promoting education about food and farming and conservation of rare breed animals, as a means of adding value to family and community life.
Spelman congratulated all partners on these achievements. "Long after the games are over," she said, "Hadleigh Farm will continue to bring joy to many people and deliver real improvements for the environment." She commended The Salvation Army on fulfilling the vision it had more than 100 years ago to secure the land at Hadleigh to make a lasting contribution to the life of the community.
"We are delighted that the Secretary of State has had this opportunity today to witness our achievements in safeguarding and promoting the environment, and to see how the vulnerable people we support here are engaged in this as part of their training to give them the necessary skills to reach their full potential," Warner said.
From salvationarmy.org.uk