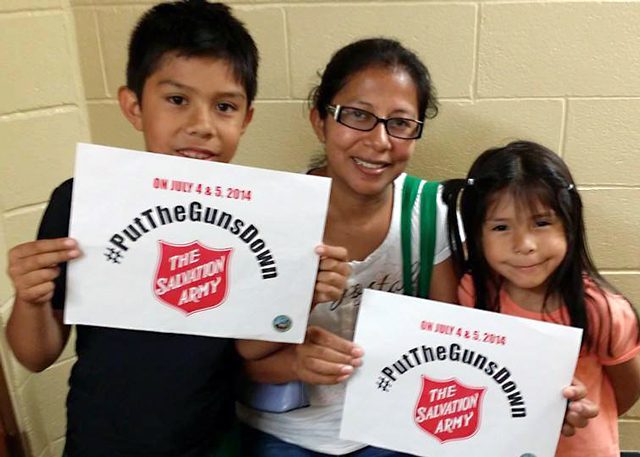 Salvation Army Chicago joins Faith and Action anti-violence campaign
The Salvation Army joined the Faith and Action initiative, an effort by the Office of the Mayor of the City of Chicago to speak out against the violence plaguing the streets of Chicago.
The campaign kicked off May 23 and will continue throughout the summer and beyond. The Mayor's Office is particularly interested in raising awareness in the days leading up to and including 4th of July weekend, which is often one of the most violent weekends in the city.
According to the Chicago Police Department, 110 murders have been committed this year, a nine percent increase from this time last year when 101 murders were committed. Last year saw a decrease in the number of murders from 503 in 2012 to 414.
The Salvation Army is encouraging its supporters to:
Print out the campaign poster featuring the hashtag #PutTheGunsDown

Take photos and/or videos of yourself, friends or supporters holding this sign at your celebrations, gatherings and/or picnics during the 4th of July weekend.

Post the photos on your social media accounts using #PutTheGunsDown
At the end of the contest, the five people with the photos with most "likes" on Twitter, Facebook and Instagram will be recognized on the DHQ website, the DHQ Facebook page and will receive two free day passes to the The Salvation Army Ray & Joan Kroc Center in Chicago.