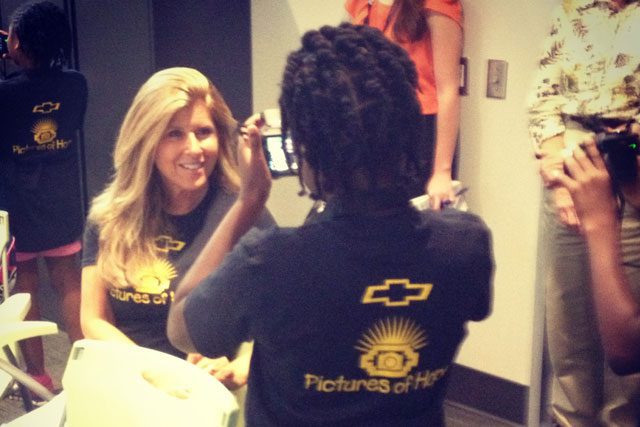 Pictures of Hope visits The Salvation Army in Wake County
Linda Solomon brings acclaimed program to the Center of Hope shelter.
By Elizabeth Adams – 
Award-winning photojournalist Linda Solomon brought her nationally acclaimed program, Pictures of Hope, to North Carolina this year, partnering with The Salvation Army to help children in need take the first step toward manifesting their dreams.
In Wake County–location of Raleigh and Durham–The Salvation Army's Women and Children's Emergency Shelter, housed at The Judy D. Zelnak Center of Hope, provides 93 beds for women and children experiencing homelessness. Home to over 226 children since January, it was a fitting location for Solomon to unleash some magic.
Solomon began the program with 13 children currently residing at the shelter by showing them pictures of celebrities she had photographed and discussing what makes a picture "good."
She then asked the kids to write down their dreams, and they talked about how to photograph them. When Solomon asked for volunteers to share what they had written, Ashanti, age 11, responded. The room grew silent as she read her first hope.
"I want to stay alive and healthy," Ashanti said. She continued, wishing to "go to heaven" and that "people would stop being so violent."
Other children shared their dreams, including one girl who wants to  become a policewoman, a boy who hopes to join the Army, and another boy, Joshua, who wants "to change the world."
Solomon introduced Mike Desmond, LMA President, Central Carolina Chevrolet Dealers, who, with eight other dealers, presented each child with a new digital camera–theirs to keep.
A moment of disbelief followed. "This is mine? I get to keep it for real?"
The gift came with an assignment: Solomon sent the children into the community to capture images of their hopes and dreams. With the help of volunteers, the kids immediately ventured forth.
"These children have been through so much, but they are still kids–funny, loving kids with their own hopes and dreams," said Katie Gonzalez, shelter director. "It's so wonderful to see them not only have the chance to be creative, but also to share their ambitions with so many."
The day was an eye opener for many, including some of the mothers.
"I am so impressed with you and this event," one mother–initially hesitant about allowing her son to participate–told Solomon. "I learned something about my son I never knew before. I had no idea he wanted to be a scientist! This was very special for us…it brought us closer together."
The children's images of their hopes and dreams will become holiday greeting cards, available for purchase through The Salvation Army of Wake County, with 100 percent of the proceeds benefiting the women and children who receive services there, thanks to the support of the Central Carolina Chevrolet Dealers.
"The 25 Central Carolina Chevrolet Dealers are proud and honored to have the opportunity to support these children through Pictures of Hope," Desmond said.
The children will see their "Pictures of Hope" cards for the first time at a celebration and Meet the Young Artist Reception at Hendrick Chevrolet this autumn. During the holiday season, customers who purchase a new vehicle from the Central Carolina Chevrolet Dealers will receive the "Pictures of Hope" greeting cards as a gift. The dealers will give a matching donation to the shelter.