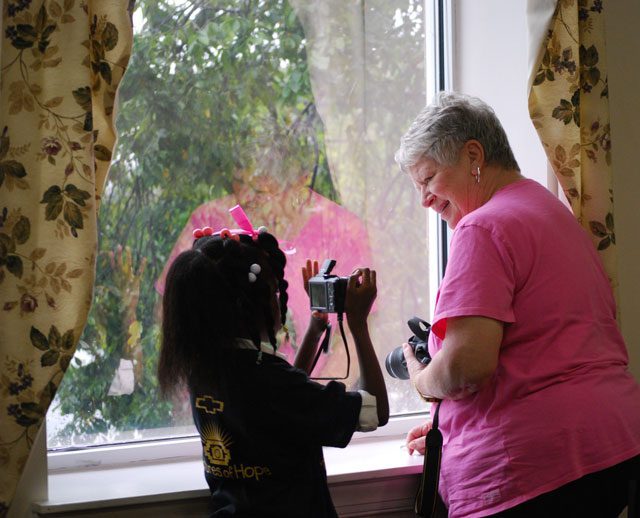 Pictures of Hope at Charlotte emergency shelter
Linda Solomon takes acclaimed program to The Salvation Army in Charlotte, N.C.
By Julie Cramer – 
"Beyoncé! Usher!" The children shouted as their favorite celebrities flashed on the screen.
Linda Solomon—an award-winning photographer who has snapped the likenesses of Hollywood A-listers such as Robert Redford and Jennifer Lawrence—arrived with camera in hand at The Salvation Army Center of Hope in Charlotte, N.C., this summer to teach a group of 15 children how to see the world afresh through her program, Pictures of Hope.
Charlotte is one of 14 cities the photographer and the program's sponsor, Chevrolet, have visited this year.
"Their hopes and dreams captured in quiet moments tell a story that few adults can imagine. When you show children that you care about what they wish for in life, perhaps a child who never felt he or she had self-worth, now will," Solomon writes on her website.
One girl's wish for her mother to "value herself" may also have been a wish for herself and her peers. As the children opened the bright yellow boxes containing new Kodak Pixpro digital cameras, their smiles widened and, suddenly, the room filled with laughter and the light of flashbulbs. Step aside, J-Lo. The children struck their best red-carpet poses for each other before setting off in search of images that represented their dreams.
A shy boy photographed a basketball and its reflection in a puddle of water to represent his dream of playing professionally for the NBA. Other images included the city skyline to represent the dream of becoming an architect, a car, and a poster's quote about freedom. The children walked the halls and grounds of the shelter, tallying their dreams in shutter clicks.
And the shy boy with dreams of dunking with Kobe Bryant? He straightened his shoulders in front of a local TV cameraman and said, "Basketball is my first dream, but this…this is plan B," he said, holding up his camera and grinning.
"The children were bouncing off the walls because people were paying attention to them and because they got to do something special. It was neat to see what their hopes and dreams are and that they still have dreams even though they are in that unfortunate situation," said April Lancaster, donor relations manager for the Charlotte Area Command, who mentored a child. "It made me thankful and to reflect on what I have. I have an 8-year-old son who is just like those kids, and I cannot imagine not being able to give him basic needs. It pulls at your heart strings."
Solomon will select one photograph per child and turn them into a set of 15 "Pictures of Hope" greeting cards, which will be available for purchase by Thanksgiving. One-hundred percent of the proceeds will benefit the Center of Hope shelter.
"What a wonderful way to open a child's eyes to new possibilities, new ways of seeing the world," said Shelley Henderson, director of communications and public relations. "We are in the business of inspiring, and equipping, hope. Such programs enhance our mission, and we are thankful to Ms. Solomon and Chevrolet for selecting us for this project."
If one girl's hope comes true, children will one day shout out her name in recognition as they did Beyoncé. For now, 15 children who curl up in dormitory bunk beds at night can feel like—and dream of—becoming the stars that they are.
Julie Cramer, a graduate of Dallas Theological Seminary, writes grant proposals and works with private foundations for The Salvation Army Area Command in Charlotte, NC.