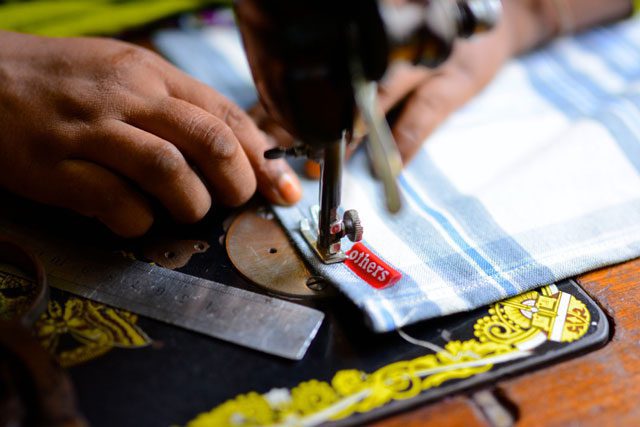 Others-focused fair trade
The Salvation Army employs rural artisans around the world to produce quality goods.
By Chadwick Phillips – 
Consumers have never been more aware of product origin than they are today. Yet for every call to "buy local," The Salvation Army suggests buying from "Others."
Run from the International Development office of The Salvation Army in Norway, Others is an initiative that aims to transform lives and alleviate poverty through fair trade.
It started as "Sally Ann" in Bangladesh with then Lt. Colonels Bo and Brigitte Brekke, who were appointed there from 1995 to 2002.
"We [had] been confronted with the harsh realities of life as faced by a majority of the world's population and we [had] been challenged in our understanding of poverty and what we should do about it," Brekke wrote in his book "Sally Ann – Poverty to Hope."
Bo Christoffer Brekke, Bo Brekke's son, has worked with the Army in Norway for two years and starting in September will work full-time as the Others administration manager working on product development and increasing sales.
"I've been involved with Sally Ann or Others since the very start," Brekke said. "I lived in Bangladesh from the time I was 11 until I was 18 and at that time my parents started Sally Ann. So it has always been something that I have been passionate about."
In the mid-1990s Sally Ann began as a hand crafted project among women in poverty and commercial sexual exploitation, as well as those who simply needed a job to support a family. The Salvation Army aimed to help women learn a trade and guaranteed that the artisans would be paid for the products that they made. In 1997, the first Sally Ann shop opened in Dhaka, however, sales were not enough to sustain the concept.
In 2002, Sally Ann partnered with The Salvation Army in Norway and worked with Jan Aasmann Størksen who helped changed the design of the products in order to make them more appealing to the Scandinavian market. Within a year Sally Ann opened its first store in Norway with the help of the Norwegian Minister of Development.
"We've had to make some changes to the concept in order to really make this program sustainable," Brekke said. "Having a shop is very difficult for our producer groups because we have had to change products frequently in order to get new products into the shops. We need to have a wide range of products in order to fill up a whole store."
In 2013 Sally Ann changed its name to Others to reach a broader audience and explicitly point toward the reason for its existence.
"The name Sally Ann was good in itself in many respects, but also restrictive in some ways. For example, in terms of reaching male customers, we didn't want a name that was too feminine," Brekke said. "We wanted a name that could communicate something about the concept in itself while also maintaining the link to The Salvation Army."
Over the last two years, Brekke has worked to reconstruct the Others sales model. Currently, Others is working to establish other sales channels through wholesalers, corporate gifts and web sales at tradeforhope.com.
"Our goal is to instead of having one shop with 400 products, have 400 shops with one product," Brekke said. "That makes it easier for producers because they will now have bigger volume orders of the same product and be able to be more efficient. We want to work more with The Salvation Army itself and get people passionate about the concept and support the concept. We want to spread the word and show that we are part of a global family and that we can do something for each other."
Brekke said that the last two years have focused on implementing the change of name and strategy, but that the ideals of Others remained the same—dignity, independence and hope.
"We try to give dignity to people by giving them a way to earn their own living and give them other types of support that they need to be independent," he said. "We don't want to make people dependent on us. We want to empower people to be able to make it on their own."
Brekke said it's his goal to see an individual join Others, receive training, skills and confidence and then get another job.
"Hope is what we see in all of our producers," he said. "We see hope because we have given someone hope of a future that they didn't think was possible before they came into contact with us."
Quality is also a key value of Others, which it maintains with its 1,200 local artisan producers.
"We don't want people to buy our products just because they feel sorry for whoever made it; we want people to buy our products because our products are nice, attractive, and good quality. That's something we work very hard to maintain," Brekke said. "These people are producing something that they are proud of selling, something that they can be proud of selling because it is good quality."
As an avid traveler, Brekke said he has seen firsthand two vastly different parts of the world, which made him passionate about fighting injustice.
"It makes me realize how privileged I am to have all the resources and opportunities that I've had," Brekke said. "It makes me want to just give back."
After the passing of his father seven years ago, Brekke said he feels even more privileged to carry on what his parents built and to continue his father's legacy.
"I want to make it successful because I believe in it and I believe it is a good way of helping people," Brekke said. "I couldn't imagine a more meaningful way of spending my time."
Others recently reached one of its goals as the chosen supplier of goods for Boundless: The Whole World Redeeming, The Salvation Army's 2015 international congress in London. Others will supply roughly 15,000 bags and lanyards for congress delegates, made by producers in Bangladesh and Pakistan.
"This is a very significant order both of these countries," Brekke said. "This will give many months of work to many producers throughout both countries. We are hoping that this will be a great way to showcase our work and get other people aware of what we do and what we can do."