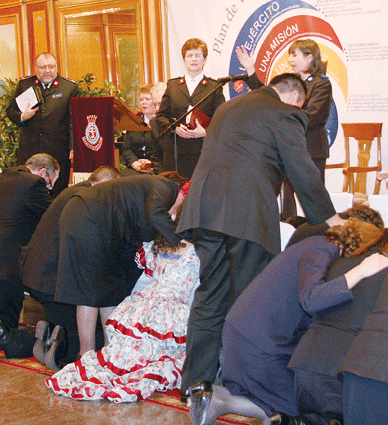 On the move
International leaders encourage Salvationists around the world.
General Linda Bond's welcome to Spain in late November included music by a united brass band and BASICO, a group combining timbrels, brass instruments and a worship band. A women's ministries group sang "The Lord Is My Shepherd."
Basing her message on Acts 2, Bond challenged listeners to not be ashamed of preaching the gospel. At her conclusion, many people responded to receive salvation and some accepted a call to officership.
While in Spain, she spoke at officers' councils and hosted a private meeting with officers' families.
Finland and Estonia
In early December, General Linda Bond's message to Helsinki—during her trip to Finland and Estonia—urged Salvationists to prepare for revival and to go forward with joy and praise.
At the afternoon meeting, she spoke about the existence of evil and the importance of God's people donning full armor in the battle against it.
The commissioning and ordination of cadets was the agenda for the evening service. Her message affirmed Jesus' call to radical discipleship.
In her Sunday morning meeting, Bond emphasized that Christians are holy not only because they're in Christ, but also because Christ is in them.
France and Belgium
The General's trip to France and Belgium—her first to those countries—began with a meeting of officers and directors from the Army's headquarters, followed by a public assembly.
After testimonies of two Salvationists, the General spoke of expectations put on Christians by people in their communities. She urged all listeners to be sure of their calling and challenged them to forge ahead with love to present a transforming message of liberty and hope.
She further shared that today's methods of evangelism may need to change from those used in past generations because contemporary people are less sensitive to logical arguments and more sensitive to a witness based on actual experience. She encouraged Salvationists to walk their talk—let people see that their lives are in accord with their convictions.
In closing, the General reminded everyone of The Salvation Army's International Vision: One army that has one mission, to go to people who are suffering, have broken lives and have been excluded from society with one message: the infinite love of Jesus.
In late November, Chief of the Staff Commissioner Barry Swanson and Commissioner Sue Swanson visited Kenya to celebrate the 90th anniversary of The Salvation Army's work in eastern Africa.
"Looking Back with Gratitude" was the focus at Saturday morning's meeting, in contrast to the afternoon message, "Looking Forward with Confidence." More than 100 people knelt at the mercy seat in each session.
Vice President Stephen Kalonzo Musyoka praised the Army's work in Kenya's early childhood centers, primary and secondary schools and vocational training centers. He told the crowd of more than 6,000, "Nothing liberates the mind and whole societies as much as education. Add Christian values to that and you have the best recipe for wholesome education. I can declare unreservedly that you have done good work in your 90 years…and that you deserve recognition for it."
Compiled from international news reports