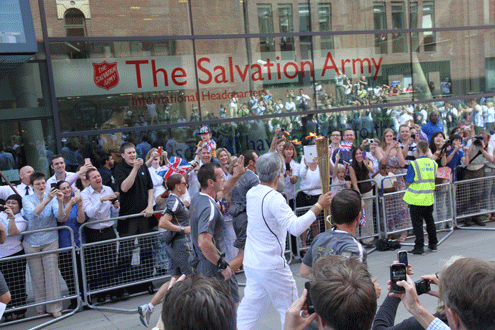 Olympic Torch passes International Headquarters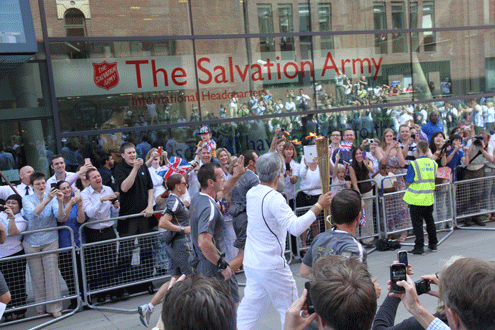 The roads around The Salvation Army's International Headquarters (IHQ) in central London came to a standstill as crowds of people welcomed the Olympic Torch, which was carried along the side of IHQ on Queen Victoria Street before turning down Peter's Hill, past the building's main entrance.
Headquarters staff and officers, some joined by family members, swelled the crowds, with a number taking the opportunity to distribute sport-themed issues of UK Salvation Army publications Kids Alive! and The War Cry. They were joined by members of the More than Gold mission team from the Australia Eastern Territory.
The torch was carried past IHQ by Steve Chalke MBE, an ordained Baptist minister and social activist who is probably best known in the UK for his work as a broadcaster and writer. Over the years he has forged strong connections with The Salvation Army.
Having run past IHQ, Chalke passed the flame on to British Paralympian and broadcaster Ade Adepitan MBE, who carried the torch on his wheelchair across the Millennium Bridge.
View photos  and video footage of the event.
Report by the Communications Section, International Headquarters