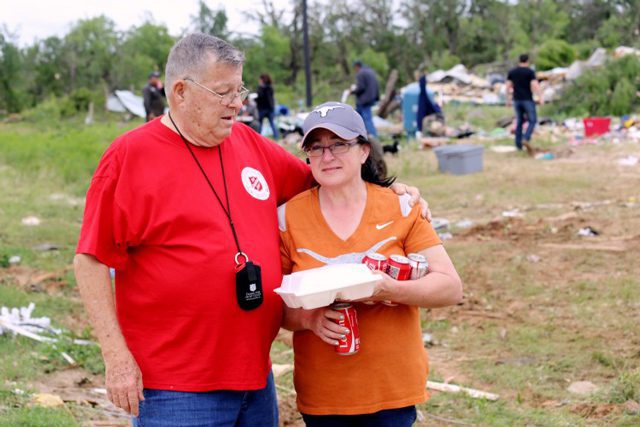 30 tornadoes strike South
Salvation Army provides over 5,000 meals to survivors.
The Salvation Army served throughout May in parts of Oklahoma and Texas after at least 30 tornadoes leveled buildings, scattered debris and caused many to be displaced
"It's a privilege and a blessing to be able to serve a meal and bring a smile to someone's face in times of disaster," said Lt. Joseph Price, commanding officer for The Salvation Army of Altus. "It's heartwarming to be able to serve in this capacity and The Salvation Army will continue to serve while there is a need."
Mobile feeding units provided lunch and dinner in areas heavily damaged by tornadoes and flooding. The Salvation Army disaster response teams served nearly 5,000 meals, drinks and snacks in Oklahoma and more than 850 meals, 1,000 drinks and 480 snacks to tornado survivors and first responders in Van, Texas.
Christina Lopez and her family were at home close to Bridgeport, Texas, when they received an emergency warning about a rapidly approaching tornado. The family left their mobile home and huddled together in a truck under a large tree as moments later the tornado tore through their small community.
"We were bouncing all over the place in the truck," Lopez said. "I was helpless as I watched the tornado rip my house apart. There was nothing I could do about it."
The Salvation Army mobile kitchen from Dallas Fort Worth Area Command provided lunch, snacks and drinks to Lopez and her family, as they tirelessly worked to sort through the wreckage of five homes that were destroyed. When asked if the family would like some Bibles in addition to the food Lopez responded, "Absolutely! We'll take them. It's only by the grace of God that we are still standing."
With support from WalMart and Ross Feed & Seed, The Salvation Army will continue its service of food, hydration, emotional and spiritual care in these impacted neighborhoods.
"We are pleased to be able to provide support and services to everyone that has been affected by this series of severe weather events across the entire state of Texas," said Alvin Migues, director of The Salvation Army Emergency Disaster Services in Texas. "Our prayers and thoughts are continually with those who have been affected."