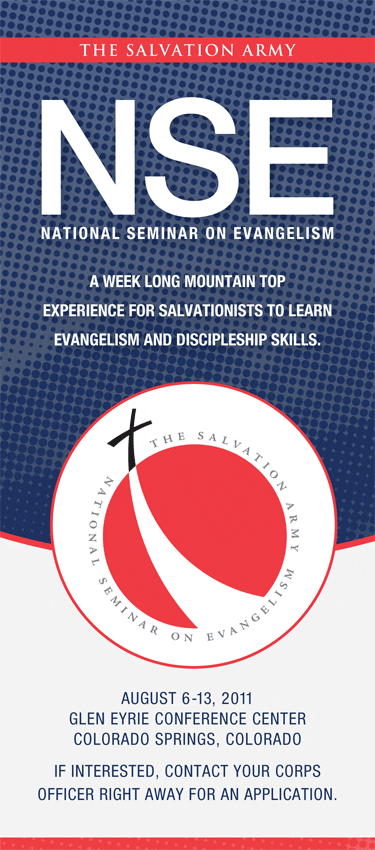 Not some everyday opportunity?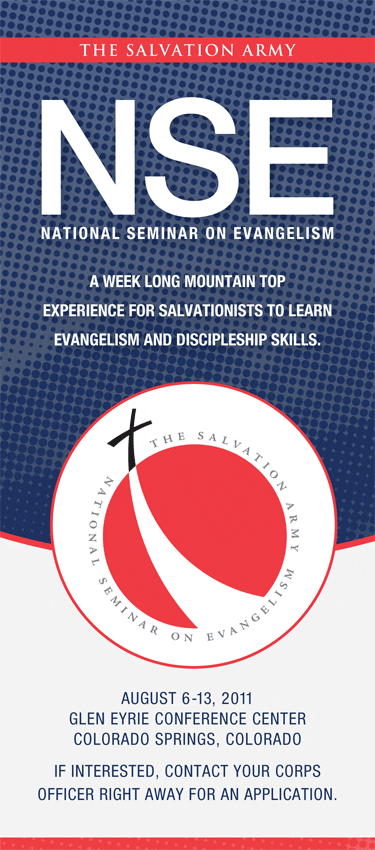 National Seminar on Evangelism (NSE) to meet in Colorado Springs
By Carl Darby
The Salvation Army's annual National Seminar on Evangelism (NSE) will convene Aug. 6-13 at the Glen Eyrie Conference Center in Colorado Springs, Colo. Attendees from the four territories will join with one mission—not some everyday opportunity, but a once-in-a-lifetime transformational experience.
The seminar, offering a track in English and Spanish, leads delegates in a study of common-sense systematic and non-intrusive ways to share their faith.
"The Lord used NSE to plant seeds from which my passion for evangelism flourished," said Cadet Matt Jensen, who will be commissioned in 2011. "I spent my free time in some of the worst places of Los Angeles to love the most neglected and hurting people. From that grew my awareness of God's call for officership. I'm humbled when I reflect upon how mightily the Lord uses NSE for his greater glory."
NSE teaches delegates how to be aware of the moments of opportunity that occur daily in our lives, and how to overcome timidity, embarrassment, lack of knowledge or denial.
"I was convicted to ask myself if I was politely 'excusing' myself of the Great Commission because I have 'other' duties at church," said Raven Gillies, who attended from the Northwest Division. "People are top priority to God and so they should be mine also. We are to always move in the Holy Spirit's prompting, to always keep in step with the Holy Spirit's leading in opening doors for planting, sowing, watering or harvesting of souls for Christ our Lord."
If your heart is beating to this opportunity, act. Ask your corps officer about the possibilities…imagine the corp(s)porate bite that could impact your community upon return from NSE. Corps involvement, shared vision and transplantation of knowledge to implementation are vital.
"The sanctuary called Glen Eyrie was dripping with the presence of God—from the visible, natural order to the invisible, spiritual realm," said Captain John Van Cleef, who is currently stationed in the Sierra del Mar Division. "It provided me a protected place where I could first lay down my business, burdens and bothers; and press through the rush of 'doing the most good' to worshipping him from whom all goodness flows."