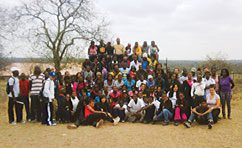 New York youth embark on a "Journey for Change"
Salvation Army inner-city youth serve in South Africa.
This summer the world got a whole lot bigger for 30 inner-city youth from several New York City Salvation Army Community Centers.
The teens and pre-teens spent 2 weeks in South Africa serving in impoverished shanty towns, working with orphaned children, visiting HIV/AIDS clinics and more – a once in a life-time experience, but also a sobering one as they confronted difficult, real-life global issues.
The opportunity was made possible by Journey for Change, an organization started by Malaak Rock (wife of comedian Chris Rock) aimed at educating and empowering at-risk youth to rise above the negative temptations in their communities and stand up as leaders.
For anyone trading the comfort of home for third world conditions, it would be impossible not to have your priorities and perspectives shaken up. These kids seem to be no exception. Their frequent blog entries (karitokids.com/journeyforchange2) during their trip document their personal insights into appreciating the South African people and culture, wrestling with the communities' struggles, and reevaluating their own lives in the U.S.
But two weeks in Africa is only the beginning. Having just arrived back in NY this month, the students are now starting a yearlong role as "Global Ambassadors" to promote local and international advocacy, service and education initiatives.
As these Salvation Army youths settle back into their own neighborhoods, they will still have to face negative influences from extremely high school dropout rates to drugs and gangs. But everything they have seen, done and learned during their time in Africa and yearlong Ambassador program will serve as a lynch pin to helping
them make positive, long term decisions and hopefully inspire others to do so as well.
Learn more about how Journey for Change is raising up student leaders at Rock's Angel Rock Project website at angelrockproject.com.
Visit blogsalvationarmyusa.org to view a short video of Malaak Rock discussing how Chris Rock's many childhood experiences at a Salvation Army Community Center in Brooklyn caused her to realize that The Salvation Army was an organization she wanted to partner with—and send her own kids to!From Laura Mszar's blog: blogsalvationarmyusa.org