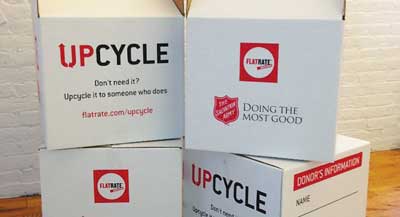 New 'upcycling' program offered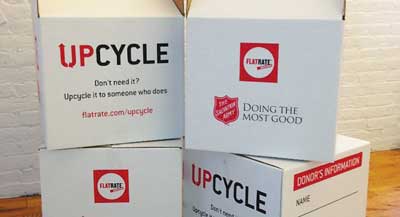 Army partners with FlatRate Moving to make donating easier.
The Salvation Army Eastern Territory partnered with FlatRate Moving—a nationwide leader in all-inclusive moving—to "upcycle."
FlatRate Moving customers are offered two upcycling boxes in advance of a move to be filled with unwanted toys, books, clothing and other small home goods, which are then transported free of charge to Salvation Army Family Stores across New York City.
"Through this partnership, FlatRate Moving will connect our clients to this respected organization and facilitate a culture of upcycling items from those who no longer want them to those who may need them," said Sharone Ben-Harosh, founder of FlatRate Moving.
FlatRate's partnership has the potential of delivering 36,000 boxes of gently used goods to The Salvation Army, a great benefit to its Adult Rehabilitation Centers which are funded by the Family Stores and help provide drug and alcohol counseling to over 300,000 men and women each year.