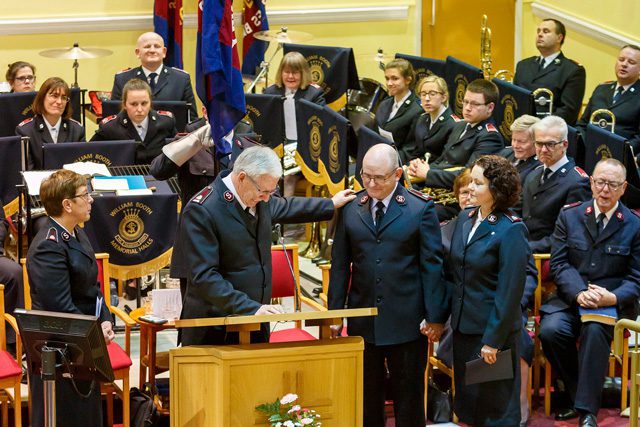 New territorial leaders installed in UK
By Maria Ball –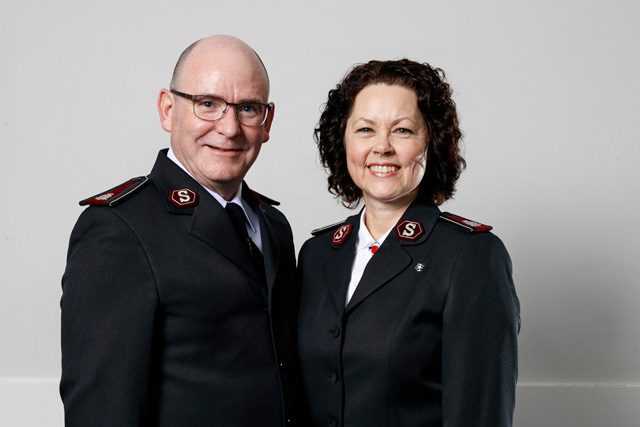 Salvationists and friends gathered at William Booth Memorial Halls Corps in Nottingham, England, to witness the installation of Commissioners Lyndon and Bronwyn Buckingham as leaders of the United Kingdom Territory with the Republic of Ireland (UKI). The ceremony, conducted by Chief of the Staff Commissioner Brian Peddle and Commissioner Rosalie Peddle, World Secretary for Women's Ministries, took place less than a mile from the birthplace of Salvation Army Founder William Booth in Notintone Place.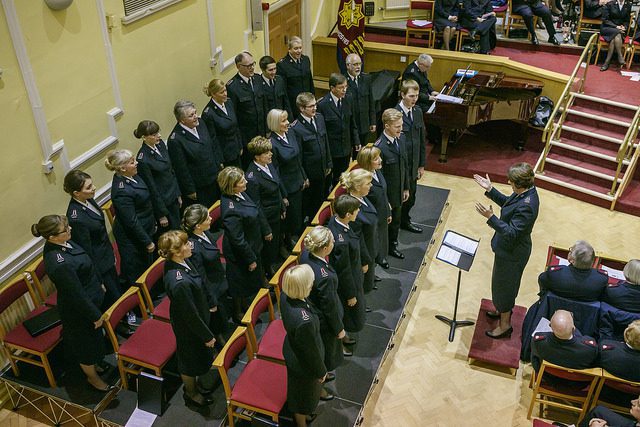 UKI Chief Secretary Colonel David Hinton opened the ceremony with the territorial headquarters flag carried onto the platform. The congregational song, "Who is on the Lord's Side?" was followed by a prayer song, "O Love," from the International Staff Songsters.
Laura-Jane Kingscott, Divisional Youth Specialist in the UKI's West Midlands Division, welcomed the new territorial leaders on behalf of young people and youth leaders. She said that the following were important to young people: "Going deeper in their knowledge and understanding of Jesus, authenticity, that they are valued for who they are, and given opportunities to grow in their faith and leadership."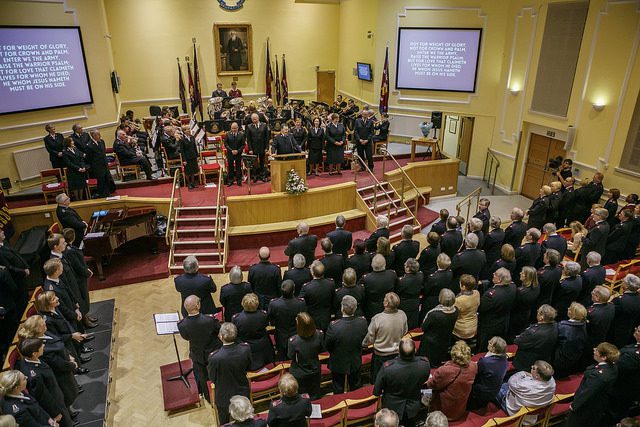 Greeting the new leaders on behalf of the territory's officers, Major Anita Purkiss, of Leicester West, said she realized that the Buckinghams—originally from New Zealand—were now a very long way from home and that she appreciated the sacrifice of leaving their family behind. But, she said, "We will promise to pray that you would know the Lord holding you close in those moments when the inevitable homesickness strikes."
Commissioner Bronwyn Buckingham, Territorial Leader for Leader Development, responded to the welcomes, expressing how verses from Philippians 1 were especially significant. The commissioner showed a picture of her family and described them as "an extension of us." She acknowledged that "God who calls, always equips."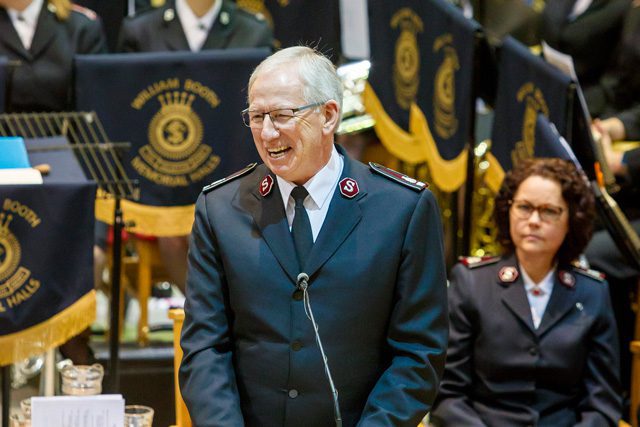 The Chief of the Staff described the UKI Territory as a "God-glorifying expression, daily," adding: "The days ahead are going to be incredible"' He commended the Buckinghams to be "leaders to these, your people, shepherds of God's flock, leading in mission and also appointed to be stewards of all that is temporal underpinning mission…knowing that you are daily accountable to God."
In the sacred moments that followed, the Peddles installed the commissioners as leaders of the territory before praying for them.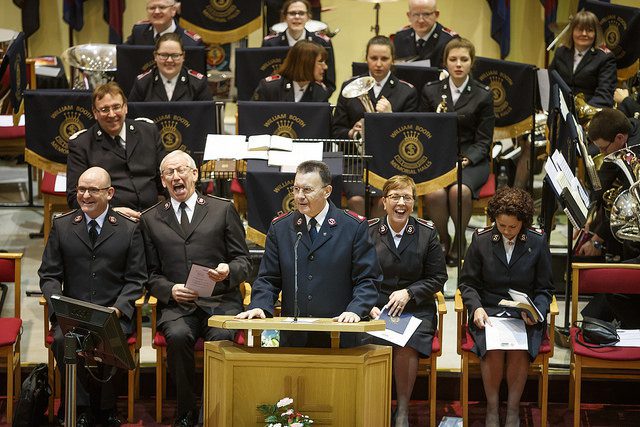 Territorial Commander Commissioner Lyndon Buckingham addressed the congregation with passion and conviction, saying "Let us fix our eyes on Jesus." He lifted up the things happening in the territory, together with the people doing the work. He acknowledged the challenges, but emphasized the mission that was being achieved.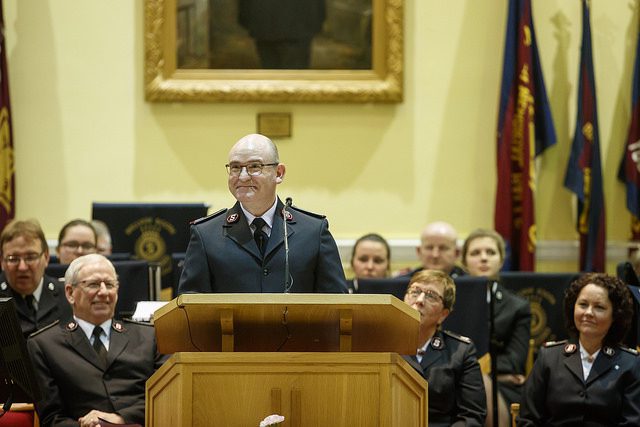 "It's the courage that we find in [Christ's] name that counts," he said. "It's the hope that we find in his name that matters, it's the confidence that we place in him that makes a difference. His name is Jesus and we love him. We serve him and we honor him and we march in his name."