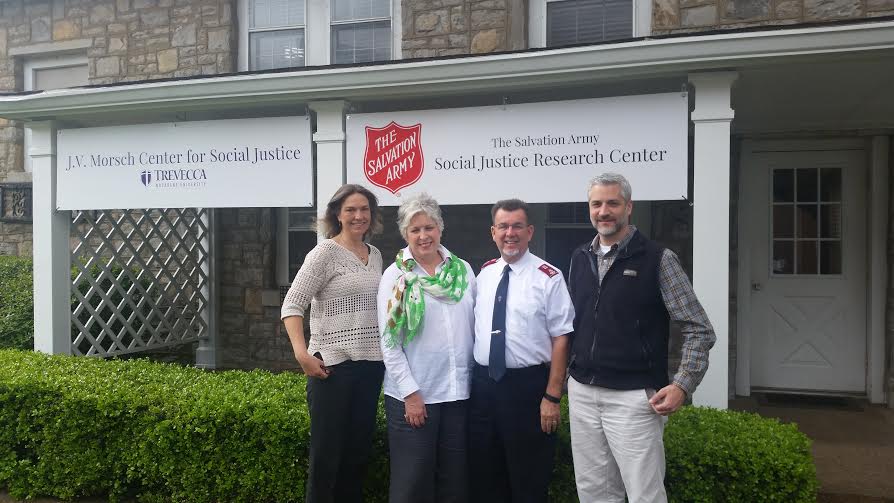 New social justice research center partners with university
Modeled after a similar project in New Zealand, the center will address human trafficking and other social issues.
By Linda Bryant –
The Salvation Army Social Justice Research Center quietly opened its doors in February on the campus of Trevecca Nazarene University, a small 115-year-old Christian school in Nashville, Tenn. But that understated rollout belies a center positioning itself to make a big impact.  
The new initiative is the first of its kind in the U.S., setting up shop in a two-story historic limestone-facade on the southern tip of the school's 65-acre campus.        
"Although finding our way and still in our infancy, we know we want to conduct social research on varying issues, depending what's needed," said Lt. Colonel Vern Jewett, who serves as the center's director. Human trafficking and intergenerational poverty are chief among the major social issues in Nashville, but Jewett said there's plenty more to address.
"We're concerned about child welfare, immigration and immigrants, environmental justice and human sexuality," he said. "We want to provide biblically and academically sound research that will help us identify best practices and give a voice to those who are poor or marginalized."
Jewett, who retired as divisional commander of The Salvation Army Florida Division in 2014 and subsequently moved to the Nashville area, came out of retirement to oversee the center.
Southern Territorial Commander Commissioner Donald Bell initially approached Jewett to find out if he'd be interested in designing—and potentially leading—a social justice-inspired program in partnership with Trevecca. Jewett saw an intriguing prospect.
He worked on a proposal for several months before presenting it to the The Salvation Army Southern Territory   headquarters for funding in mid-2015. Once approved, the center became a permanent off-site department of the territory.
"I had a model in mind, inspired by what's been accomplished in Auckland, New Zealand, where The Salvation Army's social justice center has become a powerful voice for the entire country," Jewett said. "They truly are a voice for the voiceless and have a great deal of credibility."
Joining Jewett as research analysts at the center are Terri Neville, an attorney who will move to Nashville from Boston this summer, and Curtis Elliot, who has a doctorate in intercultural studies and moved to Nashville from Wilmore, Ky. Lt. Colonel Martha Jewett, Vern's wife, is the part-time office manager.
"It took almost a year to fill the two research analyst positions," Jewett said. "We had two important requirements. They needed the equivalent of a PhD in research, and they needed to be Salvationists."
The ground team at the new center won't have to look far to find a suitable place to conduct research. That's because, although it's picturesque and sprinkled with stately buildings, Trevecca is within blocks of some of Nashville's roughest neighborhoods. At one nearby intersection—Lewis and Robertson streets—police made 120 arrests last year.
The Salvation Army and Trevecca, which has about 2,600 students, have enjoyed an ongoing bond based on their mutual beliefs in applying biblical social justice in the real world, Jewett said.
Case in point: For the past 13 years Trevecca has provided continuing education to Salvation Army officers during a week of classes held annually on the Trevecca campus and in Atlanta, Ga., on the campus of Evangeline Booth College. Classes are offered at different levels—bachelor's, master's in religion and organizational leadership, as well as continuing education certificates.
Jamie Casler, director of Trevecca J.V. Morsch Center for Social Justice, said the new center will help put the school "on the cutting edge of social change." The Morsch Center, in fact, will soon move into the same modest stone  building.
"It's a phenomenal opportunity," said Casler. "My students will have access to real-time data collection instead of waiting for a publication to come out.
"Trevecca is the only school I'm aware of that's ministering among its neighbors as a part of our classroom setting and bridging classroom learning with interventions in the community," Casler added. "Now we're going to be able to work in tandem with researchers. We already have an intern who'll work with the researchers this summer, and by next year we'll have classroom integration."