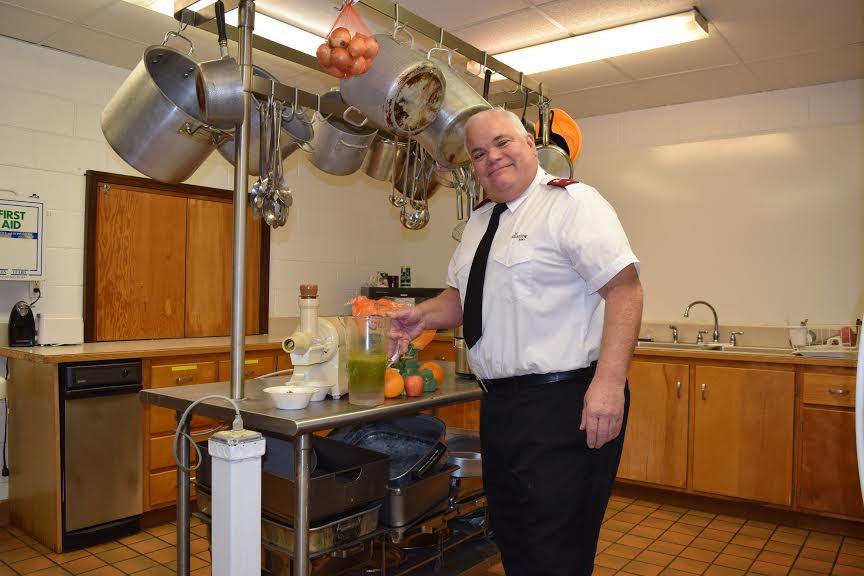 New juicing program promotes healthy living
By Lizeth Beltran –

When Lt. Howard Hoffman began thinking about his New Year's resolutions, he had one mission in mind: to get the people of Bluefield, West Virginia, healthy. And so came the idea of starting a juicing program at The Salvation Army Corps in Bluefield.
"I was trying to tie in something that involved community involvement and New Year's 
resolutions—at the same time it had to be doable," Hoffman said.
For Hoffman, an avid juicer of many years, and someone who has combated weight problems his whole life, creating a space for the community to learn about healthy nourishment is vital.
"I've personally experienced many health gains from simple changes like juicing. It has made me make better food choices. I move more," Hoffman said. "It makes me think about what I put in my body."
The program will feature daily weekday juicing in which participants will learn the basics of juicing and the health benefits that come along with it. Participants can drop in at any time during facility hours and gain access to juicers and free produce. It will cost the corps roughly $4 for every five participants per day.
Although the corps offers courses in nutrition and gym equipment it is simply not enough, according to Hoffman.
"We have a gym and fitness equipment, but it has not had as much participation as we would like," Hoffman said. "We are hoping this will get people to make baby steps to become more active and eat healthy."
In conjunction with the juicing program, Hoffman also wants to launch a walking program for people of all ages. His vision of a healthier Bluefield starts one person at a time.
Carl Ferguson, 44, works as a custodian at the corps facility and was one of the first participants in the program. Ferguson, who has been juicing for the last five years, believes the program can make a difference in the community.
"We live in a country where obesity is at its highest, where people would rather eat at a fast food joint than eat a home cooked meal. If you can do this [juicing] to get some nutrition, it's a great way to get into healthy habits," Ferguson said.
Healthy habits and eating nutritiously can come at a high cost, especially for those who are unemployed or living below the poverty line. Bluefield has one of the highest unemployment rates in West Virginia, according to Hoffman, but juicing can still be done on a budget.
"You don't necessarily need an expensive juicer if you want to juice at home," Hoffman said. "Sometimes you have to find ways to be creative, you can get produce at a food bank or negotiate with your local grocer for the older fruits and vegetables on sale."
The juicing program at the corps in Bluefield is one of a kind, according to Hoffman.
"This community needs all the help it can get, and if it means offering more of my time, I'm willing to do that," he said. "If I can give something through juicing, I'll do it. This job is a 24-hour, 7-days a week job to me."