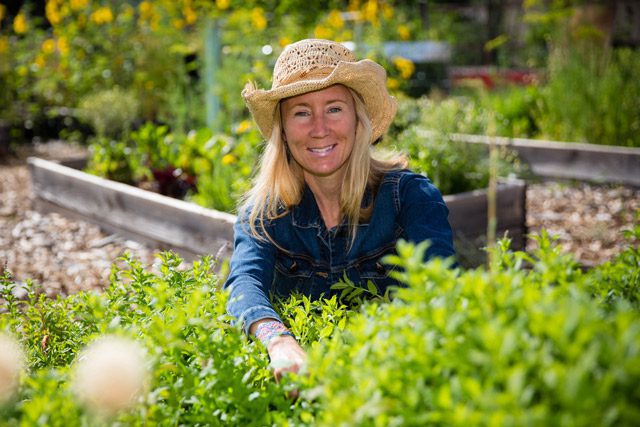 New Horticultural Therapy adopted to address mental health in Vail Valley
The new program will consist of therapeutic workshops, classes, support groups and events revolving around gardening.
The Vail Valley (Colorado) Salvation Army is using its growing community garden to address mental health through a new Horticultural Therapy Program.
"We're making our garden and greenhouse and The Salvation Army an inviting place for people to feel connected and valued, and I think that is going to have a tremendous outcome for a lot of at-risk populations," said Tsu Wolin-Brown, Vail Valley Salvation Army center coordinator. "This ties in really well with what we do."
Patricia Esperon, the center's Garden and Greenhouse Facility Program Manager who's certified in horticultural therapy, is facilitating the program. This alternative therapy method involves people engaging in horticultural activities—such as gardening—as a treatment plan for mental illnesses.
"Horticultural therapy can help people with physical, social, emotional, cognitive or vocational challenges," Esperon said. "Our focus with the wellness program is to nurture the mind, body and spirit."
Esperon plans to implement the program through workshops, classes, support groups and events at least once a month. 
A grief workshop is in the works in which participants will choose a perennial plant and write letters to loved ones who have passed away or become estranged through divorce or other life circumstances for a memorial garden.
"They will dig and everyone will plant their plant with a letter, and talk about the intention of digging and the planting of hope and taking care of that plant," Esperon said. "It's something tangible that people can do to deal with grief."
The program will also host the Bright Future Foundation's Spanish-speaking clients for a support group for victims of domestic violence, and a "Community Unity" event to help people process their feelings on the recent mass shootings that have taken place in America.
"It's non-political and non-denominational, and just an opportunity to provide journals. And we're going to also write letters and write down intentions and plant bulbs for next year," Esperon said. "It's a way for our community to stand up and say, 'We're not going to be divided.'"
Beyond that, Esperson hopes to work with seniors and veterans on horticultural therapy programming tailored to their needs, such as aromatherapy, using plants from the community garden.
Similar workshops and events will follow throughout the first year of the program, which she ultimately hopes will help destigmatize mental illness.
"We would like to get rid of that as much as possible for people to feel comfortable talking about their mental health challenges," Esperon said. "Coming to a garden is not as intimidating to people as going to an office. So, with some people who may not otherwise go to therapy because they don't like sitting in an office because that's scary for them, it's an opportunity to engage.
"I hope that it changes lives," she said. "We want for people to feel good, and then for them to go out into the world and make it a better place."
---
Do Good:
See how The Salvation Army fights hunger.
Did you know The Salvation Army served some 24 million Americans last year fighting hunger, homelessness, substance abuse and more? Where can you help? Take our quiz to find your cause and learn how you can join in today.
Subscribe to the Do Gooders Podcast and tune in for good ideas. Hear conversations with those doing good and those with good ideas so you can turn inspiration into action and make an impact right where you are.