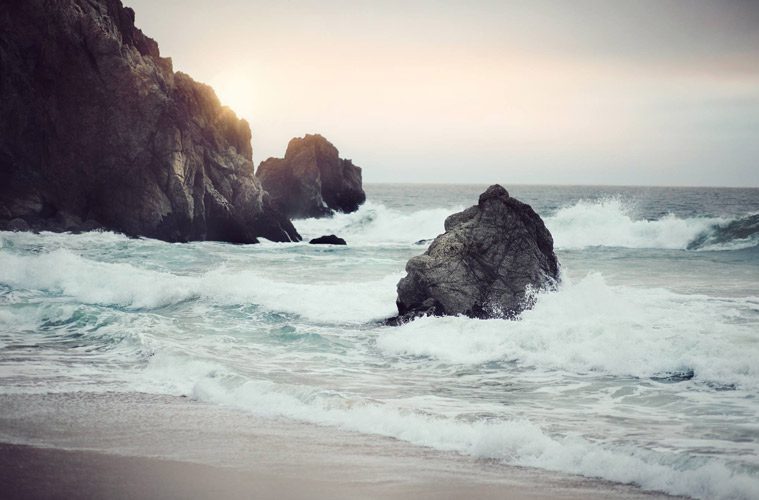 New beginnings through forgiveness, part 3
A Scripture study from Caring, part three of four.
"A new year, a new you." 
Typically, this phrase is associated with the celebration of the new year. Happy 2020, friends! Along with most people out there, I am sure you have made some resolutions to be better, do something better, to start something or to end something. Resolutions are the goals we make. 
Let this be a year of new beginnings! 2 Corinthians 5:17 says, "Therefore, if anyone is in Christ, the new creation has come: The old has gone, the new is here!" 
When you accept Christ into your heart and decide to follow Jesus, he has made you a new person. Your slate has been washed clean, and you get to start over. Sure, there may still be consequences to deal with, and logistics to figure out, but you are a new person—stand firm on that promise.
Part of this equation is the need to forgive—to find new beginnings through forgiveness of others, of God, of ourselves and then finding the will to move forward. In this study, we'll look deeper at all four. 
Part 3: Forgiving yourself
So far, we've explored our embracing of new beginnings by forgiving others (part 1) and forgiving God (part 2). Many of us are champions of forgiving others, but when it comes to extending that forgiveness to ourselves, we fall short. When you ask God to forgive your sins, he is faithful to do so. Psalm 103:12 says, "As far as the east is from the west, so far has he removed our transgressions from us." 
If the creator of the universe, the Alpha and Omega, can forgive you of your mistakes, surely you can forgive yourself. God did not create you so you could realize your sin, and then sulk in that valley until you are called home to Heaven. 
Jesus tells us, "The thief comes only to steal and kill and destroy; I have come that they may have life and have it to the full" (John 10:10). 
Satan is the thief that tries to convince you every day that you are not worthy of forgiveness. Stop listening to that garbage. Accept your failure, seek forgiveness from God, forgive yourself and then move on. You are loved.
Arguably, one of the greatest leaders in the Bible is King David. He is known as a shepherd boy, giant killer, artist, poet, leader and king. He is even an ancestor of Jesus! Yet even with all that glory behind him, he was not perfect. David made terrible decisions in his life and then tried to cover those decisions up instead of facing his consequences. It wasn't until David's friend Nathan called out his sin and helped him to see that he needed forgiveness that David was truly free.
David knew right from wrong. He had studied Scripture, and the Lord was with him through every aspect of his life. However, he still managed to royally mess up. After coming face-to-face with his sin with Bathsheba and the events that followed, David wrote Psalm 51. 
Woven within the words and phrases of Psalm 51 is David's lament to God. He was genuinely sorry for what he had done, and he chose to express those feelings through song. David had complete faith in the neverending forgiveness and grace of God. 
The prayer to God was also a way for him to forgive himself. David knew better, but he chose to succumb to his sin. For David to move on, he had to forgive himself. "Create in me a pure heart, O God, and renew a steadfast spirit within me" (Ps. 51:10). 
In Acts 13, God refers to David as "a man after my own heart." God gives this title to David even though he knows all the sins and anguish David will commit. God saw past the sinful acts and looked at David's heart. 
God's love for David—and for you—is overwhelming. God showed his true character by forgiving David—even when David struggled to forgive himself. God set the example of forgiveness for us to follow. This example is meant for us to exercise on ourselves as well as others. Forgive yourselves friends, because God forgave you the moment your heart cried out to Him.
Behind the scenes
Read what Scripture says about King David's downward spiral to forgiveness in: 
2 Samuel 11:1-5, with David and Bathsheba.

2 Samuel 11:6-11, when David tries to cover up his sin the first time.

2 Samuel 11:12-13, when David tries to cover up his sin for the second time.

2 Samuel 11:14-27, when David has Uriah murdered and covered up.

2 Samuel 12:1-13, when Nathan speaks truth to David.

2 Samuel 12:14-31, when David and Bathsheba's son dies.

Psalm 51, when David laments to the Lord.
Between the lines
As you think about forgiving yourself as King David struggled to do, consider these reflection questions:
What sin(s) do you need to forgive yourself for?

How does Psalm 51 fit into your life?

Why do you think it is so hard to forgive yourself? 
Closing prayer
"Dear God, Thank you for forgiving my sin when I call out to you. I pray that you would help me learn to forgive myself. I put higher expectations and standards on myself than I put on others. Often, I fall short of those standards. As I am reminded of my failures and shortcomings, I pray that you would help me to forgive myself. Please look into my heart and fill it with your Holy Spirit. Amen."
Sign up for the Do Good Digest, our weekly newsletter, and stay tuned next week for part four.
---
Do Good: