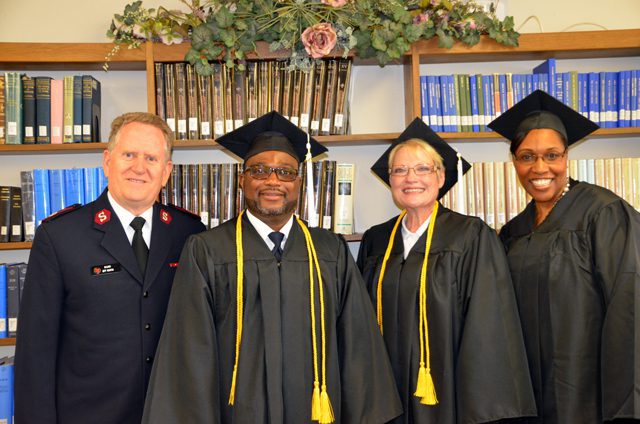 Western officers graduate from Nazarene Bible College
By Jeff Martin, Major –
Two Salvation Army Western Territory officers—Captain Terrence Masango and Major Nancy Helms-Cox—received bachelors degrees in 2014 from Nazarene Bible College, along with one officer from the Central Territory and one from the Southern Territory.
The college, located in Colorado Springs, Colo., hosted a reception to celebrate the achievements of the Salvation Army officers.
Masango, El Cajon (Calif.) corps officer, and Major Katrina Mathews from the St. Louis (Mo.) Adult Rehabilitation Center, graduated with a degree in Leadership and Ethics. Helms-Cox, from the College for Officer Training at Crestmont, graduated with a degree in Counseling for Christian Ministries, as did Major Tracey Czajkowski, associate metro area commander for San Antonio (Texas).
With both online and campus-based classes, Nazarene Bible College offers education for people of all ages. The college works closely with The Salvation Army to provide quality educational opportunities for its officers in both English and Spanish.
________________________
Photo L to R – Major Jeff Martin, Western territorial education secretary, with graduates Captain Terrence Masango, Major Tracey Czajkowski and Major Katrina Mathews