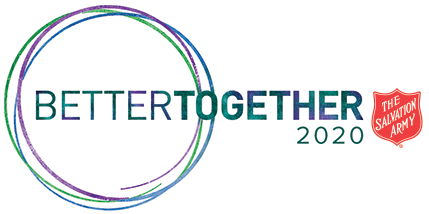 NAOC 2020 canceled due to Coronavirus
National leaders canceled the 2020 National Advisory Organizations Conference (NAOC) March 12 due to growing concerns about the new coronavirus that causes an illness officially known as COVID-19. 
"It is with heavy hearts we announce that The Salvation Army national leadership has canceled Better Together 2020 due to increasing concerns surrounding COVID-19," an email from organizers to attendees and exhibitors stated. "Due to the COVID-19 global health concerns and high vulnerability of those who would be present at Better Together, as well as the communities in which they serve, this is the right decision."
The conference, slated to take place April 22-25 in Chicago, was set to feature speakers, including actress Candace Cameron Bure, Hobby Lobby Presidents Steve and Jackie Green and General Brian Peddle. 
"In our missional service, the health and safety of our people and those we serve are paramount and was our primary concern when making this decision," said Dale Bannon, National Community Relations and Development Secretary. "Canceling the conference also allows our local officers, staff, and volunteers to focus on serving their communities and meeting the increasing need associated with COVID-19. While this was a difficult decision to make, we believe it was the right decision given the global, rapidly-evolving health crisis."
Peddle announced plans to halt his travel plans for the next month in a video message released March 12 by International Headquarters. 
"While maintaining our Christian service, we remain vigilant in our self-care and compliant with all the advice we are being given," the General said. "For the next weeks, we have placed a moratorium on our travel for all of our staff. I have also postponed my international travel and visits over the next month."
The Better Together team will begin processing full registration refunds within the next two weeks for those registered to attend.  
"Our focus for the next few months will be serving local communities and individuals affected by COVID-19," NAOC organizers stated. "We encourage everyone to follow the guidance of public health officials and to pray for those impacted around the world."