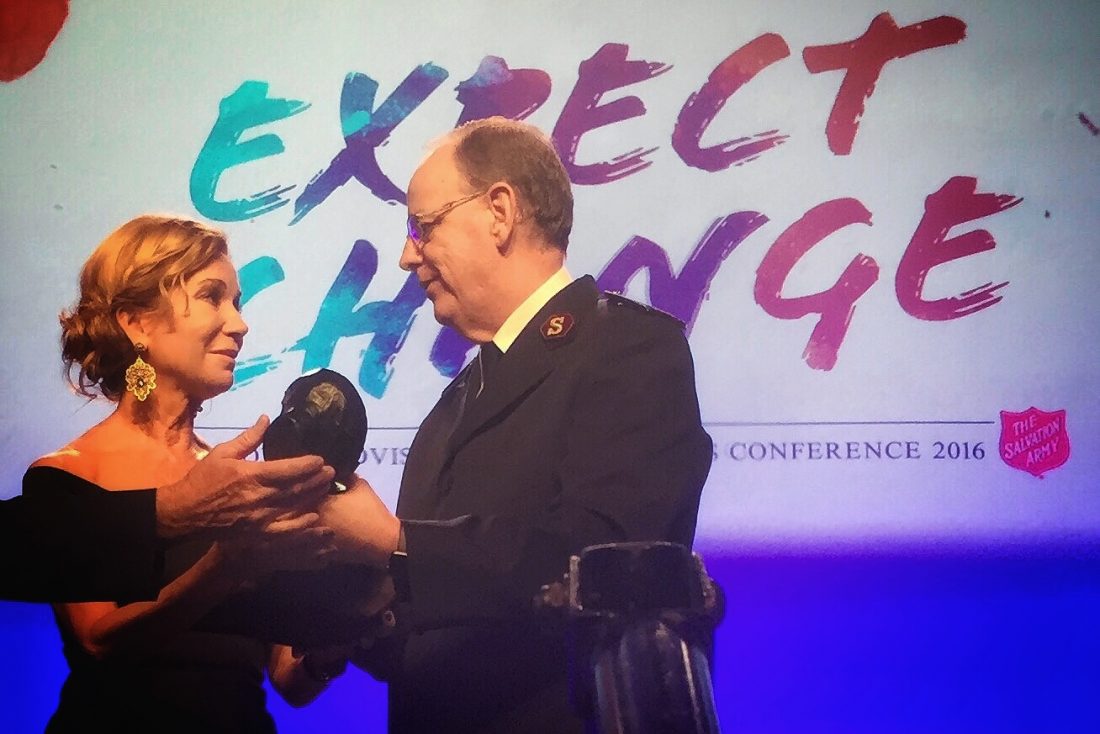 NAOC 2016 expects change
The second full day of the 2016 National Advisory Organizations Conference (NAOC) in Phoenix began with a session featuring Dr. Leith Anderson, president of the National Association of Evangelicals, the presentation of an Evangeline Booth Award to Asbury University and a focus on The Salvation Army's Pathway of Hope initiative to provide individualized services to families with children to break the cycle of crisis and vulnerability.
Joel Manby, president and CEO of SeaWorld Parks & Entertainment, challenged delegates in a general session luncheon to show love in the workplace, based on his book, "Love Works: Seven Timeless Principles for Effective Leaders."
"If you're a cynic, I completely understand that," Manby said, noting the 20 years he spent working for General Motors, what he called the "most dog-eat-dog workplace." "I saw a lot more negative than positive."
It wasn't until he worked with Herschend Family Entertainment that Manby said he learned that you can integrate faith and love into what you do.
"Sometimes Christians get so caught up in making disciples, we forget that the first commandment is to love other people," he said. "Love is a verb, not an emotion. Agape love has nothing to do with how you feel."
Manby offered practical tips on showing love, kindness, truthfulness, and dedication from sharing it forward with unselfishness, to writing handwritten notes of gratitude, asking questions before speaking in a meeting, and releasing grudges.
"I've been in the business world my whole life and felt it was only about the bottom line, but the Herschends taught me to value the bottom line and loving other people—the principles of 1 Corinthians 13," Manby said.
An evening of celebration, featuring musicians from the west including the Western Territory Staff Band, included the admittance of longtime Greater Dallas Metroplex Command board and National Advisory Board member Dr. Bobby Lyle to the Order of Distinguished Auxiliary Service and presentation of the Evangeline Booth Award to Kathie Lee Gifford, television host and actress.
"Change is possible because he is the unchanging one," Gifford said. "When we put our faith in him, the first thing that happens is he changes us. We need a redeemed heart before we can set out to change the world."
General André Cox followed the sentiment in addressing the audience.
"
We've talked about the change we expect to see in people's lives…our desire to see people flourish and grow, to see people enjoying a better quality of and a more secure life," Cox said. "Statistics are impressive, and it is mind-boggling how The Salvation Army helps so many people around the world
. But behind every statistic is a life that has great value—such value that God sent his son into the world so that we might have life and relationship with God.
"If we're serious about expecting change and if we're going to track if, we need to be looking at more than numbers but at people and track the change in people's lives one at a time," he said. "We should not forget God is actively working in this world and changing lives."
If we want people to have a life-changing encounter with God, Cox said, we also have to be part of that process.
"
We don't live by rules and regulations. 
If we remain hard and cold and indifferent how can the world see what God can do?," he asked. "
As we reach out to a messy world and get hands into the despair in people's lives, God touches and transforms us."
He changes, shapes and molds our lives, Cox said, because he knows what we can become if we allow him to work.
"
Unless we ourselves experience change, we cannot be agents of change in this world," he said. "It is my prayer that we will go from this place knowing that we have gathered not to praise the name of The Salvation Army, but that we have been here in the name of God and that in this place he has touched and transformed us and we've been here giving all glory to God."
Read about the opening of NAOC 2016.