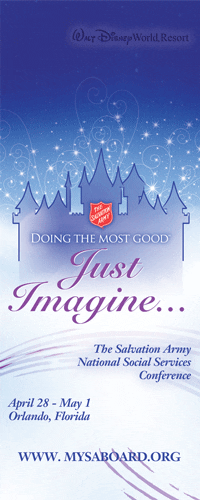 NAOC 2011 is here!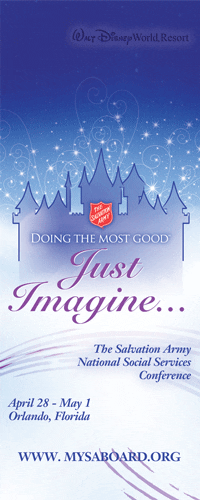 After years of planning and months of hype, The Salvation Army's 2011 National Advisory Organizations Conference (NAOC) kicks off this week! Several Salvation Army National Headquarters staff have set up a temporary office in Orlando, Florida at the Walt Disney World Resort where approximately 2,000 Salvation Army personnel, Advisory Organization members and volunteers from across the nation will be registering.
What is NAOC? Held about every four years, the conference serves to develop a stronger relationship between The Salvation Army and local communities by equipping and empowering volunteer Advisory Organization leaders to serve more effectively in every part of the country.
The first NAOC was held in 1983 in St. Louis, Missouri. National Advisory Board members envisioned all advisory members, auxiliary, and service unit volunteers across the U.S. coming together to gain a greater understanding of the work and presence of The Salvation Army in America.
This year we have a great schedule filled with compelling speakers and activities, as well as inspiring workshops and symposiums. Over the next several days attendees will discuss everything from social media to Millennials, going green to social justice, fundraising to disaster training and much more.
The most important thing we want participants to take away is that every one returns to his/her community convinced of the mission of The Salvation Army and experience renewed dedication and commitment to serving in substantive and practical ways.
From blog.salvationarmyusa.org