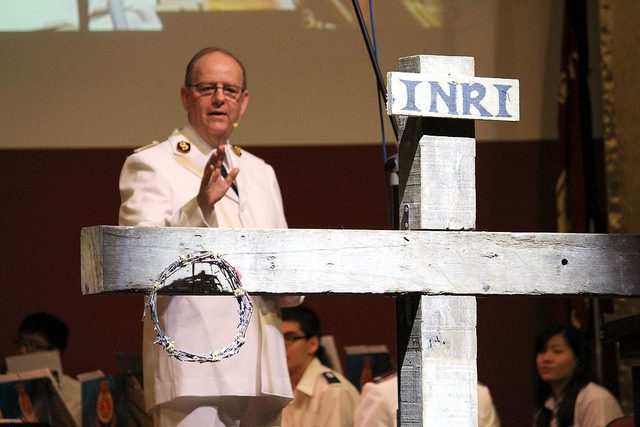 Myanmar celebrates centenary of Salvation Army ministry
By Chee Kwee Lim, Major – 
An historic weekend of celebration marked 100 years of Salvation Army ministry in the south-east Asian country of Myanmar in mid-April under the direction of international leaders General André and Commissioner Silvia Cox, territorial leaders Colonels Lyndon and Bronwyn Buckingham, and regional leaders Majors Bo and Christina Jeppsson.
Under the theme "Great Is Your Faithfulness," the centenary weekend included participation of officers who had helped develop the church and charity's mission in Myanmar over the years, including Colonel Cedric Sharp, Major Violet Ovenden, Major Janice Smithies, Commissioners David and Grace Bringans, and Major Amaro Periera.
Worshippers from diverse regions and ethnicities united together to encounter the living God in the Franc Auditorium in the country's former capital, Yangon.
In a key address, the General drew on the events of Palm Sunday, saying that following Jesus Christ was not a fanfare of waving palm leaves or the shouting of Hosanna. "No short-lived terms of engagements," he admonished. "Followers of the Lord must be radical disciples who commit themselves to the mission and purpose of Christ."
Cox testified in a united prayer rally entitled "We Will Fight" that he believed in the power of prayer. Echoing Ephesians 3:20, he reminded Salvationists that God is "able to do immeasurably more than all we ask or imagine." With stark reminders in the international media that people are being killed because of their Christian faith, Burmese Salvationists acknowledged the spiritual battle and prayed for all those persecuted due to their beliefs.
Silvia Cox offered words of encouragement from Galatians 6 to begin a series of special meetings the following day. She exhorted Myanmar Salvationists to "seize the opportunity to do good, to be careful how to live, to act on what has called believers to do and to witness for Christ." In one meeting, The Myanmar Council of Churches and Bible Society congratulated Salvationists for their partnership in Myanmar to promote the gospel and to bless the disadvantaged. The General's message focused on Psalm 25 and encouraged attendees to both "wait on the Lord and walk with the Lord."
More than 100 Bibles were given away at a youth and children's meeting that evening.
The Palm Sunday holiness meeting included the commissioning of three new Salvation Army officers: Lieutenants Joshua, D. Par Shein and Tun Lin. The General challenged the lieutenants—and all gathered—to abandon all ambitions and remember that Jesus said "let them daily take up the cross and follow me." The new officers were formally sent out to their new appointments and the cadets of the incoming Messengers of Light Session were covenanted