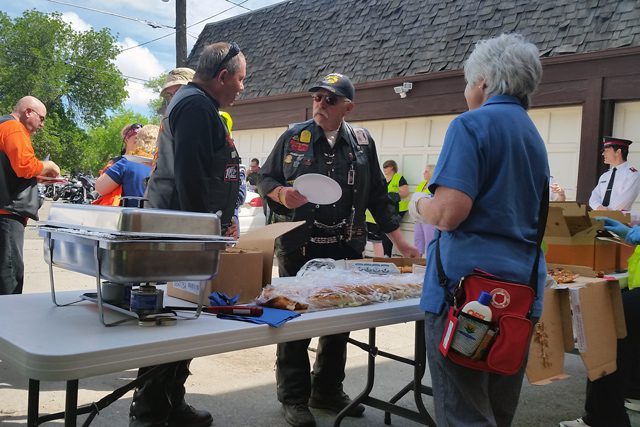 Great Falls helps Missing in America Project
Canteen participates in service of honor for unclaimed veterans
The Salvation Army in Great Falls Montana marked June 5, National Donut Day, by serving and honoring the memory of six local veterans whose cremated remains lay unclaimed in a nearby funeral home for years.
Several hundred people—over 400 Patriot Guard Riders, honor guards, veterans and first responders—collectively recognized the six soldiers, whose service spanned from World War II to Vietnam, in a service and interment with full military honors at the Montana Veteran's Cemetery in Helena, Mt.
The Great Falls Corps served food, drinks and snacks to attendees of the ceremony in Great Falls and accompanied the procession 90 miles to Helena and once again served bottled water and snacks.
"Words are difficult to describe the emotions involved here: pride, honor, humility, love, and brotherhood are all inadequate yet all are involved," said Jesse E. Oldham, Jr., Emergency Disaster Services (EDS) coordinator for The Salvation Army in Great Falls and a retired U.S. Air Force Cold War and Desert Storm veteran. "To see members of the 819th Red Horse Squadron, Air Force combat engineers—my most favorite former unit—lining the road rendering a salute as the procession passed…let's just say it was very emotional."
During the procession people stood alongside the highways, streets and on the overpasses, paying their respects as the soldiers passed.
"It was heartwarming and healing to know that these veterans will not be left behind or disrespected ever again," said Nancy Hamptons, advisory board member and EDS volunteer, who lost a boyfriend during the Vietnam War. "Their service was not in vain nor will any future service members sacrifice be in vain."
The Missing in America Project, which locates unclaimed veteran remains and ensures the military honor that is due to them, organized the service and requested the assistance of The Salvation Army.
Oldham said, "We are the spiritual descendants of those original Donut Lassies and in honoring our veterans, we were also honoring and trying to live up to the standard those early Salvationists set before us."
CORRECTION: The above quote from Nancy Hamptons was incorrectly attributed in a previous version of this story.