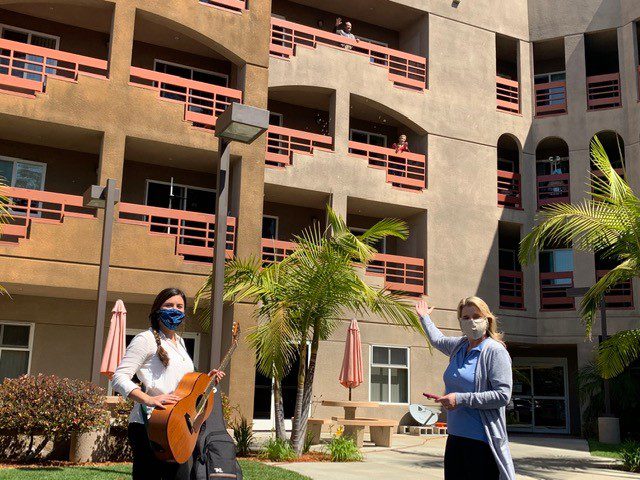 Meet The Helpers: Karin Ingrande holds outdoor balcony concerts to engage seniors
We've all been told to stay home to do our part to flatten the curve, but that can be harder for some.
Many seniors who live by themselves stay busy in community, especially at The Salvation Army's Silvercrest residences for seniors.
Across the western U.S., some 3,000 people live in these independent living communities. And now, they're inside their own apartments, together but apart.
In Chula Vista, California, Karin Ingrande initiated a creative way to keep seniors engaged and active—balcony sessions.
Now each week as the IWISH Resident Wellness Director at the Silvercrest, Karin holds outdoor concerts from the parking lot, even distributing sheet music to each resident's door.
She recently appeared on the Do Gooders Podcast to share more about it, how she's helping in the midst of COVID-19 and what she is seeing from the frontlines of service.
Christin Thieme: Can you tell me a little bit more about your work and what it's like right now on the front lines of service in the midst of this pandemic?
Karen Ingrande: Well, every day is a new day. We're just taking it one day at a time. We're learning that communication is more important than ever before. Being on the front lines, we're constantly updating our residents…The key has always been to keep our residents independent, safe and healthy. We can't underestimate the importance of that. Being on the front lines, we're really reaching out to the residents like never before to really try to support them and meet their needs. Being on the front lines means taking every precaution we can to continue to keep them safe and healthy. It is now in a different way because they have to shelter in place. It's about prevention—preventing anxiety, preventing depression because of isolation, and preventing illnesses. These are the things that are happening as we speak, now that we're dealing with COVID-19.
Can you share a little bit more about how you're keeping the residents engaged and active even while they shelter in place?
That's been the blessing of this job. I have the ability to think outside the box and I have such a supportive team. My property manager is completely supportive. My executive director, Susan Lawrence, is completely supportive because it's important to keep as many things as we can happening, to keep the residents engaged and to remind them that they are important.  We've had music therapy in our building for almost … coming up on our one year anniversary this April. It has proven to do so much for our residents' wellness, mentally and emotionally. I decided to reach out to the music therapy team with MusicWorx. I said, "You know what? They're singing to them on the balconies in Italy, why don't we have our residents outdoor on their balconies? We can have you serenade them."
The music therapist said, "Wow, that's a really neat idea. Sure, why not? I'll try it." I didn't know how the residents were going to respond to that. It ended up being a wonderful response from the residents to see them on their balcony, enjoying the sunshine, enjoying the fresh air, still being safe, still sheltering in place, and enjoying the beautiful music from our music therapist. She then went out of her way and sent me the music, printing out music on music sheets that I'm delivering to every resident's door. It's achieving so much because here I am knocking on the door to handing them a piece of music to sing along on their balcony, but they may not realize that that's a wellness check. I'm checking in on them. I'm just making face-to-face contact at a distance and asking them, "Are you okay? Is there anything you need? Don't forget to come out on your balcony, enjoy the fresh air, and enjoy the music." Our residents are just embracing it so much. They look forward to it every week.
I love that. And you're doing it weekly?
Yes, we are doing it weekly. We then decided to take it a step further because we have that funding and the money is meant to be spent and used for these programs. We also have a harmonica therapy group with the same company called MusicWorx. Harmonica therapy is proven with research that it's really good for people with Parkinson's. It's extremely important for the lungs and having healthy lungs is so important for respiratory conditions. We are dealing with COVID-19 and vulnerable people with respiratory issues who are being challenged. Now we have harmonica therapy that's been going on for almost a year. Our harmonica therapist comes out on the second day during the week and she's been doing the same thing the music therapist is doing with her guitar, but with the harmonica. I've passed out over 40 harmonicas to our residents because they are asking for them. I can afford to do that because of this great grant that we've received. They're their harmonicas, it's great.
So can you tell us a little bit about the funding? I know the Chula Vista Silvercrest is one of 40 properties across the entire country that is part of this pilot program. Can you tell us a little bit more about what that is?
For the pilot program, IWISH stands for Integrated Wellness in Senior Housing. What that means is, instead of having a service coordinator on the property part-time, they increase the hours to a full-time position. With this, we hope that the service coordinator can transfer into a role as a resident wellness director. That way, they can really spend time creating partnerships and collaborating with the community more in order to bring more services into the building for the residents. That full-time position includes a part-time wellness nurse. The wellness nurse is a part-time position and it's also somebody who's an RN. So our wellness nurse who's an RN is there to ensure that the residents are managing their medication properly. This hopefully eliminates the need to go to the emergency room frequently and eliminates the hospitalizations that are happening for the older adult population. This keeps people healthy and manages their health, their diabetes, if they're having that, or their chronic pain if they're dealing with that, like arthritis. We are Just helping them manage their illnesses better and keeping them healthy.
So what has the response been like from the residents to these increased efforts?
Oh, tremendous. The residents are thriving because of it. At first, it was something new to them. They didn't know how to take it, but now they realize that we're that link for them. We're that link for them between them and their doctor, if the doctor's not returning a phone call. I have a resident in the building who's in excruciating pain dealing with gout and needs her pain medication to deal with that. The doctor was not getting back to her, and I understand the doctors are busy perhaps dealing with the COVID and prioritizing their patients, but just being able to be there as support staff to help contact that doctor and emphasize the resident's condition, so the doctor could respond and then the medication gets delivered to the resident on a timely manner, is a really big deal.
Absolutely. That's an important role. What have you seen from your residents? How do you encourage people who might be afraid at this time?
You know what? Again, communication is really helping that, helping calm their fears. Anxiety is definitely present in our building because of the uncertainty with the COVID virus, but we're doing so much. The Salvation Army is such a wonderful support. They are supporting our residents in so many ways. They have a hotline the residents can call to reach out for emotional support that we've been giving to all the residents so they know about it. The Salvation Army donated over 500 rolls of toilet paper to our residents that we passed out. We included the toilet paper and the safety mask that they also provided. We created a safety kit and delivered it to every apartment door … again, knocking on every door. The safety kit includes the CDC guidelines on what to do about the COVID virus and supplies, a little protein snack, gloves, information about what grocery stores to go shopping at that will cater to seniors at certain hours, especially important information about senior scams, what to watch out for, especially with this demos check being distributed.
It's definitely a chain of communication. It's helping us to be on the front lines. My Quality Assurance Officer, Jo Stephanie Francisco, is constantly sending us information about scams and keeping us informed about the latest news from the CDC. Executive Director Susan Lawrence is constantly informing us about the protocols and what to do if somebody did get the virus, which praise God, nobody does have the virus.
That's fantastic. Hopefully, it stays that way.
Yeah.
Lastly, can you just share a specific story that you've witnessed in the last few weeks? A kindness or a selflessness—something that you've witnessed?
Sure. Actually, I have a few to share because God has just blessed us with so many generous acts of kindness. It's really motivating and helps us to continue to pour our heart into what we're doing. The residents in our building are always extremely grateful, and it just really reminds you how important it is to do what you're doing to help others. We're doing the music outside on the balconies, we're doing the music on the street, on the front side of the building and both sides of the building. That way we can really cater to each side of the building and nobody's left out to go outside on their balcony because every apartment at Silvercrest has a balcony. As we're doing the music, the branch manager from Union Bank drives by with one of his co-workers, and he sees us playing music outside and the residents on the balcony waving and dancing.
He says, "You know what? I can't believe you're doing this. This is phenomenal. We want to reciprocate." So he went and he bought Easter baskets for the music team with gift cards, waters and snacks to thank them for doing what they're doing to keep our residents engaged at our building. We didn't expect to have a response like that. Also, we have such great partnerships with the St. Paul's PACE down here in Chula Vista, and St. Paul's PACE reached out to us and said, "You know what? Chick-fil-A wants to donate a hundred Chick-fil-A sandwiches and we want to give them to Silvercrest." I thought, "Wow, that's fabulous." So sure enough, we were delivering a hundred Chick-fil-A sandwiches for every resident in our building. It was such a surprise and a treat. 
We have another situation where our exercise facilitator, who is paid through our IWISH funded grant to do the exercise program, took it upon herself to reach out to her friends and contacts. She sent out a Venmo asking for a few people to donate money so she could put together food packages for the residents. She ended up collecting almost $1,000 in Venmo donations from her friends and family, and their friends and family. I put out a survey and asked every resident, "What is it that you might be needing in the next couple of weeks? Is it a grocery item? Is it a household item? List your top five needs." I gave it to the exercise facilitator, and she went grocery shopping with the Venmo donation she received. We customized each bag for each resident in the building based on the certain five needs. It's just been one thing after another. Yeah, one thing after another.
I love that. I love all the little stories of people really stepping up in kind ways.
Most definitely. People really do want to help each other in so many ways, and it's so appreciated and so unexpected as well. I don't think people expect to get so much from so many people. It catches them by surprise.
---
Do Good: 
If you'd like to make a monetary donation, please click here to make a gift.
Text 'GIVE' to 52000 to make a $10 donation to The Salvation Army. This will automatically add a one-time donation to your next mobile phone bill.
For information about volunteering, please visit volunteer.usawest.org.
To learn more about how to support The Salvation Army's relief efforts, please click here.