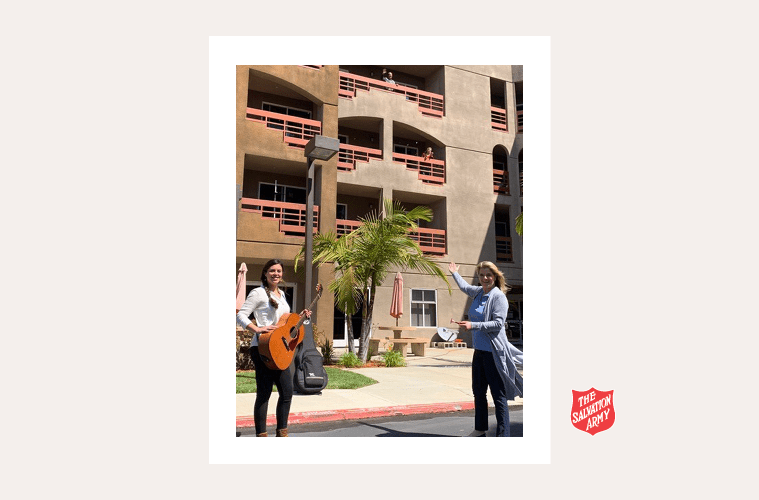 53: Meet The Helpers | How The Salvation Army is keeping seniors engaged with Karin Ingrande
We've all been told to stay home to do our part to flatten the curve, but that can be harder for some.
Many seniors who live by themselves stay busy in community, especially at The Salvation Army's Silvercrest residences for seniors.
Across the western U.S., some 3,000 people live in these independent living communities. And now, they're inside their own apartments, together but apart.
In Chula Vista, California, Karin Ingrande initiated a creative way to keep seniors engaged and active—balcony sessions.
Now each week as the IWISH Resident Wellness Director at the Silvercrest, Karin holds outdoor concerts from the parking lot, even distributing sheet music to each resident's door.
She's on the show today to share more about it, how she's helping in the midst of COVID-19 and what she is seeing from the frontlines of service.
Show highlights include:
What it's like at the Chula Vista Silvercrest: Keeping residents independent, safe and healthy 

Keeping residents engaged: Thinking outside the box, music therapy

Different types of programs: Harmonica therapy group

Pilot Program: IWISH increases service coordinator's role to full-time

Response from residents: Thriving and embracing the program

Providing encouragement for those who are afraid: The Salvation Army has created a helpline and safety kit

Communication with seniors: Information about scams, guidelines and protocols constantly being sent

People reaching out and wanting to help program: Union Bank branch manager, St. Paul's PACE, exercise facilitator 
Good words from Karin Ingrande in this show:
"The key has always been to keep our residents independent, safe and healthy."
"It's about prevention—preventing anxiety, preventing depression because of isolation, and preventing illnesses."
"The residents in our building are always extremely grateful, and it just really reminds you how important it is to do what you're doing to help others."
"People really do want to help each other in so many ways, and it's so appreciated and so unexpected as well."
"I'm always inspired by others from The Salvation Army. I see so much good work going on outside and doing good."
Additional resources:
Download this episode wherever you get your podcasts. Find show notes for this episode and more at caringmagazine.org/podcast. Connect with Karin Ingrande via The Salvation Army Chula Vista Silvercrest. 
[button color="yellow" size="normal" alignment="none" rel="follow" openin="newwindow" url="https://podcasts.apple.com/us/podcast/the-do-gooders-podcast/id1462063355″]SUBSCRIBE AND LEAVE A REVIEW[/button]
---
Do Good: 
If you'd like to make a monetary donation, please click here to make a gift.
Text 'GIVE' to 52000 to make a $10 donation to The Salvation Army. This will automatically add a one-time donation to your next mobile phone bill.
For information about volunteering, please visit volunteer.usawest.org.
To learn more about how to support The Salvation Army's relief efforts, please click here.