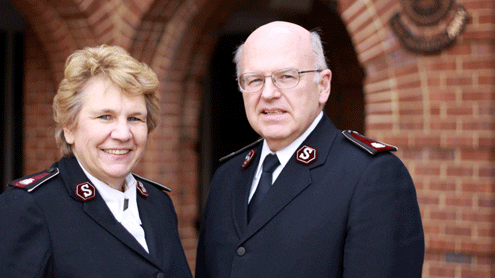 Meet America's newest national Salvation Army leaders
Commissioners Roberts in appointment since November 2010
By Christin Davis
Commissioners William and Nancy Roberts arrived at The Salvation Army's United States National Headquarters in November 2010 after 10 years of international appointments to take on leadership of the Army in the U.S., respectively, as the National Commander and National President of Women's Ministries.
Most recently, the Robertses spent three years as the first territorial commanders to the newly established Kenya West Territory.
"In Kenya West, The Salvation Army is strong and growing; we had to create infrastructure and develop a team," William Roberts said. "Everyone in Kenya is so joyful and proud to be a Salvationist…it's a holy pride; their lives are filled with joy because of Jesus. We were truly sorry to leave when the time came."
They previously served at International Headquarters, in Argentina, and numerous appointments within the Central Territory. Following their commissioning in 1971, the Robertses led three corps.
"Every appointment prepares you in some regard," William Roberts said. "As corps officers, we learned about getting to know people, in leadership and administrative
appointments we learned the Army's
organization and strategy, and serving outside the U.S. helped us to see the wider work of the international Army."
An eye to the future
When the Robertses arrived in Buenos Aires, Argentina, in 2001, the country was experiencing a time of economic decline.
"The time was critical; we had to keep the Army stable and serve the people who were suffering," William Roberts said. "We had to encourage people and give them hope." He learned Spanish in order to better communicate this hope to the people.
"I worked hard at it," he said. "We need to be aware of all of God's children and sensitive to those whose language is not English. I have a warmth in my heart for Spanish, and believe there is definitely a place for the Spanish language in The Salvation Army. We need to develop these individuals to take on leadership and be more involved."
Though America's infrastructure and situation differs from his experience in Argentina, he said today's economic restrictions and challenges are one of the concerns that currently face the Army in the U.S. Another, he said, is improving how we inform and draw attention to the needs we see every day on the streets of America.
"We must intelligently and faithfully take care of our assets, and use those assets wisely with an eye to the future. How we spend our money must accomplish the 'most good,'" he said. "We can provide a framework and ideas at a national level, but the need is local and must be served and addressed in local ways."
The Salvation Army in the U.S., along with the National Advisory Board, is currently working to prepare a poverty index in association with universities and research centers. The index, William Roberts said, will be useful to government agencies and social service providers in drawing awareness to the seriousness of the issue of poverty.
Roberts also sees a need to be more involved in literacy efforts—he said with the extensive reach of Army centers across the country, we could be teaching people of all ages how to read and write—and anti-trafficking.
"I think we could also be more involved in the issue of anti-trafficking—both preventing and exposing it," Roberts said. "This is the kind of program William Booth would have felt good about—rescuing those who are enslaved."
Here to serve
William Roberts was raised in a Salvation Army home, made his first public statement of his calling to officership in high school, and entered training after graduating from Wayne State University in Detroit. He later earned a master's degree in religious studies at the University of Detroit.
Nancy Roberts, however, first met The Salvation Army in high school while in a service club. She was introduced to William through his sisters and eventually worked as his boss while program director of the Army's summer camp. With a bachelor's degree in teaching and a master's degree in counseling and guidance from Eastern Michigan University, Nancy Roberts said she has been able to use all of her strengths and love for people as an officer in The Salvation Army.
The Robertses said women in Army leadership was an important topic of discussion at the 2011 High Council, which for the first time included more women attendees than men (57 to 52).
"I'll stand behind women who are speaking up and support and encourage the use of an individual's strengths and gifts beyond just the traditional roles," Nancy Roberts said. "We need to have people be who they are."
Regarding the recent election of Commissioner Linda Bond as the Army's 19th General, William Roberts said Bond is a capable, intelligent, experienced, and articulate leader.
"She says things worth listening to," Roberts said. "I've never heard her speak when I did not want to listen."
As the national leaders of The Salvation Army in the U.S., the Robertses said they will protect the Army's name, reputation and heritage.
"We want to capture the joy of Salvationists who are serving the Lord in communities," William Roberts said. "We want to remind people that we are an organization that serves. In corps, headquarters, social service centers—our purpose is to serve. We need the mindset of servants. We must treat and respond to people as if we were responding to the Lord."
A look inside National Headquarters
On YouTube: https://tinyurl.com/ 69bnqdk
On the New Frontier site:  https://www.newfrontierchronicle.org/nf/2011/03/a-look-inside-nhq/