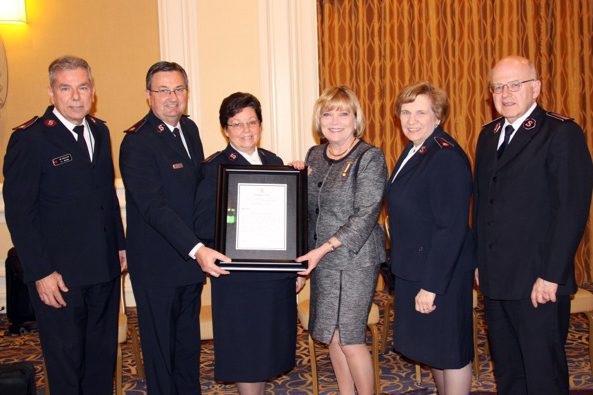 Marlene Klotz-Collins receives rare distinction
Award is The Salvation Army's highest recognition of volunteer support.
By Heather Howard – 
Marlene Klotz-Collins—member of the National Advisory Board for 14 years and the Phoenix Advisory Board for 30 years—was awarded The Salvation Army's Order of Distinguished Auxiliary Service, the highest recognition conferred upon a non-Salvationist in recognition of outstanding, long-term service, by issue of General Linda Bond.
Klotz-Collins was instrumental in the formation of the Christmas Angel program in Phoenix, presented annually by KTVK 3TV. Now in its 27th year, the program provides toys to 50,000 children annually. Her work with the Army also includes disaster relief efforts, volunteer recruitment, and fundraising.
"To be admitted to The Order of Distinguished Auxiliary Service is humbling and overwhelming," Klotz-Collins said. "I am passionate about The Salvation Army, and it has always been my privilege and honor to volunteer for this most beloved organization. I am in awe of the officers who commit their lives to service in our communities and throughout the world."
National Commander Commissioner William Roberts, Territorial Commander Commissioner James Knaggs, and Southwest Divisional Commander Lt. Col. Joe Posillico made the presentation during the January National Advisory Board meeting in Phoenix.
"Surrounding me these many years have been a supportive family, friends and co-workers, local and national advisory board members, other volunteers, and generous people who respond to opportunities to be involved at whatever level," Klotz-Collins said. "It will always take teamwork to meet the constant needs that are met by The Salvation Army. I am deeply honored to be part of the team. To God be the glory."
Posillico said, "Marlene's contributions have advanced the mission and ministry of The Salvation Army, locally and nationally, in immeasurable ways. She continues to amaze me with her service and love for the Army and for all we do. We are blessed to have her."
Ninety Americans have received the Distinguished Auxiliary Service Cross since its inception in 1941. Henry W. Taft, brother of President William Taft, was the first recipient for his service as chairman of The Salvation Army Advisory Board in New York City for 20 years. Prime ministers, members of the nobility, President Herbert Hoover's wife, and Justice Sandra Day O'Connor are among the recipients.