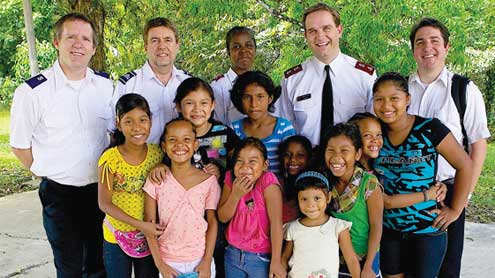 Local corps raising funds for new Panama girls' home
Proposed site in Paraiso to provide safer environment
By Vivian Gatica
A delegation from The Salvation Army Pasadena Tabernacle Corps (Calif.) traveled to the Dr. Eno Home for Girls in Colon, Panama, in January to film the site. The corps is raising funds to support future reconstruction at a new site.
"The home is in very poor condition, and has been for many years," said Pasadena Corps officer Major Darren Norton, who is leading the fundraising effort at the corps. "This was definitely the project we wanted to get involved in."
The home, built in 1967, has been a sanctuary for girls in Panama, offering protection, education, psychological and spiritual support, and nutritional and hygienic necessities. However, Norton said that the current building has drywall and foundational problems and cannot house more girls because many rooms are unlivable.
"The current home does not allow us to reach as many girls as we should be able to, and is is unsafe and unhealthy," said Major Darlan Marquez, divisional director of women's ministries in Panama.
Norton and Major David Harmon, director of world missions and overseas child sponsorship, and the rest of the delegation filmed the current home conditions, while the girls played with the cameras and enjoyed the visitors' company. Norton said the girls were happy despite poor housing conditions.
"There was a sense of underlying hope that this project would become a reality when the girls and adults at the home were being filmed," Marquez said. "They were conscious not only of the immense difference that the project would have on them, but also for those who in the next 50 years would call the new [building] their home."
The new girls' home would be relocated from the hostile and dangerous city of Colon to the much safer village of Paraiso, and would be adjacent to the local Salvation Army corps and officers' quarters, allowing for corps connections.
"This home provides a safe haven for girls who would otherwise be living in extremely unfavorable conditions," Marquez said. "Some would be in danger of trafficking, others simply facing the difficulties that poverty brings such as malnutrition, lack of clothing and education, and danger from violence and abuse."
Although the project is still in its beginning stage, the Pasadena Tabernacle Corps is committed to partnering with Panama to make this dream a reality. The corps has raised $90,000 of its $125,000 goal, and Norton said that when the time comes, the corps plans to send a team to assist in construction.
Watch the video at youtu.be/VUbVdLMX4kQ.