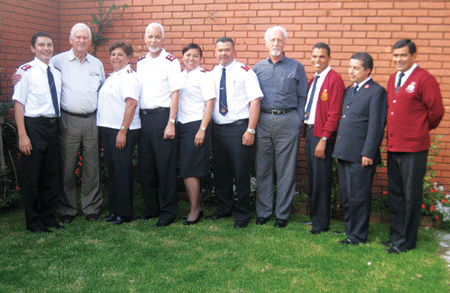 Latin America North Territory looks to the future
Territorial leaders plan comprehensive fundraising program.
 By Ron Waite
Leaders from the Latin America North Territory invited The Bridge partners Bob Gregg and Ron Waite (Western Territory Salvationists) to hold a two-day conference June 7-8 in Bogota, Colombia, on developing a comprehensive fundraising strategy and, ultimately, a specific community relations department (CRD).
The two days focused on the existing CRD efforts within the country and a review of current activities: to keep what worked and discard what did not. After this review, participants developed an initial plan to increase effectiveness, which included training, building an advisory board—where having an advisory board is safe—and increasing income for programs. Implementation will continue over the coming months.
With a population of over 10 million people, needs are great in the city of Bogota. However, with more than 100 U.S. companies operating in Colombia, success appears attainable.
The Bridge will continue to work with the leadership in Colombia, as well as territorial headquarters in Costa Rica and the training school in San Jose, to develop a comprehensive CRD program, along with curriculum for training new staff and officers.
The Bridge principals Gregg, former territorial financial development director (TFDD) for the Western Territory, and Waite, former TFDD for the Eastern Territory, also work with Chaz Watson, director of development for the Eastern Territory's Pen-Del Division, to teach fundamentals of financial stability to Latin American corps.