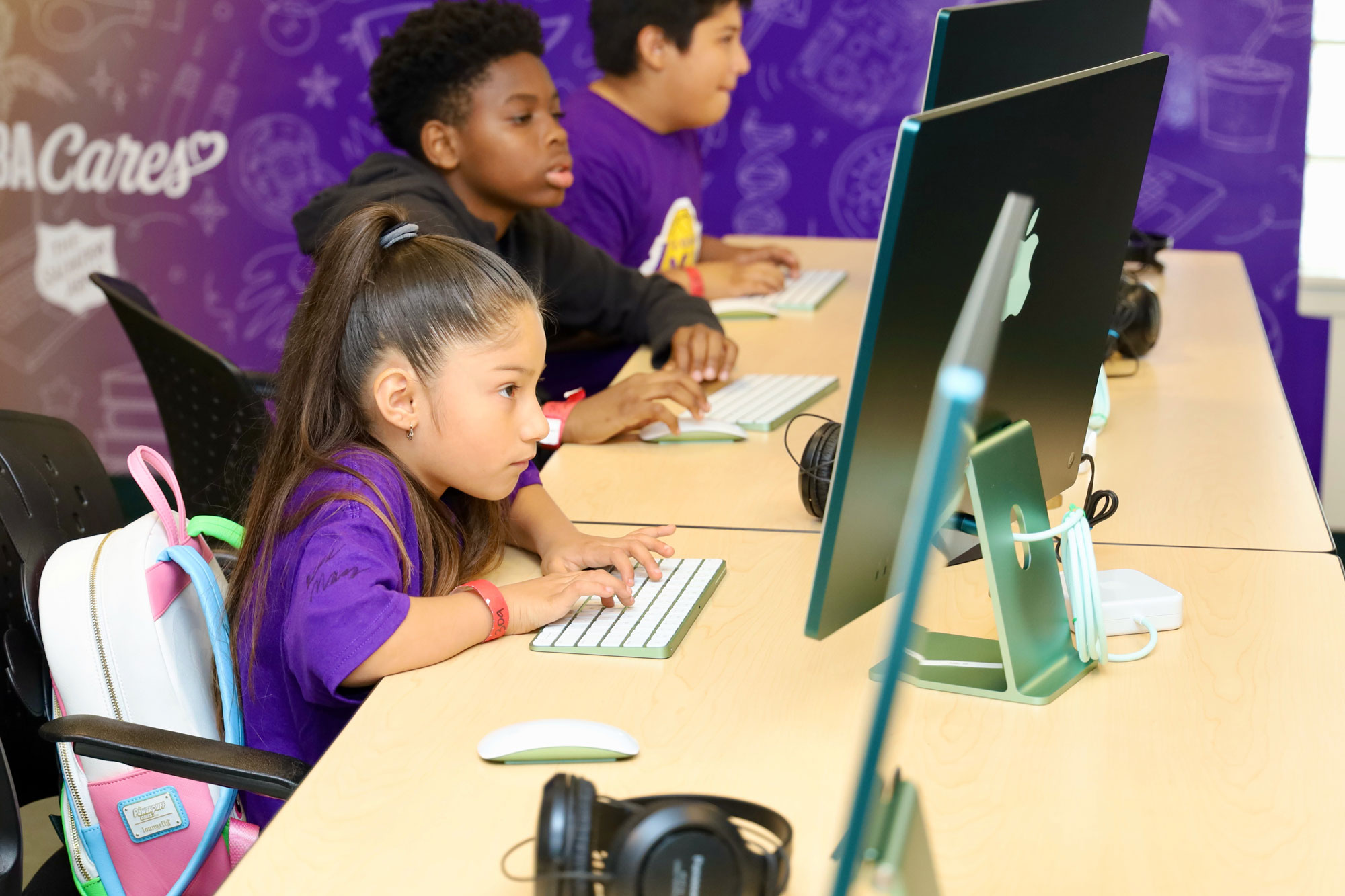 Lakers Technology Room enhances youth STEM skills at Salvation Army LA Red Shield
The Salvation Army Los Angeles Red Shield Community Center recently unveiled the Lakers Technology Room, a newly renovated computer lab, thanks in part to a partnership between NBA Cares and the Lakers Youth Foundation. The new lab provides the space and equipment for youth and adults alike to explore STEM skills and build lasting relationships with their peers, community and Salvation Army staff.
It's also become a space to dream about the future. "The Red Shield has a long legacy here, but remote learning during COVID inspired us to begin thinking about what's next and new ways of engaging with youth," said Francisco Medina, the center's director. "There have been tremendous success stories in the time I've been here—and for decades before. We want our youth to know that they can be artists, dancers, tech engineers, athletes—anything is possible."
The newly equipped space has gone from 15 people using it each day to more than 50. Its launch was tied to the Juneteenth Holiday, with Lakers basketball legend Sasha Vujačić, several Los Angeles Lakers ("Laker Girl") Dancers, and Corps Officers Captains Angel and Cassandra Amezquita on hand to cut the ribbon of the new space.
The youth in attendance at the event received a children's book about the history and relevance of Juneteenth, and had the opportunity to participate in a youth basketball health and fitness clinic before taking home Lakers goods.
Like the Lakers Reading and Learning Center located directly across from the lab that was restored by the Lakers 13 years ago, this is a room built with the intention of opening pathways to freedom for all by providing a safe, stimulating and comfortable environment for community center members to study, relax and build meaningful relationships.
Medina said it's also a prime example of the ongoing and important relationship between the Red Shield Community Center and the Los Angeles Lakers.
"We're absolutely very blessed to have the new lab," he said. "It's a testament to the Lakers organization and their values. This gift was contingent on the team making the finals in the Western Conference—but even though they lost to the Denver Nuggets, they said they still wanted to do a big part of the renovation."
That renovation included four brand-new iMac computers, five new Dell computers, several virtual reality (VR) headsets and a 3D printer that have already helped boost the center's STEM programming for youth during summer camps and after school. In addition, the lab is open to adults and staff daily, and the morning classes for seniors have become popular as well.
"Red Shield is like a second home for kids in these dense, low-income communities," Medina said. "Some folks drive out from all over LA County. We want the center to feel like it's every kids' backyard."
In fact, Medina said he was one of those kids growing up. Today, he gets to help support a new generation of young people looking to be inspired by technology, like 12-year-old Aiden Islas. He just started seventh grade, and has been a regular in the lab since its renovation.
"We get to play … after we practice typing," Islas said. "One of the projects I worked on was building a robot. I had other friends doing it as well. It was fun because we were able to build a robot that actually worked."
Islas said he hopes to make building robots a career in the future, something Medina said was central to the mission of the new lab and related STEM programming for youth.
"We wanted to empower them with the fun components in technology so they can explore: Can they be engineers? What can they do?" he said. "The Lakers came and saw that vision and equipped us with the right equipment."
It's created a new way for adults to connect to one another, too. Medina said a regular community center client recently saw his brother for the first time in 38 years through a video call set up by staff.
"It's very important to continue these programs for people like him," he said. "He's a whole new person now."
---
Do Good:
Life is busy, but you can make an impact for good.

Listen in to the Do Gooders Podcast

, a show from The Salvation Army's Caring Magazine for real-life inspiration, expert insight and ideas from change-makers so you can join in right where you are and be the reason somebody believes in goodness.

You've probably seen the red kettles and thrift stores, and while we're rightfully well known for both…The Salvation Army is so much more than red kettles and thrift stores. So who are we? What do we do? Where? Right this way for Salvation Army 101.
It's because of people like you The Salvation Army can serve more than 24 million Americans in need each year. Your gift helps fight for good all year in your community. It's an effort to build well-being for all of us, so together we rise—and that good starts with you. Give to spread hope with a donation of funds, goods or time today.