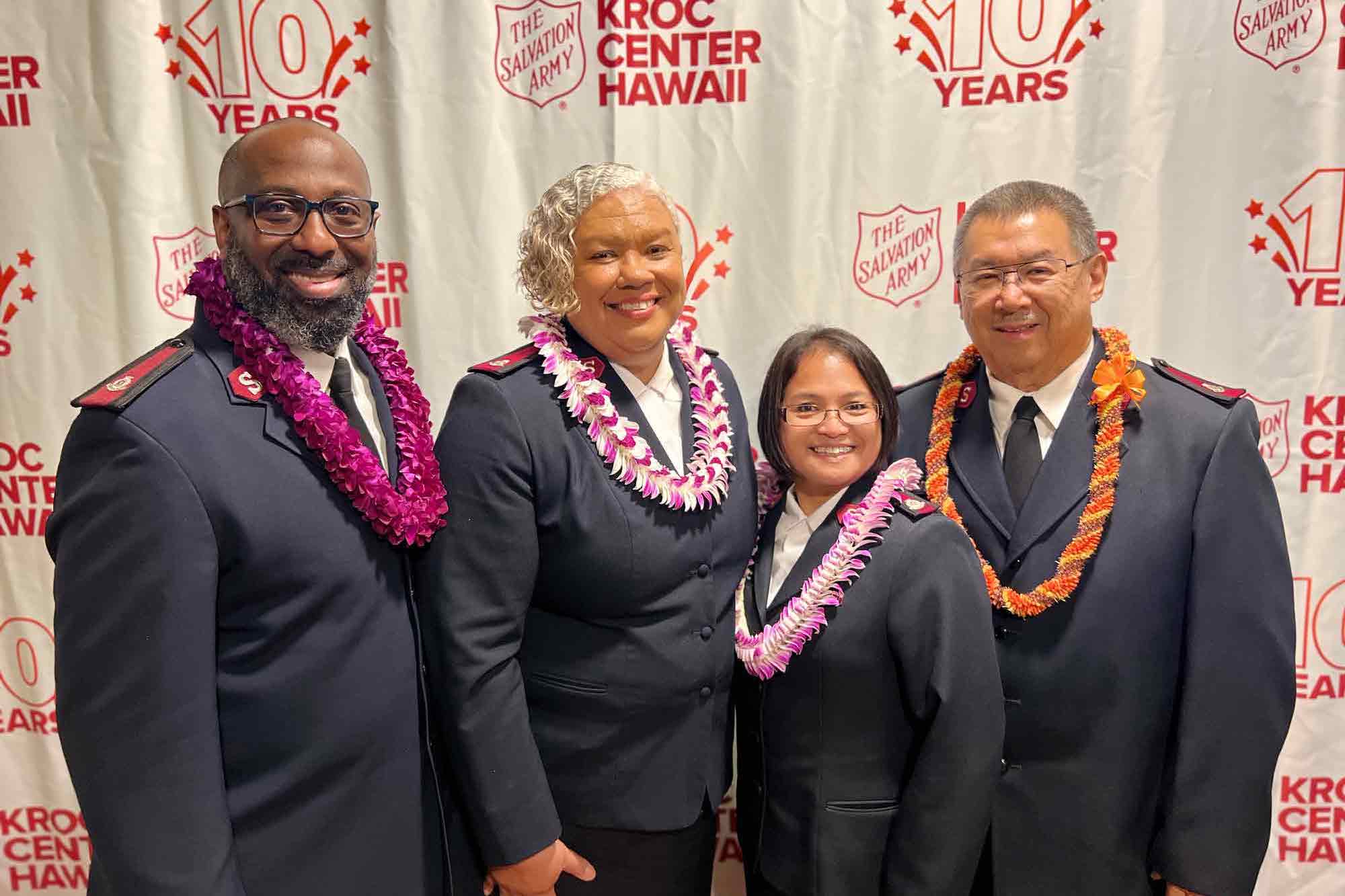 Kroc Center Hawaii celebrates 10 years of being a 'beacon of hope' in Kapolei
After moving into a senior residence in Ewa Beach, Hawaii, Gloria Uslan-Milo, 80, said she started praying for a place to go for exercise, since her new home lacked a recreation center. Then, The Salvation Army Ray and Joan Kroc Corps Community Center opened to serve the then developing community of Kapolei nearby—an answer to prayer, she said.
"It's a personal thing that he's given me," she said.
Uslan-Milo has been a member since the start in 2012. She said she enjoys coming to the center for swimming and the senior mixed plate, a program with a variety of interactive activities.
Now, a decade later, Uslan-Milo is among the thousands who have passed through the Kroc Center's doors. During a weekend celebration Oct. 29-30 that included a gala event and Sunday worship services, members of the center and the greater West Oahu community came together to reflect on the last 10 years and look to the future.
Bringing the Kroc Center to Hawaii
In 1998, Kroc, widow of McDonald's founder Ray Kroc, donated $80 million to build the first Salvation Army Ray and Joan Kroc Corps Community Center in San Diego, California, with the vision for all people to have recreational, educational and cultural arts opportunities. The center opened in June 2002, and just over a year later, in October 2003, Kroc left a $1.5 billion bequest to The Salvation Army to build similar community centers around the country.
During the gala event, many of those who helped bring the Kroc Center to Hawaii were recognized, including longtime National Advisory Board member Phil Russell, who received the Kroc Cares Inspiration of Hope Award.
Commissioner Dave Hudson presented Russell with the award, sharing the story of how the dream of bringing the Kroc Center to Hawaii seemed far-fetched until God made it happen through obedient people, like Russell.
"Without Phil, I really don't think I would have tried," Hudson said. "And without that, this place would not be here today."
The Hawaii Kroc Center received a $110 million combined capital and endowment grant from Kroc's donation and the community raised nearly $23 million locally—a condition of the grant. Leaders acknowledged Don Horner for his work raising funds from the private sector, and for Horner's reminder to "keep God at the center" of it all.
Construction of The Salvation Army Kroc Center Hawaii began on April 15, 2010 and the facility opened in February 2012. The $133 million center was the 17th of the 26 centers that opened across the U.S., and is the largest community center of its kind in Hawaii. Local architectural and design firm G70 was honored for their work in the development of the Kroc Center with the Kroc Cares Corporate Honoree Award.
During the gala, Senator Mike Gabbard issued a proclamation from the Hawaii State legislators. He was later joined by Representative Sharon Har.
"What has been so special about this place is that it's more than just an exercise facility for people of West Oahu. This is a place where our families make memories," said Har. "I think what's so special too, is that so many of our families have had so many life-significant events here…my twins even had their first birthday party in this room."
Meeting human needs during the coronavirus pandemic and beyond
When COVID forced the Kroc Centers to close its doors as a community center, it pivoted to become an emergency disaster response center, Hawaiian and Pacific Islands Divisional Commander Major Phil Lum said, adding that at one point, the Kroc Center was producing 10,000 meals a week and distributing them up to the entire West side of Oahu.
"Having these huge drive-through distributions right here in our parking lot, it was an amazing experience to see the outpouring," said Lum, who was the Kroc Center Corps Officer at the time. "The mission never changed. We kept preaching the gospel and meeting human needs, whatever the needs were…I thank the Lord for that. And it's been miracle after miracle."
Joreen Paakaula said her family had experienced a series of hardships, including job loss while having a mortgage to pay and physical and mental health needs. She recalled a time when her grandson who lived with her said, "Mama there's no milk for the cereal." She said they prayed, thanked the Lord for what they have, and he ate his cereal dry. The next day, when she came to the food distribution at the Kroc Center, there was milk.
"That was such a blessing that I got to share and show him that God does answer prayers, and he's so good," Paakaula said.
Paakaula thanked those in attendance at the gala for giving.
"As a participant of the food distribution, I know there will be a time again, because of the world we live in, for us to gather again. And I know that The Salvation Army will show up and will be there for the community," she said.
Proceeds from the gala event supported the Kroc Center's community outreach and social service efforts in West Oahu, called the Kroc Cares initiative.
"Kroc Cares is our service to those in need within our community, providing connection, hope and light," said Hawaii Kroc Center Corps Officer Major Osei Stewart. "We believe that if we can help someone up from their situation with dignity, they will be all the more better."
Faithfulness
During Sunday worship services, members of the Kroc Center's corps (church) reflected and gave thanks for 10 years of being in Kapolei. Across the two Sunday morning services, five individuals were recognized with Kroc Servant Awards, including Jeannie Chan and Sam Ng, who lead the corps' Homeless Outreach Team.
"We want to recognize faithful servants who have helped us get this far," said Ministry Director Rick Ahn.
Majors Paula and Roy Wild, former officers of the Leeward Corps that eventually moved to the Kroc Center, shared their memories of the corps, and read Scripture (Deut. 7:9) and gave the message, respectively.
Roy Wild shared about God's faithfulness through The Salvation Army's history on the island, going back to 1901. In 1972, all of the area's corps combined for the Leeward Corps, which met in Aiea prior to moving to the Kroc Center.
"Because of the faithfulness of The Salvation Army, we now have the Kroc Center," he said. "People see and know God is working through the Hawaii Kroc."
---
 Do Good: