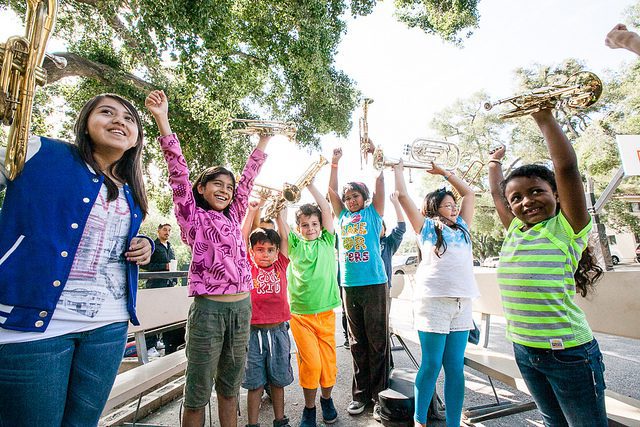 Brass program to be offered at Kroc Centers
It won't be long until the sound of brass music fills The Salvation Army Western Territory's Ray and Joan Kroc Corps Community Centers.
The territory is implementing a brass teaching program—envisioned by Territorial Commander Commissioner James Knaggs—that will give youth the opportunity to learn to play a brass instrument at the centers.
"The Salvation Army has a long tradition with [brass instruments], and music education at schools has been slashed…I think that there is a desire for The Salvation Army to fill that void," said Lt. Colonel Edward Hill, territorial program secretary. "It's something we have a history in doing. We're just a good fit to meet that need."
Territorial headquarters will provide initial brass instruments and cover the cost of the music instructors for six months.
"I am extremely grateful that the territory has placed importance in the project and made available the funds to provide instruction, instruments and music," said Neil Smith, territorial music secretary, who oversees the program.
According to Smith, instruction will probably start in cornet and alto horn, but will eventually expand to all other brass instruments found in a Salvation Army band like the baritone, euphonium, trombone and tuba.
Classes may be conducted up to five days a week so that students will not only become good musicians, but also be inspired to attend a corps where they can hear God's Word and eventually provide support in worship services.
The brass program is still in development, but the Kroc centers are expressing interest and Smith said the first center will likely launch it this fall.
"Brass playing has an important place in our history and in our current ministry," Smith said. "This gives us a chance to encourage a new generation in this field, and through this program we hope they will become members of our congregations and discover God in their own lives."
_________________________________________
Check out the documentary below about The Salvation Army's little known history in brass music making and how it has affected so many lives. A film by Stephen M. Ditmer.