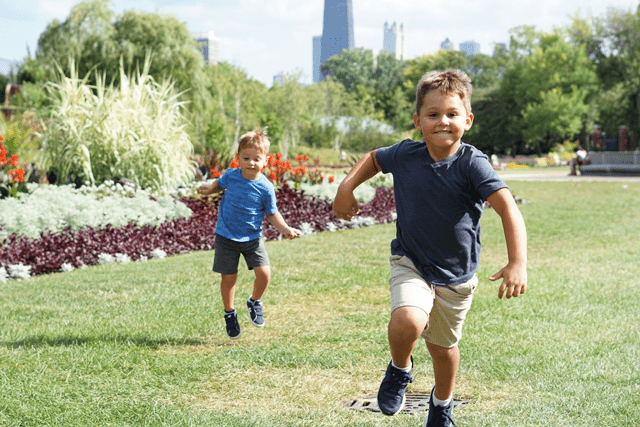 Kids Fit Go program to begin rollout
West's Kroc Centers are getting a jump start on the initiative.
By Hillary Jackson –
When Fitness Coordinator Dwight Pete tells kids at the Ray and Joan Kroc Corps Community Center Phoenix South Mountain to "build a plate," he isn't talking about pottery or even following the traditional food guide pyramid, for that matter. He's quizzing them on how they should eat for their activity and energy levels.
This activity is used as a benchmark lesson in the Nutrition Pillar of Kids Fit Go, a Healthy Army initiative designed to teach children how to make lifelong healthy decisions.
"The kids didn't know a lot of the stuff at the beginning as far as nutrition and how food affects your body, and at the end, when he tested them…they knew all about food," said Kara Cline, Healthy Army Program Director.  
The Healthy Army initiative is funded by a donor who believes in The Salvation Army's reach and ability to make an impact in the fight for healthier living.  
In the U.S., 20 percent of those aged 19 and under face childhood obesity, according to the Centers for Disease Control and Prevention.
The Kids Fit Go program is designed as both a preventative health and leadership program, and is composed of five pillars: Purpose, Nutrition, Fitness, Leadership and Skills Training.
"The key difference in this program…is we look at it as energy in, energy out—plus a lifestyle," Pete said. "How much energy are we consuming as far as food? How much are we expending out of our body in exercise, activities and incorporating that into a lifestyle where it's feasible for parents to implement it without adding a lot more tasks…which is the whole purpose of the program."
Plans for Kids Fit Go are still being finalized, but several areas are getting a jump-start on the initiative. The Phoenix Kroc Center, where Cline and Pete are based, is piloting it as well as the San Diego Kroc Center. The pair has trained teams at the Suisun City and San Francisco Kroc Centers. Soon, they'll train Idaho's Coeur d'Alene Kroc Center.
"We're trying to reach every division in the Western Territory by the end of the fiscal year and then spread from there," said Cline. "We figure once we train the Krocs, they can act as a go-to for corps in the area…really we want this program accessible to as many people as possible."
Cline says that in addition to the Kids Fit Go guidebook, 36 weeks of lesson plans of programming will be available for corps to access via Sharepoint.
"We knew that the success of this program would be the ease of implementation into each different location," Cline said.
In addition to being easy to implement, the program aims to be flexible so it can be applied in a range of environments and reach as many families as possible. The program also hopes to serve as a tool to bring more people access to prevention health programs as well as to the Army.  
Major Sybil Smith of the Phoenix Citadel Corps helped create the content for Pillar 1 of Kids Fit Go: Purpose.
Cline said Smith told her God woke her up in the night and she created notes related to purpose. Cline said it was "spooky" how Smith's notes were exactly what she had in mind for the purpose section of Kids Fit Go.
"I love having that input from an officer," Cline said, noting that Smith's name will be added to the Kids Fit Go guidebook.
"It's exciting to be able to help enrich this section of the Kids Fit Go Program," said Smith. "We have a deep desire to see our kids know, feel and experience that they have worth, that they are cherished and that they have an absolute, innate purpose in this world. That's what God's Word tells us about every person and I hope we can help our youth discover it."
The Kids Fit Go initiative takes a more holistic look at wellness. The program aims to teach healthy habits, so kids can grow up understanding why they should eat right and why their bodies need movement but also the worth they have and their purpose in the world.
"We believe that we can change the next generation. If they're not learning this at home and they're getting some principals at school, but it's more like, 'Do this.' 'Eat more vegetables.' 'Drink more water,' but there's no why. There is no connection to why are vegetables important? Or, why are carbohydrates important? What is protein?" Cline said. "We believe the kids can start making better choices in their lives not only with how they treat their body, for food and nutrition and exercise, but choices that involve drugs and alcohol or doing the right thing."
Even though Kids Fit Go is starting by reaching children in the Western Territory, it ultimately aims to make a global impact.
"We have an opportunity to really change this next generation worldwide, and really that's part of the reason the donor gave. He loves the Army, but he also sees that we have worldwide effect so we can keep expanding this program," said Cline, who has met with representatives at International Headquarters on the nutrition pieces. "We have an opportunity to make worldwide change and that's our goal."