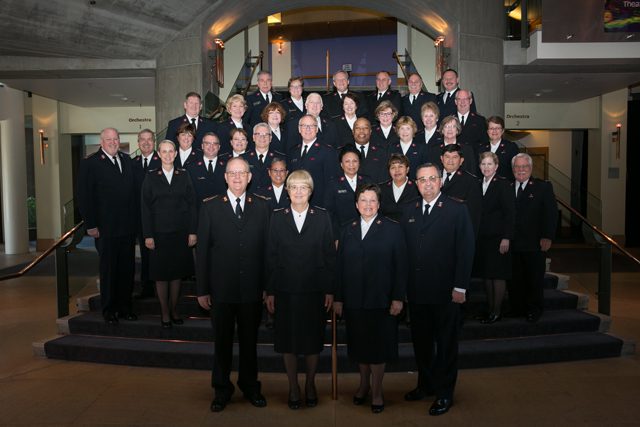 International leaders visit SoCal
General André and Commissioner Silvia Cox present retirement certificate to Commissioner James and Carolyn Knaggs at public farewell event.
General André and Commissioner Silvia Cox traveled to the USA Western Territory for the public farewell and retirement ceremony of Territorial Leaders Commissioners James and Carolyn Knaggs Nov. 5 at the Cerritos Center for Performing Arts in Southern California.
Nearly 1,000 Salvationists of the Western Territory joined the international and territorial leaders to thank the Knaggses for more than 40 years of service as Salvation Army officers, including the past six in the West. The pair officially retire Dec. 31.
"We are grateful to God for leaders who have been willing to stand up for Christ, and who have been willing to challenge us to 'show up to work,' to stand in the gap for others, and to stand victoriously with those who have been saved," said Colonel Colleen Riley, Territorial Secretary for Women's Ministries.
The General presented the Knaggses with a certificate of honorable retirement and Commissioner Silvia Cox offered a prayer of blessing over them.
"It's great to know great people. Not only have you been a great influence to your family, but a great influence on The Salvation Army as well," the General said. "I thank God that there are leaders like you in The Salvation Army with vision, daring, and a 'can do' attitude—those who go boldly because Christ calls us to win the world for him."
The international leaders spent Nov. 6 at the Pasadena Tabernacle Corps with Corps Officers Captains Terry and Rutendo Masango, participating in worship and an afternoon Thanksgiving Festival of Music presented by the Pasadena Tabernacle Band with the Pasadena Tabernacle Songsters.
"We are all but a work in progress. As we work, God wants to work in us as he is still in the process of making change in us," the General said. "Because of Christ we can experience change and transformation."
Read more about the impact Commissioners James and Carolyn Knaggs have had during their six years as leaders of the Western Territory at salar.my/reflect.