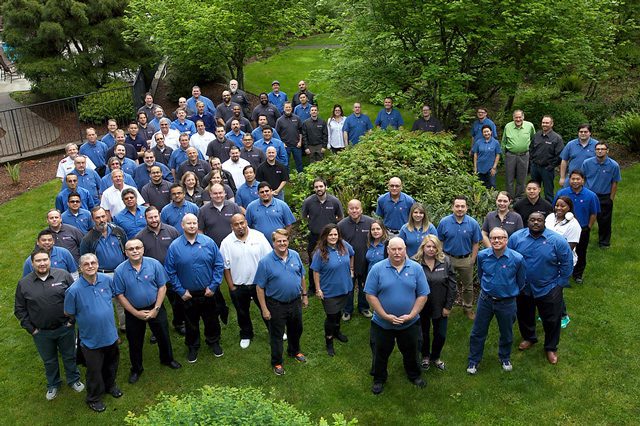 Information Technology holds first summit in 8 years
The Western Territory's Information Technology (IT) Department met together for the first time since 2007 in May in Welches, Ore., for four days of inspiration, instruction, invigoration and interaction.
Eighty-three of the 85 department members attended what was billed as the IT Summit with the underlying theme of "What you do matters," led by territorial IT Director Tim Schaal and offset in cost by over $15,000 in donations from various IT vendors.
"I can tell you firsthand that the Sierra Del Mar crew came back refreshed and with a completely new attitude toward work," said Joe Espindola, an IT project manager at Sierra Del Mar divisional headquarters in San Diego. "I am thankful we were able to bring our IT staff together in an atmosphere that was relaxing, inspiring, productive, and most certainly memorable."
Scott Harkless, who graduated from the Fresno, Calif., Adult Rehabilitation Center program in 1994 and set out on a path to becoming a lawyer, started the conference with a stirring talk about how The Salvation Army makes widgets of "changed lives." Everyone in the room, he said, is part of the process of building those widgets.
The next two days featured a number of sessions focusing on information sharing, team building, and a series on new tools under consideration to improve the Western Territory's use of technology to more effectively and efficiently operate.
"Even though we are technology employees, the conference reinforced the mission and how important our role is in fulfilling it, and that we care about that even more than technology," said David Chavez, infrastructure analyst at territorial headquarters.
Territorial Chief Secretary Colonel David Hudson inspired attendees on the last day with a talk on "Doing the Most Good," sharing stories of how The Salvation Army on a daily basis is doing so. It was the top-rated session of the conference, renewing staff energy in knowing that work has impact in helping The Salvation Army accomplish its mission.