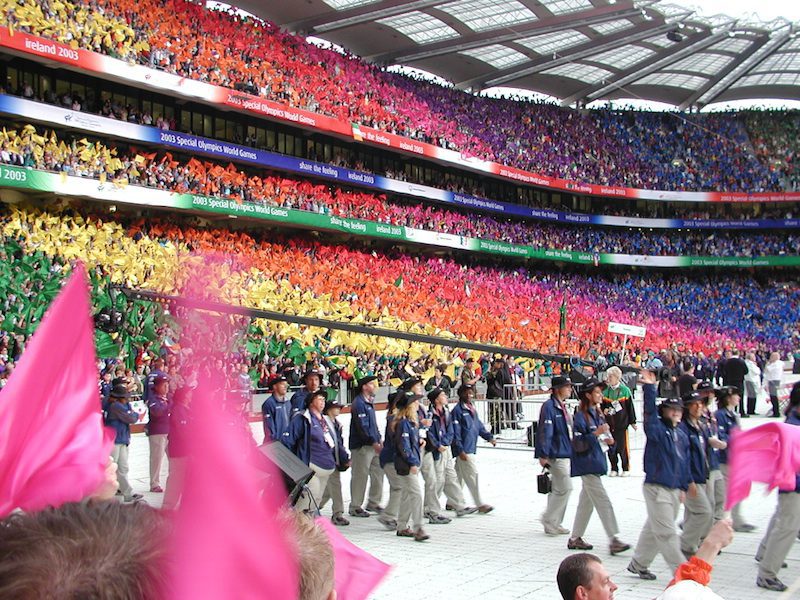 In Competition, learning skills
The first Special Olympic Games, founded by Eunice Kennedy Shriver, took place in 1968 to give athletes with intellectual disabilities a chance to compete. Since then, it has grown into a global movement with over 4 million athletes at its forefront.
Through the Special Olympics, athletes train for competition, but also learn valuable skills along the way—skills they can employ in their professional lives.
Caley Versfelt, 22, joined the Special Olympics when she was 9 years old. She wanted to be a swimmer like her father, and that's what motivated her to get over her fears and try it. Thirteen years later, she now competes in basketball and tennis.
"I'm always up for a challenge," Versfelt said. "I got a lot of confidence from Special Olympics, and a lot of things I learned intersect with life."
Shail, Versfelt's mother, said she has witnessed her daughter grow significantly through her experiences in athletic competition.
"She wants to talk to everybody and get to know them; she wants to take new challenges and sets goals for herself," she said. "[Caley] has the confidence from Special Olympics to try new things and be successful, and it's carried into her work. She branches out in a lot more ways."
Outside the pool and off the courts, Versfelt took classes at University of California, Los Angeles (UCLA) through the Pathway extension program and lived at the university for a year. She currently interns at the Ronald Reagan UCLA Medical Center in human resources, applying the discipline, confidence and communication skills she acquired through sports.
"It's an internship for people with disabilities, and it shows you how to work in a worksite," Versfelt said.
Versfelt's real passion, however, is performing arts. She is part of the Born to Act Players (BTAP), a company made up of actors with and without disabilities. She even served as an extra in the Fox TV show "Glee."
"Some people [in BTAP] have down syndrome or autism, and it's great to have people with disabilities to learn about and hang out with," Versfelt said. "That's who I am and I'm not ashamed of it."
An accident left Matthew Raymundi, 27, disabled as a child.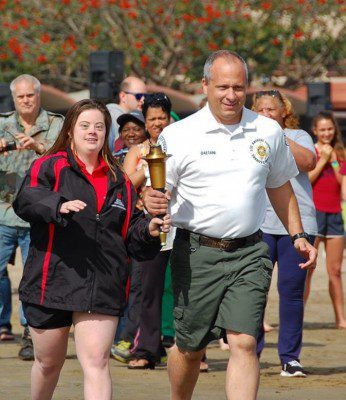 "He had to relearn how to do everything," said Julie Baxter, Raymundi's sister, who volunteers at the Special Olympics. "He had a lot of anger and behavioral issues and all of that has subsided. Now he's learned; he's found his voice. A lot of our athletes come aboard introverted, and once they see the model of the older ones, they play off of that and you start to see growth out of it."
Raymundi has participated in various sports throughout his 17 years with the organization, but is currently involved in basketball and softball.
"Everybody has problems sometimes in Special Olympics," Raymundi said. "Team members help me out with my problems, and sometimes if we have a problem…we find a way to work together and do better."
He appreciates the opportunity to continue playing sports after high school.
"I love sports," Raymundi said. "When [most people] graduate from high school…there's no sports, but the Special Olympics has helped me out because it keeps the spirit alive."
He is currently attending the Pathpoint work training program in Chatsworth. "I'm working to be independent," he said.
Versfelt and Raymundi are among the 13,000 athletes, ages 8-80, that compete for Special Olympics Southern California (SOSC). Competitions are held over two seasons with 12 sports each, and the goal is to get each athlete to compete in at least one sport each season.
"Sports builds discipline and consistency in your life," said Bill Shumard, president and CEO of SOSC. "You learn how to win and lose."
Los Angeles will host the 2015 Special Olympics World Summer Games, giving SOSC athletes an opportunity to be among 7,000 people from around the world competing in the games.
"If I have kids I want to tell [them] the story of being part of the World Games," Raymundi said.
Beyond competing, athletes have opportunities for continued growth in the Special Olympics, which trains them to become coaches, scorekeepers, and global messengers like Raymundi and Versfelt.
"We all think we're helping them, but it's them that help us," Shumard said of the athletes. "They're in it for the love of sports––sports at its purest level."