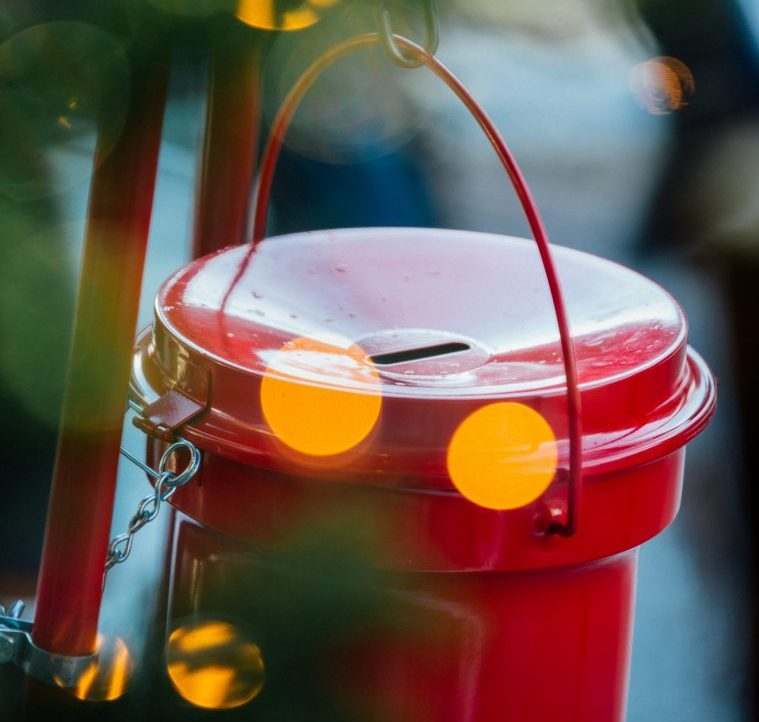 In a year full of hardships, The Salvation Army adapts its fundraising efforts
Creative new event formats take center stage
Christmas is upon us—the busiest fundraising season of the year for The Salvation Army, when much of the funding for vital services is typically provided. But what was once a time of Red Kettle kick offs and community holiday events is now one of adaptation. Salvation Army officers across the West are having to move toward primarily virtual fundraising events as the country again battles spikes in COVID-19 cases.
With pandemic restrictions in place, officers in the Western Territory pivoted traditional fundraising events to fit a virtual format, while others developed completely new events that complied with COVID-19 safety guidelines. The goal? To do their part to help rescue Christmas for the millions of Americans who need assistance this year.
Virtual events 
The Salvation Army in San Francisco and Solano County, California, turned annual Christmas fundraising festivities into successful virtual galas.
In San Francisco, The Salvation Army held its 17th Annual Holiday Luncheon virtually on Nov. 18 via PayBee, a virtual fundraising event platform. The event streamed live from The Salvation Army San Francisco Headquarters with a program mainly centered around the Army's The Way Out program.
"The event was a great success," said Keri Shay Lee, Donor Marketing and Database Manager for the Golden State Division. "Many folks were touched by the messaging of our program and inspired to help our unhoused neighbors by making a donation. We had a lot of people asking for a copy of the event to re-watch or to share with their friends and family."
The luncheon raised approximately $450,000—an amount that exceeds all fundraising totals for previous in-person holiday luncheons. All funds raised will benefit programming in the San Francisco area corps.
"We've really found that the donors have just been so extra generous," Lee said. "In a time of crisis, they have really blown us away with that. We've just been pleasantly surprised."
And while the virtual format was new and had its challenges, the benefits outweighed them.
"The great part of a virtual event is the expenses are so much lower," she said.
The Salvation Army in Solano County—which includes The Salvation Army Ray and Joan Kroc Corps Community Center in Suisun City—also thrived virtually with its annual Very Cherry Red Kettle Kickoff with Jelly Belly on Nov. 12.
Also held on PayBee, the live-streamed event honored volunteers, employees, and community partners. Boxed lunches were also delivered for virtual attendees to enjoy during the kettle kickoff. During the pledging portion of the program, attendees made online pledges via chat.
"Overall, it went super well," said Major Randy Hartt, Salvation Army Solano County coordinator. "We did the best that we could with what we had."
Money raised from the virtual event totaled more than $52,000.
"We're pretty excited," Hartt said.
Hartt also stressed the need to perfect the craft of planning virtual events for the future.
"If we're going to be in these virtual types of events, we're going to have to become very good at it and efficient," Hartt said. "We really need to learn how to do this and do this well, so that we have options to reach people on a large scale and raise the funds that we need to raise to support the ministry."
Thinking outside the box
While streamed events have taken off in the territory, other more non-traditional events have emerged as well. The Salvation Army of Southern Nevada—which includes Clark County—is hosting its first-ever virtual Rescue Christmas Run.
"Before COVID, I loved to do 5Ks with friends," said Captain Lisa Barnes, Salvation Army Clark County coordinator. "In really evaluating the Christmas season and our kettles, knowing that we will for sure experience a deficit in the kettles this season, we thought, 'OK, we don't just want to be OK with knowing there will be a loss. We want to get in front of it and…offset the loss. I thought, 'What if we did a run?'"
From there, Barnes researched other virtual runs and started developing the event. She purchased racing bibs and medals to send to participants in their registration packets, along with a thank you note and event instructions.
Participants are allowed to complete 5K, 10K, or even a half marathon from Nov. 1 to Dec. 26. They can walk or run their distance all at once or break it up into different days. As they complete the event, they are encouraged to share their progress with #rescuechristmasrun on social media.  
All funds raised from the event entry fees will support The Salvation Army of Southern Nevada's programs and services.
"Our mindset has just been to make sure we stay on mission, and know that it's OK if the method looks different than it's ever been. Mission has to be consistent. Method can be flexible," Barnes said. "Everything we do this year has to be flexible. But instead of feeling trapped by that…we've just got to look a little differently for a solution."
Barnes stressed the need to adapt and not wait for the pandemic to be over when it comes to fundraising events.
"There's a lot of us who feel really stuck right now and a lot of folks with the mindset of, 'I just can't wait until things get back to normal,' Barnes said. "We can't wait…We just can't give up and we can't do nothing. We have to do something."
And in Roseville, California, The Salvation Army is also doing what it can to gather support for the holiday season in creative ways, too. Recently, it partnered with For King & Country to collect kettle donations and toys for its Christmas Distribution event at the band's A Drummer Boy Drive-In concert on Nov. 13 that complied with COVID-19 safety regulations.
"This concert was a great, creative way for people to come together without being necessarily in proximity with each other and experiencing the joy of Christmas," said Major Erica Helton, Salvation Army Roseville Corps officer.
By the end of the night, The Salvation Army Roseville Corps had collected 10 barrels of toys from concert attendees for kids in need.
"The weather was horrendous. It was raining sideways," Helton said. "It didn't stop people who put presents under their jackets and walked them over to us…to give to kids at Christmas this year."
Helton believes that even as the pandemic continues and restrictions tighten, there are still safe ways to fundraise and receive support—whether it be virtually or socially distanced—that allow The Salvation Army to continue serving communities.
"I know that things are difficult. I know that there are many, many challenges," Helton said. "That doesn't stop us from serving. It just means we have to adapt how we serve…We don't stop, but we adapt."
---
Do Good: