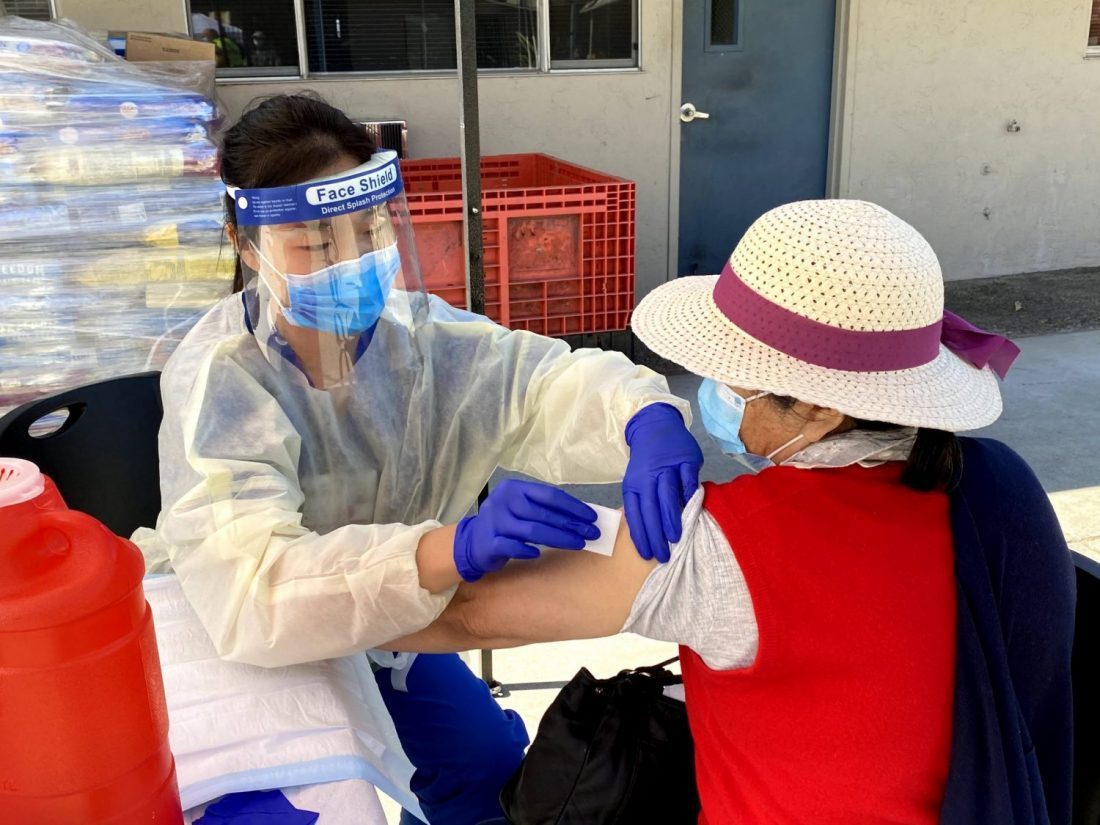 Immunization partnership brings free flu shots to seniors, homeless
It's flu season, and once again, seniors and those experiencing homelessness remain the most susceptible to catching and having the hardest time recovering from the disease. Only this year, the threat of contracting coronavirus looms large, too. 
To help mitigate the situation, volunteers from the Flu Crew, a team of medical students and faculty from Stanford and San Jose State universities, hosted a free community event that provided flu vaccines to those most vulnerable to the flu at The Salvation Army Santa Clara (California) Corps. The event provided not only a valuable resource to the community, but helped medical students in training get clinical hours.
"It was a really great way to bridge and to fill this gap and this need not only in our community, but in their programming as well. It was just a really great collaboration," said Salvation Army Silicon Valley Donor Relations Director Morgane Dussault. "I think that everybody felt a great, tremendous sense of reward because we had so many—especially senior citizens—that came. We had a line that extended down the street before the clinic even started."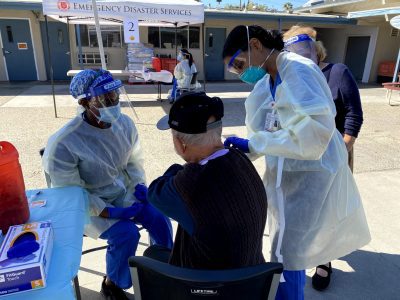 The event, held Oct. 31, marked the first time The Salvation Army has partnered with the Flu Crew, which has held similar clinics throughout the area for nearly 20 years, with many of the clinics serving farm workers. The Flu Crew was started in 2001 by Dr. Walt Newman, who practices medicine full time and is an adjunct instructor at Stanford.
Newman's family connection to The Salvation Army in San Francisco dates back a century. His grandfather, a civic leader in San Francisco, believed in helping disadvantaged people. He passed those values to Newman's mom, who's also been a regional champion for The Salvation Army in the Bay Area. 
"We would never pass a kettle without putting something in. Always," he said. 
While he was introduced to The Salvation Army in his early years, Newman said he only got involved in the past few years. After a conversation with Dussault, a bell went off. Why not partner? 
"Considering that we have a global pandemic going on right now, and we're medical school students, a lot of us wanted to get involved in the community in a meaningful way to help do something about COVID-19, but also to help prevent the spread of another similar virus, influenza," said Flu Crew Off-Campus Event Director Tori Harbour. "A lot of students are eager to get involved with Flu Crew this year because preventing influenza can also help reduce the burden on hospitals and health care systems."
A challenge of holding an immunization event during a pandemic meant it needed to be outside. Fortunately, The Salvation Army has a courtyard, so for an hour and a half, people could come to receive a free vaccination. The students were fully suited in PPE, with face shields and surgical masks. Great care was given to sanitizing spaces and stations with bleach. Additionally, lots of hand sanitizer was available.
Those who came for their free flu shot were grateful to be there. In addition to the vaccination, the Flu Crew passed out information about their clinics, which offer free health care for people in the community. Harbour recalled one man who was "all smiles" and very friendly. He thanked them for being there. 
"He said, 'You know, I'm really glad that I can contact the free clinic too, because I have some questions that I need to ask…I haven't been able to see a health care provider in a little while,'" Harbour said. 
Someone was playing rock music in the background and the pair did a little dance together. 
"It was just wonderful to see someone with such warm energy, who was really appreciating and taking advantage of the resources that we were providing," Harbour said.  
With COVID-19, many of the traditional rapport-building methods medical professionals use couldn't happen. Still, students were able to connect with those they immunized. 
"I think that because we were part of something that was more challenging, and because people were more grateful than in previous years to get the vaccine because they know how important it is…there was a really, I think, an even stronger bond between the students that were vaccinating and the people," Harbour said. "Because what we were doing was so important this year, so I really felt the gratitude."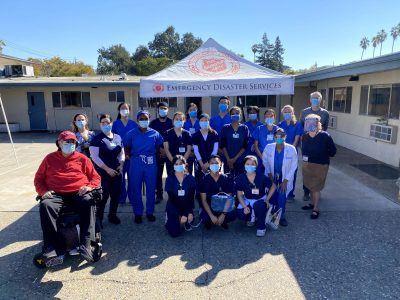 The Flu Crew plans to return to the Santa Clara Corps on Oct. 29, 2021. The group is also brainstorming more ways to reach those who otherwise couldn't get access to flu vaccines. 
"Especially at The Salvation Army, we felt that we were reaching people who really needed to be vaccinated, and who were going to benefit from it," Harbour said. 
In the meantime, should other vaccinations like the forthcoming COVID-19 vaccine become available, the partnership could be utilized again. 
"Stanford Flu Crew stands ready, willing and able to immunize wherever we are asked," Newman said. "We were asked this morning, 'If you had a vaccine, could you do it tomorrow?' And the answer is yes."
---
Do Good: