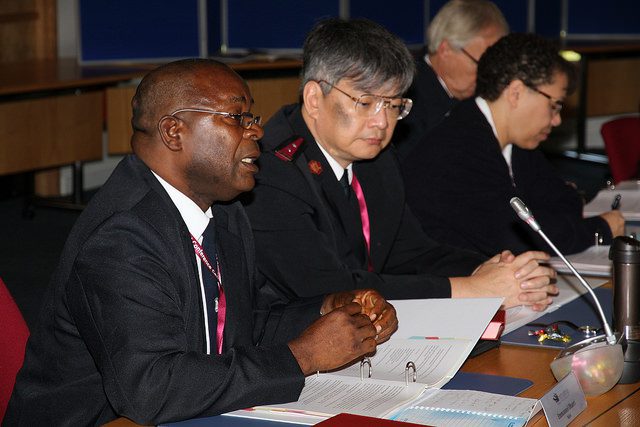 International Theology and Ethics Symposium now underway
By Richard Munn, Colonel – 
Forty-two officer and soldier delegates from 34 territories around The Salvation Army world are gathered at Sunbury Court, near London, for the 2014 International Theology and Ethics Symposium. Called by the General and coordinated by the International Doctrine Council (IDC), the appointed delegates reflect on the theme "Jesus—Universal Lord and Savior."
Chief of the Staff Commissioner William Roberts greeted participants at a welcome meal. He said that, while the gathering was scholarly in character, this was to be "more than an academic exercise." Commissioner Robert Street, IDC chairman, told delegates in his keynote address that the symposium is "a meeting of hearts and minds."
Captain Grant Sandercock-Brown (Australia Eastern Territory) presented the first paper, "The Jesus of the Gospels," the following morning affirming that the gospel narrative gives meaning to our existence. "The historical Jesus is the gospel," he said. "He didn't just come to announce the good news, he didn't come just to model a life well lived or even a death well died. He was the good news."
Lt. Colonel Ian Barr (United Kingdom Territory with the Republic of Ireland) followed with the paper "The Christ of Theology." Following the classic theological counterbalance to the historical Jesus focus, he concluded, "The Christ who emerges from the pages of the Bible and the life of the Church remains partially hidden from view. We approach him, not solely as individuals who are on familiar terms with him and with his story, but as worshippers in awe and reverence at the mystery of the self-revealing, self-giving God."
The final paper of the day, in the late afternoon, was presented by Lt. Colonel Karen Shakespeare, IDC secretary, addressing "Christ in Culture." It noted the unmatched influence of Richard Niebuhr's book "Christ and Culture." With particular emphasis on Christ transforming culture, Shakespeare challenged: "The Salvation Army must find a way to respond to the many cultures in which it operates without compromising the essential values of Christ. It may not look the same in every context and the critical issues which each territory must address may vary, but it cannot uncritically embrace cultural change."
Each paper was immediately followed by a prepared response and forum discussion and debate. Each culture provided insights and questions from their perspective.
Following small group discussion the day concluded with corporate evening prayers in which delegates gently sang: "Jesus, name above all names."
This symposium is the fourth of its kind, with the previous gatherings at Sunbury Court (2010), Johannesburg (2006) and Winnipeg, Canada (2001).