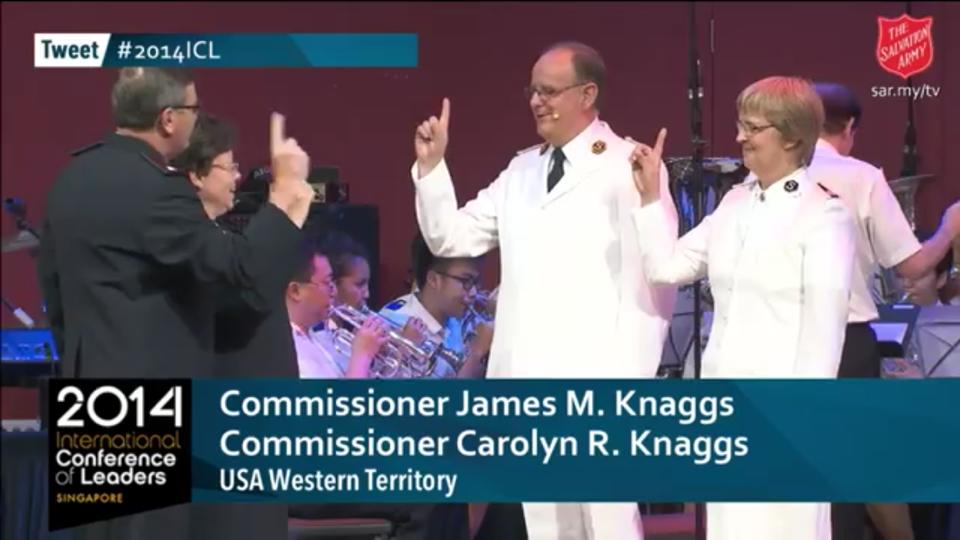 International Conference of Leaders begins in Singapore
A capacity crowd at the public meeting at Singapore Central Corps July 20 joined The Salvation Army's leaders representing the Army's territories, commands and regions around the world, International Headquarters (IHQ) and USA National Headquarters for the welcome meeting of the 2014 International Conference of Leaders.
General André Cox and Commissioner Silvia Cox, world president of women's ministries, marched into the hall with the Gracehaven Percussion Parade, a group of young drummers who set the tone for the meeting. The congregation matched the energy of the drummers with a rousing rendition of "Joy, Joy, Joy, There is Joy in The Salvation Army," and three delegates offered prayer—for the welcome meeting, the conference and for the Singapore, Malaysia and Myanmar Territory—and two offered testimony.
The Bishan Chinese Corps worship team sang "At the Cross" followed by an energetic dance presentation by the young people of Singapore entitled "Jump Around and Turn it Up." The General fielded questions from youth in an "Ask the General" segment, before offering his message.
Cox acknowledged the reality of life today, saying: "We live in challenging times…if the world ever needed the gospel message, it is now."
"It is an honour and privilege to host the conference," said Colonel Lyndon Buckingham, territorial commander of the Singapore, Malaysia and Myanmar Territory. "In doing so it sends an important message to Salvationists across the territory that they are part of a significant global movement. May God continue to bless and use The Salvation Army today and may he empower and engage his leaders this week as we meet together."
Monday's agenda included presentations by Commissioner Birgitte Brekke-Clifton, international secretary for Europe, on adherent membership, and by Commissioner William Cochrane, international secretary to the Chief of the Staff, on leadership development.
Following each presentation, delegates met in discussion groups to consider the issues and then reconvened to share their outcomes and recommendations. Two recorders kept detailed minutes, including recommendations for review by the International Management Council.
Also on Monday, The Coxes and Buckingham met with President Tony Tan Keng Yam, head of state and president of the Republic of Singapore. The General said it was a "professional and productive meeting, which will help strengthen The Salvation Army's position and profile in Singaporean society in the days ahead."
[gss ids="8308,8310,8311,8309,8307,8306,8305,8304,8303,8302,8301″]