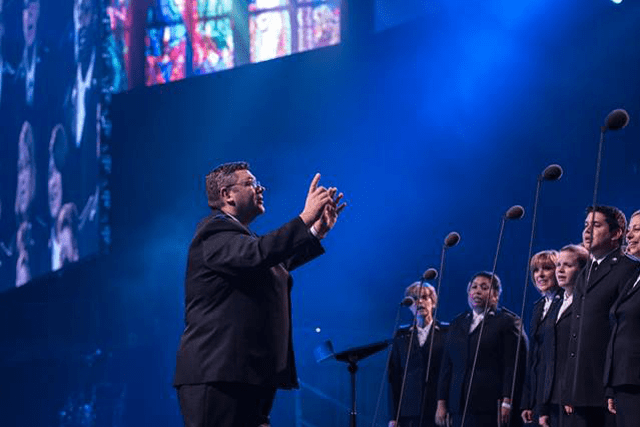 Hunt steps down as Pasadena Tab Songster Leader
Will remain active in the corps in other capacities
By Hillary Jackson –
You've probably heard of the Pasadena Tabernacle Songsters. Since 1999, they've released four albums and toured the world, including a performance at London's O2 Arena for the Boundless Congress in 2015. During all of these high points, there has been one volunteer leader at the helm: Martin Hunt.
While there is no denying the albums and tours add to the rich legacy of the choral group, for Hunt, leading the Pasadena Tabernacle Songsters is about more than the music. It's about walking with others as they grow spiritually.
A lifelong Salvationist, Hunt, the son of England-based officers, became the Singing Company pianist at London's Regent Hall Corps in 1987, launching 30 years of music ministry leadership.
After working at a camp in the U.S., Hunt came back permanently, becoming the Singing Company leader in Pasadena, California, before taking the reigns as Songster Leader at the Pasadena Tabernacle Corps in October 1999.
After more than 18 years as Songster Leader, Hunt recently announced plans to step down in June.
"I believe that leadership should always be recreating itself or moving cyclically. It should be always new: new ideas, new passion, new energy…. I've tried to be faithful to everything that it means to be a leader, which is partly about music, but mainly about nurturing people and being faithful to the corps," Hunt said. "I feel like it's time for someone else to have the honor of bringing new ideas, new energy, new passion to this world-famous Salvation Army music group."
Hunt works for the Western Territory as the Assistant Secretary for Program, and plans to remain active in the Pasadena Tabernacle Corps in other capacities. Still, his presence will be missed as Songster Leader.
"Martin is a very conscientious, hardworking guy. If he says he's going to do it, he'll do it. He is happy to support people. The songsters have been at a very high standard for many, many years and he's continued that," said Territorial Music Secretary Neil Smith. "There are big shoes to fill."
Corps Sergeant Major Dr. Sharon Docter has sung with the Songsters throughout Hunt's tenure.
"If I had to sum up Martin, I would say that he's a real soldier," said Docter."Martin's leadership has helped the Songsters minister to people all over the world, which is really quite remarkable. He's introduced new songs to The Salvation Army world which now get sung in corps all over the place. We hear from people from many different countries and continents about the impact that the Songsters have had on their lives particularly through the CD ministry, so I think that's been really important."
Captain Terry Masango, like much of the world, was introduced to the Pasadena Tabernacle Corps through the Songsters before he moved to the U.S. from Zimbabwe 18 years ago. He's now served as Corps Officer there for two years, and admires Hunt's dedication to the Songsters.
"Sometimes he would fly overnight just to make sure he was back here in time for practice or for church," Masango said. "He understands what can happen in and with the Songsters. Some people say, 'A good leader can take you somewhere, but a great leader takes you where you never thought you could get to,' and I think that's what Martin does with the Songsters. He takes people who don't believe in their skills and takes them very far."
Major Darren Norton, who previously served as corps officer at Pasadena Tabernacle, sang with the Songsters along with his wife, Mary, and their four children before he was appointed to a new role in San Diego.
"For Martin, it wasn't just about the music. He actually really cared. He saw his role as the Songster Leader in a pastoral capacity as well," Norton said. "He would often stop a rehearsal and we would just pray for Songsters that weren't at the rehearsal because they had health issues or family concerns or work issues…If people were missing on a Sunday, he would send personal notes. It went way beyond just leading a musical group."
When Norton heard the news of Hunt stepping down, he said he was initially shocked, but after reading Hunt's announcement, he understood.
"I believe he's sensitive to the spirit and he just felt that now is a time for him to hand over the Songsters to someone else and maybe move on to some other area of ministry in the corps or within the Army, and I respect him for that," Norton said.
On June 17, when Hunt leads the group for the final time, he will end with a song he introduced to the group in 1999: Robert Sterling's "We Will Serve Him." He picked it for the significance of the words of the second verse:
God gave to us his only son, the selfless sacrifice.
How can we pay for all he's done, when Jesus paid the price?
We will serve him for the rest of our days.
"That's my plan," Hunt said. "I plan on keeping on serving God for the rest of my days."