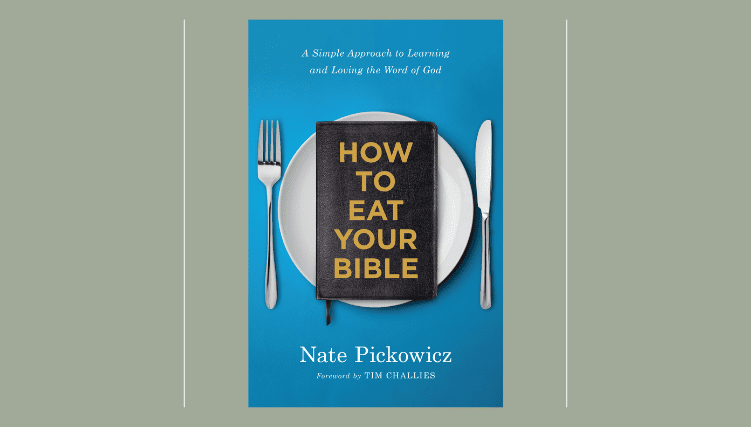 How to eat your Bible: Truly knowing the Word of God
I vividly remember a point in my life when the Bible was completely foreign to me. I had heard and understood the Gospel, confessed my sins to the Lord, believed in Jesus Christ alone for salvation, attended church regularly, prayed often, participated in small groups, told other people about Jesus and even played in the praise band. But amid it all, I knew something big was lacking in my Christian life. I didn't read my Bible.
It wasn't that I never read my Bible. I spot-read every now and then, I jotted down verses and put them on my fridge, I listened to inspiring sermons on Christian radio, and I even memorized a few key verses. Having grown up going to church, I had a small arsenal of about 20-30 verses that I knew by heart, and I would trot them out in Christian circles so as not to appear completely ignorant or unspiritual.
When I was being honest with myself, I really didn't know the Bible. For me, the New Testament felt daunting, and the Old Testament felt like a foreign language. My lack of Bible knowledge or spiritual understanding had become a source of embarrassment and shame.
At one point in my young adult life, I worked for a Christian businessman who often tried to encourage me with the Scriptures. However, when he began to notice inconsistencies in my Christian walk, he called me into his office one day and began to press me on my spiritual disciplines. He asked me, "Are you reading your Bible?" Oh no, he's on to me! I thought. I gave a somewhat-rehearsed answer, "Well, you know, I miss a day or two here and there." But he was no dummy. "What's your favorite Bible verse?" he asked. Well, I had a handful of canned verses tucked away in my mind from Awana when I was eight years old. I gave him one of those. Phew! It seemed to work—for the time being.
But I didn't want to spend my whole life dodging Bible questions and faking my commitment to Scripture. Furthermore, when I was being honest with myself, I knew full well that even if I was able to fool other people, I couldn't fool God. If I knew anything at all from Sunday school lessons as a kid, it was that God knew my heart, and I wasn't able to hide from Him. And so, I had no choice but to confess: I didn't love the Word of God.
More than that, I didn't even know the Word of God.
Sadly, I wasn't the only one.
So what is the solution? How do we fight our biblical illiteracy? I think the problem is multifaceted. At the core of the problem, I believe, is a lack of conviction of the Bible's power and ability to change us and make us more like Christ.
During the sixteenth century in Europe, the Protestant Reformers fought a battle for the heart of Christianity. One of the key issues they contended for was that of authority. Who has the right to tell Christians what to do? The Roman Catholic Church claimed that the Church itself, according to Scripture and tradition, had supreme spiritual authority over all people. Reformers insisted on sola Scriptura—"Scripture alone"—as our chief, supreme, and ultimate authority. This was nothing short of a battle over the authority and sufficiency of the Word of God.
In dealing with the issue of sufficiency, it's helpful to look at 2 Timothy 3:16, a key text in understanding the doctrine of Scripture. Not only does Paul declare, "All Scripture is inspired by God," but he adds four modifiers, namely that Scripture is "profitable for teaching, for reproof, for correction, for training in righteousness."
First, he says that Scripture is profitable for teaching. This is instructive teaching for how every Christian is to think, believe and live. How do we know what God desires for us to believe about the world, humanity, Jesus Christ, the gospel, government, the church, marriage, family, work, speech, leisure, and so on? The Bible instructs every believer on all matters of life and faith.
Next, Scripture is profitable for reproof. This has to do with rebuke that is designed to bring about repentance and a change of thinking or action. Often, we operate with wrong or misguided beliefs about our lives. Sometimes these beliefs are shaped by our sinful hearts; other times they're produced out of sheer ignorance. Whatever the cause may be, the Bible seeks to attack our wrong presuppositions, exposing them for what they are. To use a biblical metaphor, the Bible shines a light into dark places in order to expose the things that are hidden (Eph. 5:13).
Scripture is also profitable for correction, which is the flip side of reproof—a positive exhortation, not just away from wrongdoing but toward doing what is right according to God's standard. It's one thing to discipline a rebellious child for doing the wrong thing, but nothing will ever change without further correcting them toward doing the right thing. The Bible does both.
Lastly, Scripture is profitable for training in righteousness. This is the application of biblical truth, the obedience of faith (Rom. 1:5). Jesus told His followers in the Great Commission of Matthew 28:19–20 that they should be teaching disciples to obey all that He had commanded. So much of the Bible (especially the New Testament) is instructive. Whether through direct instruction or through examination of the lives of persons, we are trained by God through His words to conform to His righteous standard.
What is the ultimate practical purpose? Paul continues in 2 Timothy 3:17, "so that the man of God may be adequate, equipped for every good work." The goal of reading, studying and applying the Scripture is that the believer would be built up, equipped and matured for every good work that God has prepared for them to do (Eph. 2:10). In other words, Scripture is sufficient to minister to every aspect of your life. The Word of God can and will change you.
Adapted from How to Eat Your Bible: A Simple Approach to Learning ad Loving the Word of God by Nate Pickowicz (©2021). Published by Moody Publishers. Used with permission.
---
Do Good: