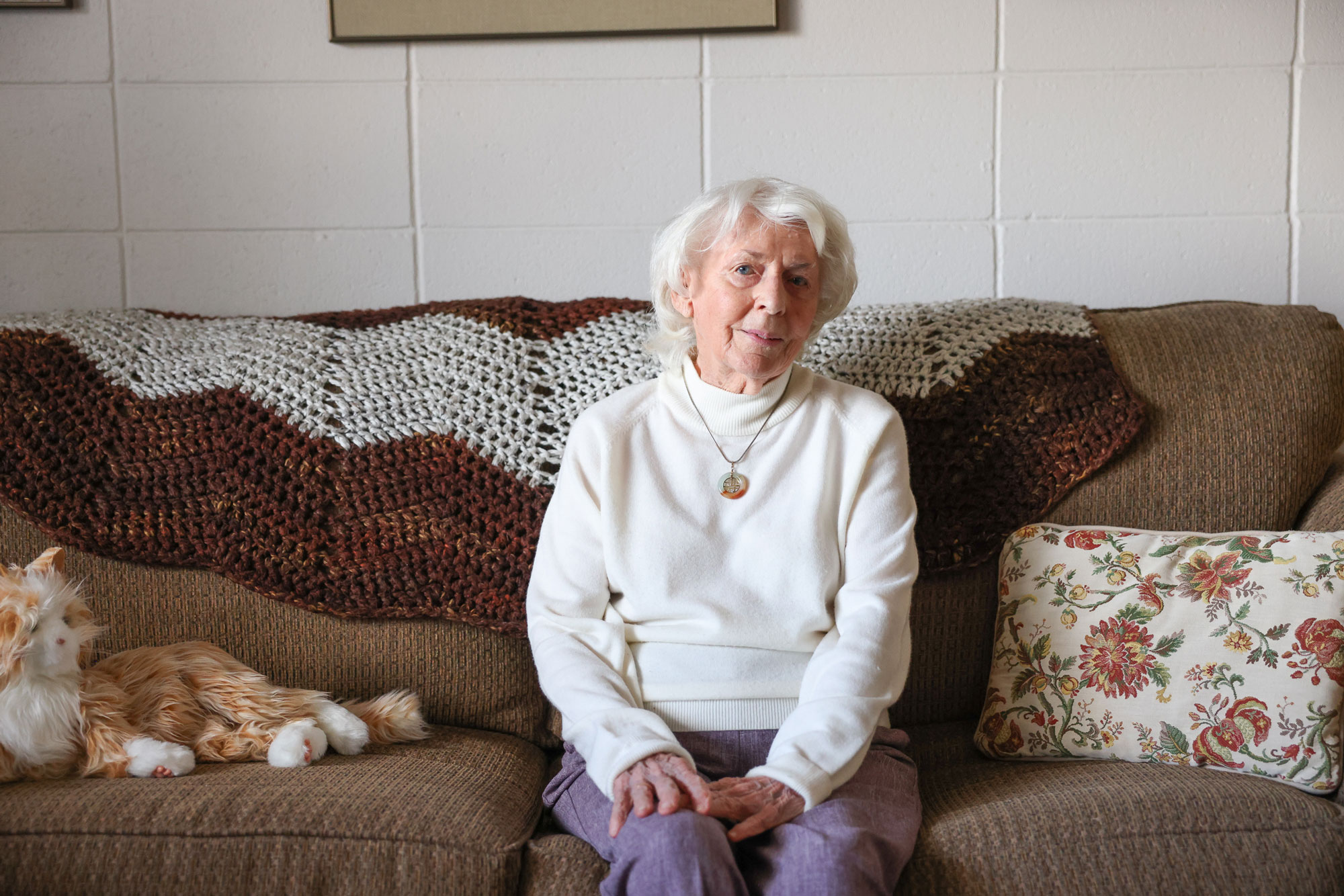 How The Salvation Army loves and cares for centenarians at Silvercrest residences
The Western Territory is home to several Silvercrest centenarians.
When Juanita Von Berg moved into the Silvercrest residence in Santa Rosa, California, 28 years ago, she was 74. She's what's known as a "super ager"—she's 102 today.
Living to be 100—a centenarian—might seem unattainable; that's decades after 65, the age one officially becomes a senior citizen, according to the U.S. Census Bureau. While genetics, diet and exercise play a role in longevity, that's not all that matters. Community, like that found in The Salvation Army Western Territory's Silvercrest senior residences, is vital.
"The option to be lonely shaves eight years off life expectancy here [in the U.S] but that does not exist in Blue Zones," said Dan Buettner, a researcher dedicated to Blue Zones, the worldwide regions where people live longest, in an interview with NBC News Better. "You can't walk outside your front door in these regions without bumping into somebody you know, and this is all so much more powerful than we think."
That's how it is at a Silvercrest residence, where several seniors in the Western Territory have reached centenarian status. While Silvercrests provide affordable living for seniors, they also offer a community where deep relationships can develop among residents and staff.
"It's obvious that The Salvation Army cares about seniors," said Susan Lawrence, Executive Director of Silvercrest Management. "The Salvation Army at the local level—the advisory boards and councils—wanted the Silvercrests in their community. They made the commitment to have the properties and as a ministry for their communities."
For 50 years, these facilities have provided seniors affordable housing featuring clean, comfortable apartments in a safe environment, offering both privacy and opportunities for fellowship and personal growth.
"Having a safe, comfortable home is very important—knowing that when you walk through the doors you're in a safe environment, not just physically, but safe emotionally and socially," Lawrence said.
Of The Salvation Army's four United States territories, the West maintains the most senior residences: 37 facilities in nine states. Most are adjacent to a Salvation Army corps (church) to offer residents the opportunity to further connect with a supportive community.
Corps officers (pastors) at the nearby Salvation Army corps serve as chaplains for the Silvercrest. Residents can go to them for prayer or any spiritual or emotional need. The corps officers often offer Bible studies and other programs at the residence.
"Having a safe, comfortable home is very important—knowing that when you walk through the doors you're in a safe environment, not just physically, but safe emotionally and socially," said Susan Lawrence, Executive Director of Silvercrest Management for The Salvation Army Western Territory.
"You know, just having the corps officer walk through the Silvercrest lobby and say good morning with a smile on their face—that goes a long way for people who may be lonely," Lawrence said. "So the corps provides much more than the spiritual component, but also the social component that can help somebody with their mindset, their emotional well being and ultimately, their longevity."
Silvercrests can also help seniors overcome challenges often associated with technology so they can better connect to the world outside the residence.
"A lot of Silvercrests have service coordinators, which are like social workers who help link the residents to services in the community, which can be an overwhelming endeavor if you don't have someone to help you," Lawrence said. "As people age, it gets much more difficult to put all the pieces together, but the service coordinator can really help."
Enhancing community
Dorothy (DJ) Richmond was the third person to move into the Tulare (California) Silvercrest when it opened in 2006. In 2013, she wrote an article: "Why I live at a Silvercrest," noting the lasting friendships, activities, safety, convenient location and even the landscaping. Recently, she commended the staff, who help residents with various needs from filing taxes to qualifying for government assistance programs, and who genuinely care for the seniors.
"We encourage each other," said Richmond, a centenarian in the making celebrating her 91st birthday. "It's the friendships that are special, having people around who understand you…Everyone has stories. When we share our life experience, it's history come alive."
The San Francisco Silvercrest is the West's largest, with 257 units and 333 residents, about 80 percent of whom are Asian American. It's home for five centenarians, including Hoknin Lee, who regularly attends Silvercrest activities like exercise classes and special events like the Moon Festival. The Sept. 27 harvest event celebrated Chinese culture, complete with entertainment and mooncakes, a traditional pastry.
Lee said he appreciates having a safe place in San Francisco's SoMa (South of Market) district where he can take walks. "I like to keep moving," Lee said with a big smile.
It's something residents of the Silvercrest in Santa Rosa have found, too—location matters. There, the 186-unit facility is adjacent to the recently remodeled Salvation Army Senior Activity Center.
"The one thing that has been really good is the location, which has allowed me to walk to the store, downtown, doctor's offices and take nice walks," super ager Von Berg said. "For many years I used to walk up and down 10 flights of stairs, which was a health benefit."
When it comes to Silvercrest residents reaching centenarian status, Lawrence said she's noticed a societal shift in the 20-plus years she's overseen the facilities.
"I think the mindset of our residents is different," she said. "A 70-year-old now is much more active than a 70-year-old maybe 20 years ago…They still want to work, whereas before they would perhaps not be that active."
Her observation lines up with recent studies finding people who work past the traditional retirement age of 65 tend to live longer.
"I think we are committed to our seniors in this territory," Lawrence said. "And senior housing is one of the ways that we show our commitment."
For Von Berg, the environment and the friends she's made along the way have helped to make Silvercrest home.
"I have been very happy here," Von Berg said. "I plan to stay at Silvercrest until further notice—from up above."
---
Do Good: