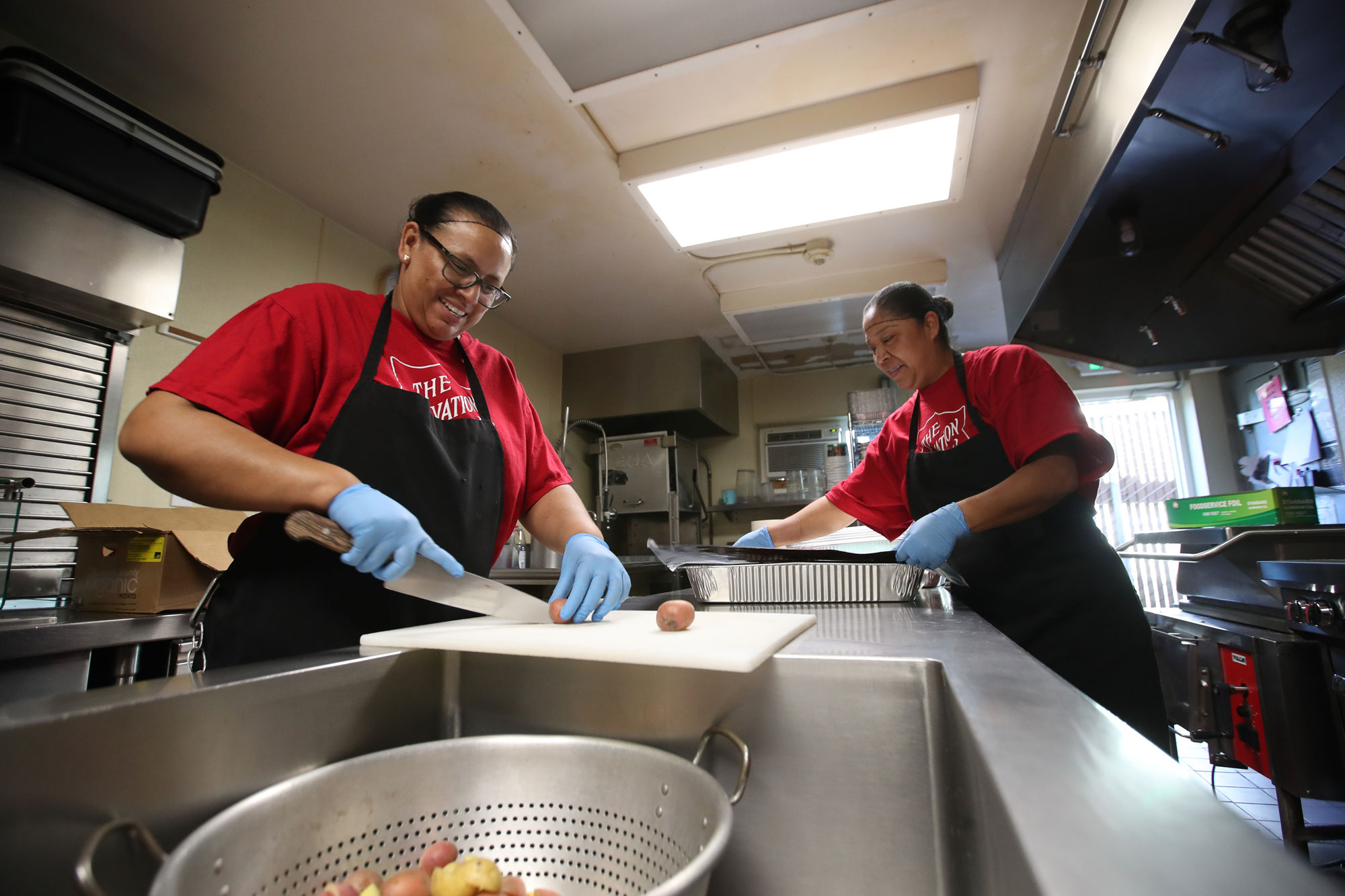 How The Salvation Army is paving a 'pathway of hope' in Silicon Valley
The Silicon Valley campus meets a variety of community needs; aims to do more.
San Jose is among the richest cities in the United States, if not the richest. But even in Santa Clara County's Silicon Valley, people fall on hard times and need help.
When they do, The Salvation Army is there to help, providing shelter at Emmanuel House and food through a daily drive-through distribution and senior nutrition program at its Silicon Valley campus.
The campus also houses the tri-lingual San Jose Temple Corps (church), with services in English, Spanish and Mandarin. And in the coming years, The Salvation Army plans to do even more from this central location, which oversees all Salvation Army operations in Santa Clara County, and is led by Silicon Valley Coordinators Majors Daniel and Doreen Freeman.
Currently, 300-400 vehicles come each day to the drive-through food pantry distribution, a number that increased in 2023. The campus had to reorganize its back parking lot to accommodate the vehicles.
"What we've noticed is an uptick in the quality of the cars coming through," Daniel Freeman said. "That's usually indicative that people have lost jobs. Thousands of people in the tech industry got laid off. But they still had that lease on the car. You can't get rid of the car, so you've got to figure out something else to do."
Freeman said often it's the food box that helps people get stabilized—many people were probably living right on the edge with the salary they had, and when it's gone, they're desperate.
"Our main thing is we strive to have compassion toward these people who are using our services, because we don't know what they're going through. And all we're here to do is help them," said Celina Arranaga, Public Relations, Social Media and Event Coordinator for The Salvation Army Silicon Valley.
"We're here for the community," Esquivel said.
Adjacent to the campus, Emmanuel House provides both overnight shelter and transitional living for men in need.
"Just come in at 3:30 and have a valid ID."
That's what Cesar Esquivel, Emmanuel House Director, tells men looking for shelter.
There's no wait for those who show up at the check-in time with identification—something that's not always possible through the Santa Clara County hotline. While the City of San Jose actively works with partner organizations to secure safe options for people experiencing homelessness, a call to the hotline can generate a months-long wait, Esquivel said.
Some of the overnighters may eventually go a step further, entering the transitional living program and taking steps toward permanent housing. Emmanuel House is an example of the continuum of care model of service—helping people overcome barriers to permanent housing on a case-by-case basis—so when they eventually move out on their own, they'll be successful.
"We use this strategy we call 'the pathway of hope,'" said Major Daniel Freeman, Silicon Valley Coordinator, differentiating it from The Salvation Army's national Pathway of Hope initiative, which aims to break the cycle of intergenerational poverty for families with children. "The idea is that we've got this pathway or continuum of care from crisis management to wrap-around services."
Currently, Emmanuel House maintains 28 overnight shelter beds and 45 beds for its transitional living program, which prepares participants to return to independent living through case management and classes, including financial literacy. It's a two-year program, but some men complete the program in six months.
"Right now, our main objectives are to upgrade and expand the facility and to include women," Esquivel said. This will involve major renovation, but the plans are in the works.
Along with offering shelter, Emmanuel House serves hot meals to the community from its kitchen—breakfast and dinner, Monday through Saturday. Esquivel said they serve about 160 people daily at each meal, including individuals from both the community and those staying at Emmanuel House.
"We're here for the community," Esquivel said.
Ultimately, the plan is to do even more from the Silicon Valley campus, starting with remodeling and expanding Emmanuel House. Freeman believes that project could break ground in about 18 months.
Beyond that, he envisions the big picture—renovating the entire campus to include a client-choice food bank and spaces to accommodate senior programming, after-school activities and workforce development.
To make the vision a reality, Freeman said he spends a lot of time connecting with government and community leaders to gain support for The Salvation Army, which first came to Silicon Valley in 1884.
"God's love and compassion know no boundaries and I have complete faith that there is no limit to the compassion and hope that we can share over the next 140 years of ministry in the Silicon Valley and it begins with the actions that we take today.," Freeman said.
---
Do Good:
See how The Salvation Army fights hunger.
It's because of people like you The Salvation Army can serve more than 24 million Americans in need each year. Your gift helps fight for good all year in your community. It's an effort to build well-being for all of us, so together we rise—and that good starts with you. Give to spread hope with a donation of funds, goods or time today.