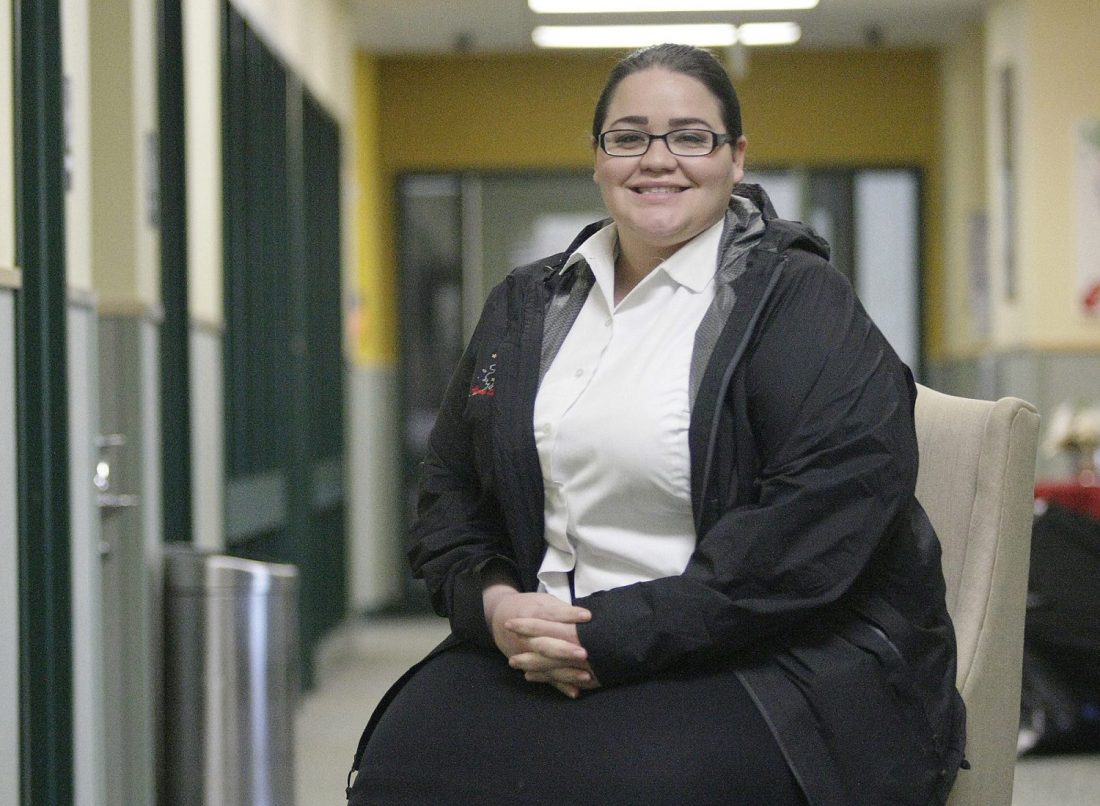 How The Salvation Army builds confidence
Beyond provision of physical needs, the organization fosters choices to reshape lives.
Denice Delgado knows what it's like to depend on others for basic needs such as food and shelter.
As a child, Delgado and her family went to The Salvation Army Redlands Corps Community Center in California to eat. It started with food, but it grew to be so much more. The social services director invited Delgado to attend the kids programs. Her parents—addicts who would sell their food stamps to buy drugs—found a place where they could volunteer and contribute to a greater cause. But more importantly, Delgado said, they were given the confidence that they could reclaim their choices and change their life path.
"The social services director spent time with us and got to know us," Delgado recalled. "He gave my parents a purpose and a place where they could feel safe and needed."
A year later, her family all enrolled as soldiers at the corps. Her parents have been sober ever since. Her father is now the social services director at that same community center.
As for Delgado, now an officer in The Salvation Army appointed as the social services director in Anchorage, she oversees six programs that help people with everything from housing to food to addiction.
"A lot of people are broken, and they feel they're unworthy, especially if you've been in addiction," Delgado said. "You feel like you're too far gone for hope."
That's where The Salvation Army's larger mission comes in—the one that goes beyond the physical need to help foster the self confidence that allows people to continue to reshape their lives in a positive way.
Linking people to the services they need is the easy part—but helping them gain the confidence they need to carry themselves the rest of the way is really the ticket. That's where the fundamental change for the future is.
From its very conception, The Salvation Army has held true to a common method: Once tangible, human needs such as shelter and food are met, people are then free to invest in the intangibles, like faith and confidence, Delgado said.
And confidence is the underlying goal of many Salvation Army initiatives, from housing first programs, to those for kids after-school, domestic violence survivors, veterans returning to the workforce, and so on. Linking people to the services they need is the easy part—but helping them gain the confidence they need to carry themselves the rest of the way is really the ticket. That's where the fundamental change for the future is.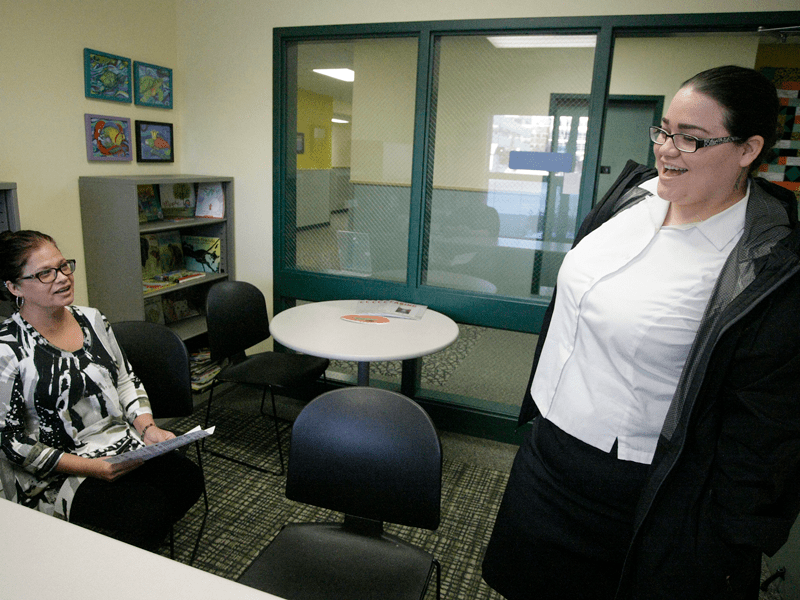 Salvation Army programs across the country continue to carry on this two-pronged approach, both providing immediate relief and working to make someone believe he or she can succeed.
That process happens in small steps, Delgado said. For example, many people looking for housing or struggling with debt feel like they've dug themselves too deep.
"It feels overwhelming," Delgado said. "They don't see a start or an ending."
That's when case workers set up a plan for the individual that manages the big picture need with some attainable goals that can be achieved quickly in short succession.
Those who are consumed by debt are given a challenge: take three weeks to see how many bills you can pay off. All of their other costs—groceries, toiletries, housing—are covered by The Salvation Army. Once that immediate need is met, they're able to focus on the bigger picture: paying down their debt.
"At the end of that three weeks, they're able to see the progress that they've made themselves," Delgado said. "They're a step closer to self sustainability, and for many it's a new feeling."
Natasha Ariyoshi experiences the same thing with her clients in Hawaii. Ariyoshi is a vocational specialist for those in The Salvation Army Addiction Treatment Services program in Honolulu.
As an addict herself, she said she knows the stigma that accompanies addiction and quashes any belief individuals have in themselves and their strengths. Losing that confidence in one's abilities and self-worth can be one of the biggest hindrances when searching for a job or trying to get into a school.
"A lot of these guys come from really interesting backgrounds and have a lot of experience before they started using," Ariyoshi said. "My job is to remind them they have this knowledge and all these skills, and to help them tap into that so it works for them and not against them."
Ariyoshi said the program is really about self exploration and helping people focus not just on their treatment, but on developing goals beyond treatment so they can be motivated in their future.
She thinks specifically of a particular client who worked his way through the program and as an outpatient was looking to find work. The whole process seemed overwhelming, so Ariyoshi started with one tangible goal: complete a resume.
"It gave him the confidence to go into an interview," Ariyoshi said.
With that hurdle cleared, they focused on the next goal: starting college in the spring.
Ariyoshi said one of the most rewarding parts of her job is helping her clients apply to colleges. Many of them don't even think it's an option for them, or that they're capable of going to school while having a full-time job. So again, Ariyoshi starts small: completing a resume, showing up to class on time, making a budget.
"It helped him create a sense of accomplishment," Ariyoshi said. "So he felt like he would fit in and belong because he did all the work to get to that point."
Almost everything Ariyoshi does with her clients has a deeper level. For example, those in treatment who are felons often believe that means they've lost all of their voting rights. Ariyoshi educates them about the political experience, helps them register to vote and stresses the importance of civic duty.
"Ultimately, it's about reminding them they have a voice and they're allowed to use it," she said.
For Major Gwyn Edward Jones, it's not just about helping the 7,000 members at The Salvation Army Ray and Joan Kroc Corps Community Center in Phoenix, it's about helping the entire community. The Kroc Center, which opened five years ago, sits in 17 acres of land, and includes soccer, football and baseball fields, along with an outdoor splash pad and indoor theater.
While more than a quarter of the members are there on scholarship, the center also draws people from all over Phoenix who want to make the most of the top notch facilities.
DO GOOD
– See how The Salvation Army builds confidence in your community and give to support the effort at
westernusa.salvationarmy.org
.
– Find video testimonies of individual transformation and share with those who might be impacted at helpsharechange.org.
Jones has seen firsthand how the multi-million dollar enterprise has helped revitalize an entire neighborhood and instill a confidence in a place that was long ignored.
"The community in South Phoenix has been really underserved for many of these years," Jones said. "And now we're drawing in people who may have been hesitant…Us being here and attracting other businesses just improves the whole neighborhood."
Families in the traditionally underserved community no longer need to travel across town to go to a theater or throw a nice birthday party for their kids. And people from higher-end neighboring communities are now making the reverse trip and traveling to South Phoenix, a place they previously avoided.
"It used to be, 'Oh, I'm not going down to South Phoenix, that's a really rough area,'" Jones said. "Now they're willing to drive 35 minutes down here. Absolutely that goes a long way for neighborhood confidence."
And that confidence in the community radiates through the lives of those who live there as well, Jones said. One notable example is the volleyball academy at the Kroc Center. Last year, all 10 senior girls from the club got college scholarships after scouts discovered them at national tournaments.
Many of these girls normally wouldn't have been able to play on travel clubs because of the high entry fees for the sport, but now have become top-notch, highly scouted athletes.
"And now, because our team is doing so well, we're getting girls from the posh clubs who want to be part of our clubs," Jones said. "Our girls are proud of their club and what they've accomplished. They're doing things now that just wouldn't have happened before this center."
While those girls go off to prestigious schools on scholarships, those back home will continue to benefit from the renewed energy in the community. A developer is about to build new housing units, and with those come new businesses, Jones said.
Chipotle and other healthier fast food places have already opened. Upscale grocery stores are opening. And now, South Phoenix even has a Starbucks.
Confidence is on the rise.